2022 BBQ Classes
You asked for them, you got them.
See our class schedule to 2022 and snap them up before they sell out!
Yonedas has a rich history of unque flavour creation, award winning competition cooking and the utmost care in producing the finest product that you can cook with. Click the button below to learn more about our NEW barbeque flavours.
Red is the most powerful of all colors; Equally associated with power and love. This signature Yonedas seasoning is a fine blend of classic flavors designed to accentuate the flavors of pork and chicken. It's a nice, sweet treat with a hint of savory, just the right balance to bring out the natural flavors of your meat. When using this seasoning, generously cover your meat with Yonedas Red. Let meat rest for 20 minutes prior to grilling.
Gold is the richest of colors; The embodiment of excess and wealth. This seasoning is rich like its name, a course blend of southwestern full-bodied flavors. A perfect seasoning for beef, chops, and chicken. When using this seasoning, generously cover your meat with Yonedas Gold. Let meat rest for 20 minutes prior to grilling.
White is the lightest of colors it makes everything around it shine brighter, just like this seasoning. Yonedas White is a fine blend of elemental cooking ingredients to enhance nearly anything that you are cooking. When preparing food with this seasoning, cover your food with Yonedas White. Let your food rest for 20 minutes prior to grilling.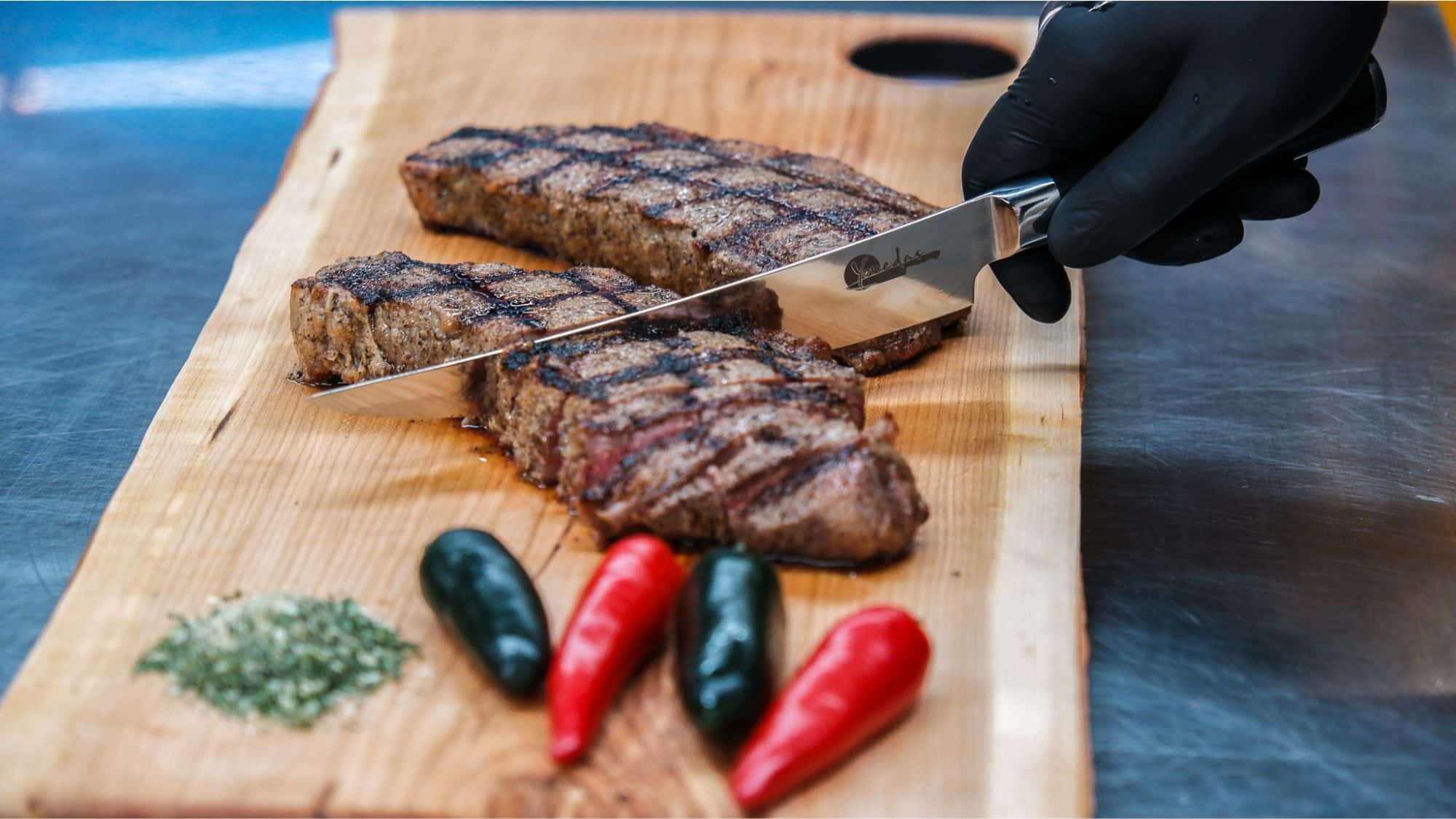 Knives
Whether this is your first set of Top Quality Knives or just need to round our your collection, you can rely on Yonedas knives to deliver the finest quality Damacus knives with a clean, accurate cut every time. Click below to learn more.
Taking pre-orders now, delivery ETA February 2022.
Sofa_King_suite
2021-11-22
YOU YES YOU !!!!!!!! ........ you need a bar-b-q !
Ansgar Stonebreaker
2021-10-26
Lots of awesome spice blends, rubs, and sauces like a Smoked Jalapeno Aioli (so good). Nice and helpful staff.
Locally owned. Carry large assortment of spices and rubs. Wood and pellets. Smokers, bbq's and pizza ovens. Staff are extremely nice and very helpful.
Had an excellent experience buying our smoker here, they went above and beyond to help us deal with manufacturer defect. Continues to be my favorite place to pick up pellets. Great prices and service. Always seem to be fun little goodies at the till. The guys always offer to carry out the bags to my car, love it.
Spices, sauces, pellets, charcoal, wood. Everything the home pitmaster would want from people who know what they're talking about.
Andrew Richards
2021-09-13
Cool local store for all your BBQ needs
Trust me when I say go see Marcel and Jim instead of BBQ Country or anywhere else for your BBQ supplies and needs. Oh did I mention your Wagyu beef needs! Trust me you have Wagyu beef needs. 🙂 Great place, great staff. Support local who support local.
Come visit your local Sherwood Park BBQ store. We stock Pit Boss, Louisiana Grills, Camp Chef, Weber and HellRazr BBQs to meet nearly any BBQ need. Check out our over 125 spices and sauces and a deep selection of accessories and fuel for your grill. Click on a category below to see more or go straight to our Shop!