You Need a BBQ is a company focused on taking your BBQ to the next level. We focus on premium grills, ingredients and meat. If you take our class we focus on teaching our students how to bring all of these elements together to make world class BBQ that will make your neighbours jealous, get you more likes on Instagram and maybe even one day have you competing against us in BBQ competitions for cash prizes!
If you're here, it's because you're looking for more out of your BBQing experience.  Sure we can sell you a BBQ, but we offer so much more.
BBQ Classes – we share our bbq experience with you, check the class listings for upcoming dates
Custom BBQs – we can add your name or logo to your bbq
Wood Fired Flavour – we stock wood pellets to fire up your pellet grill
Charcoal – world class lump charcoal
World Class Sauces – we import sauces from the deep south and support local
Imported and high end Seasonings – Montreal steak spice is good, we want you to be great
Injections – add flavour and moisture to your meat before you start cooking
Accessories – Mitts, tongs, flippers, help you not get burned.
World Championship experience – take advantage of our years of travel and experience without leaving Sherwood Park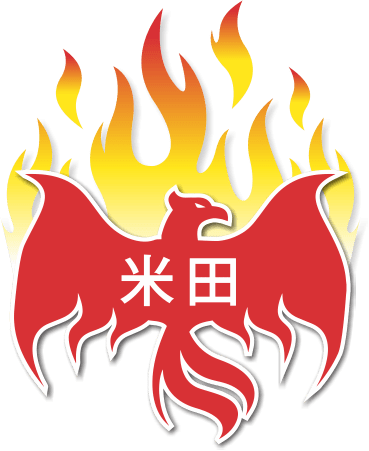 You Need a BBQ is a play on Ron's last name Yoneda.  In Japanese, Yoneda means rice field.  In BBQ You Need A means "to require something".  Our logo is a combination of the Japanese Kanji for Yoneda and a Phoenix rising from the ashes of a BBQ.  The phoenix is a representation of Russ's last name BIRD.  The power of the kanji with the phoenix together is a representation of Russ and Ron together making You Need a BBQ.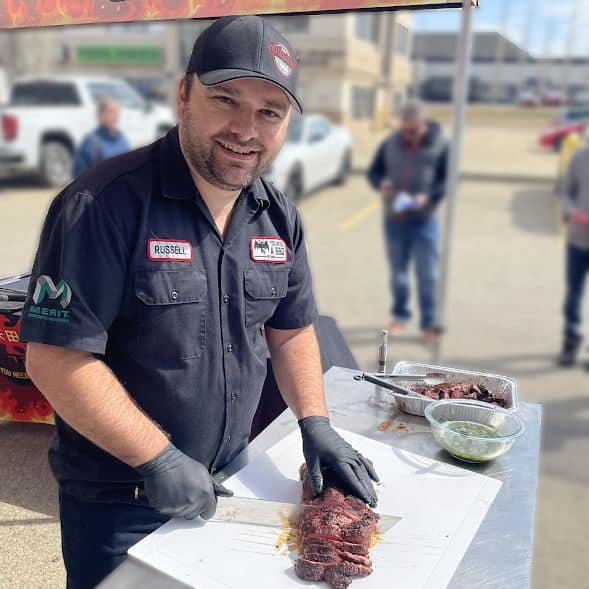 Russell Bird
Russell has been a competitive cook and BBQer for 10 years.  In his early days of competitive cooking he was named Edmonton "Pork Chopped Champion", he cooked Edmonton's best smokie at Taste of Edmonton and he was the Atco Blue Flame Kitchen Champion.  Russell has traveled across north America for cooking contests and flavour exploration, always tasting local food and exploring other cultures to bring back to Alberta the best of what other places offer. The highlight of Russell's cooking career was getting 2nd in Pork Ribs at the World BBQ championships.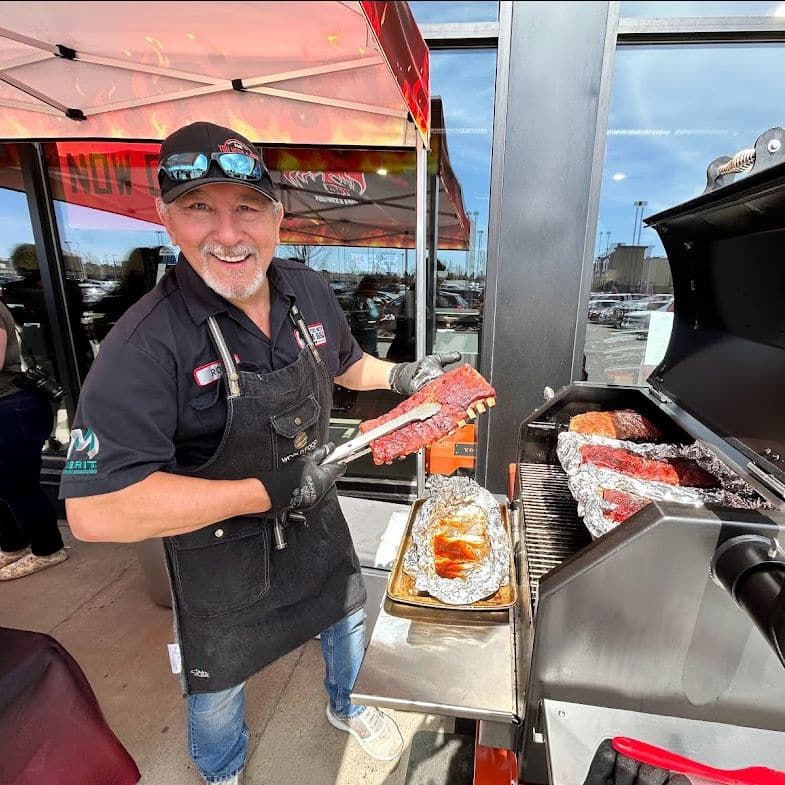 Ron Yoneda
Ron has been doing competitive cooking and BBQ for 6 years.  He started out as a backyard hobbyist but quickly rose to prominence after winning the Canadian Bacon Championships.  Ron has received dozens of awards for BBQing chicken, pork shoulder and is usually the team captain for the Chef's challenge category at BBQ contests as well.  Using his Japanese heritage, Ron often infuses Asian fusion into his BBQ flavours and always finds a way to perk up your taste buds. The highlight of Ron's cooking career was getting 2nd place in the World Bacon Championships as well as winning the Joy Award at BBQ on the Bow for showing the true BBQ spirit for camaraderie and sportsmanship