Learn From Top Pit Masters!

Our BBQ Cooking Classes are designed to teach an every day back yard BBQer how to execute BBQ at a higher level. We offer classes on how to handle the big intimidating meats like brisket and we will teach you how we got 2nd at the world Rib Championships. We often have guest appearances from local Pit Masters, Instagram influencers, world class brands and more. These classes are an in depth way to discover how to use layers of flavour and control your cook so your BBQ is perfect every time.
When you take one of our barbeque cooking classes, be prepared to immerse yourself in all things BBQ.  We teach trimming, seasoning, cooking, finishing techniques and much more.  Who knows?  Maybe one day you'll be competing against us, turn that backyard hobby into BBQ fame and prizes!
Even if you're taken one of our courses, we teach different techniques and meats at various classes throughout the year.  Check back regularly as we add classes and they can sell out quickly.  We announce our classes online in our Social Media channels as soon as they come out.  Follow us on Facebook, Twitter and Instagram to get the latest info.  Our newsletters are also great spots to get up to date info and sometimes even some cooking tips gleaned right from our classes.
Custom Classes for Your Group

We also provide custom classes if you have a group of 10 or more people looking to learn advanced techniques, taste top notch BBQ and have some fun!  Great for corporate events as well.  You can choose from any of our standard classes or ask for something special just for your group. Of course there will be loads of great BBQ to taste if some in your group aren't as into the learning as others. 🙂
Contact Us for more details! 2023 Spring BBQ Classes
It's that time again!  We're releasing our Spring 2023 BBQ Class schedule just in time for Christmas.  Get them early for yourself or that BBQ enthusiast in your life.
Camp Brisket BBQ Class – May 13 2023
The ultimate guide to cooking brisket. Our pitmasters placed 1st at the Montana State BBQ Championships for Brisket, 1st at BBQ on the bow for Brisket, 1st on the Alberta cup for Brisket and 9th at the world championships, you guessed it, for brisket! This class will cover some hands on trimming of briskets and you will get some brisket to take home to try your hand on your own smoker.
We will teach you how to cook a brisket Texas style, hot and fast as well as low and slow. There are also some incredible brisket recipes including mastering burnt ends and brisket mac and cheese. Our pitmasters have been working on perfecting the brisket for over 6 years and cooked literally hundreds of briskets. So if you are thinking about cooking your first brisket or you are wanting to perfect your 50th brisket, this class is perfect for you.
Since 2016 our competition BBQ team has been throwing down on the Alberta cup BBQ circuit as well as taking on top pitmasters from across the United States and at the World BBQ Championships. Our classes are an affordable way to get more out of your BBQ, make your neighbours jealous and have a darn good time doing it. In this class you will learn how to elevate your BBQ skills with tips and tricks from seasoned pitmasters.
Time: 9:00 AM – 1:00 PM
NEW LOCATION!: #50 100 Broadview Drive Chippewa Road Sherwood Park, AB T8H 0T5
Cancellation Policy
Cancellations made within 24 hours of booking your class will be refunded in full.  Cancellations after 24 hours will be given a $100 in store credit or the chance to re-book for a discounted rate of $100. 
Gallery

We run classes from Spring until Fall as soon as the weather is good enough to have a group of people come join us.  Have a look through our class gallery below to see what a class event is like.  Lots of smiles and great food!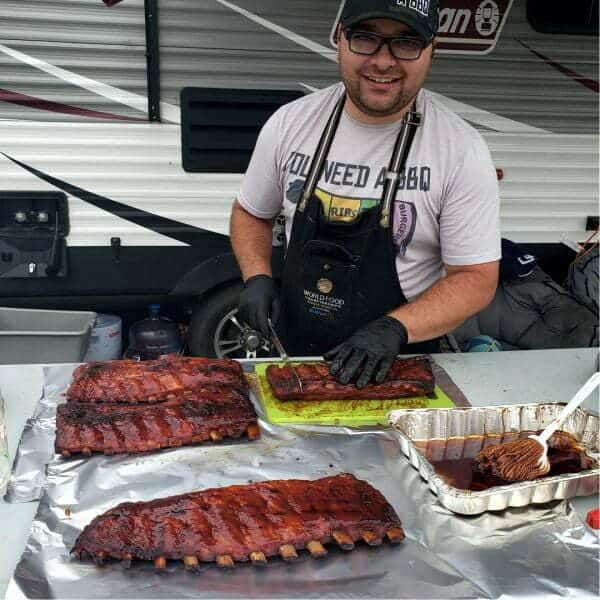 Russell Bird
Russell has been a competitive cook and BBQer for 7 years.  In his early days of competitive cooking he was named Edmonton "Pork Chopped Champion", he cooked Edmonton's best smokie at Taste of Edmonton and he was the Atco Blue Flame Kitchen Champion.  Russell has traveled across north America for cooking contests and flavour exploration, always tasting local food and exploring other cultures to bring back to Alberta the best of what other places offer. The highlight of Russell's cooking career was getting 2nd in Pork Ribs at the World BBQ championships.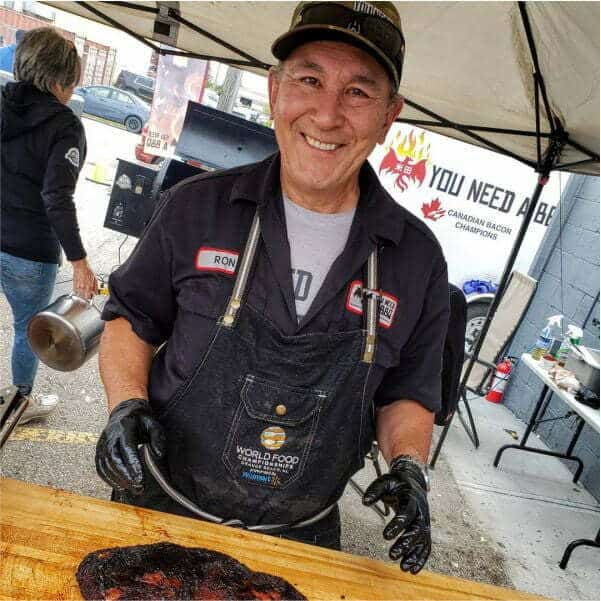 Ron Yoneda
Ron has been doing competitive cooking and BBQ for 6 years.  He started out as a backyard hobbyist but quickly rose to prominence after winning the Canadian Bacon Championships.  Ron has received dozens of awards for BBQing chicken, pork shoulder and is usually the team captain for the Chef's challenge category at BBQ contests as well.  Using his Japanese heritage, Ron often infuses Asian fusion into his BBQ flavours and always finds a way to perk up your taste buds. The highlight of Ron's cooking career was getting 2nd place in the World Bacon Championships as well as winning the Joy Award at BBQ on the Bow for showing the true BBQ spirit for camaraderie and sportsmanship