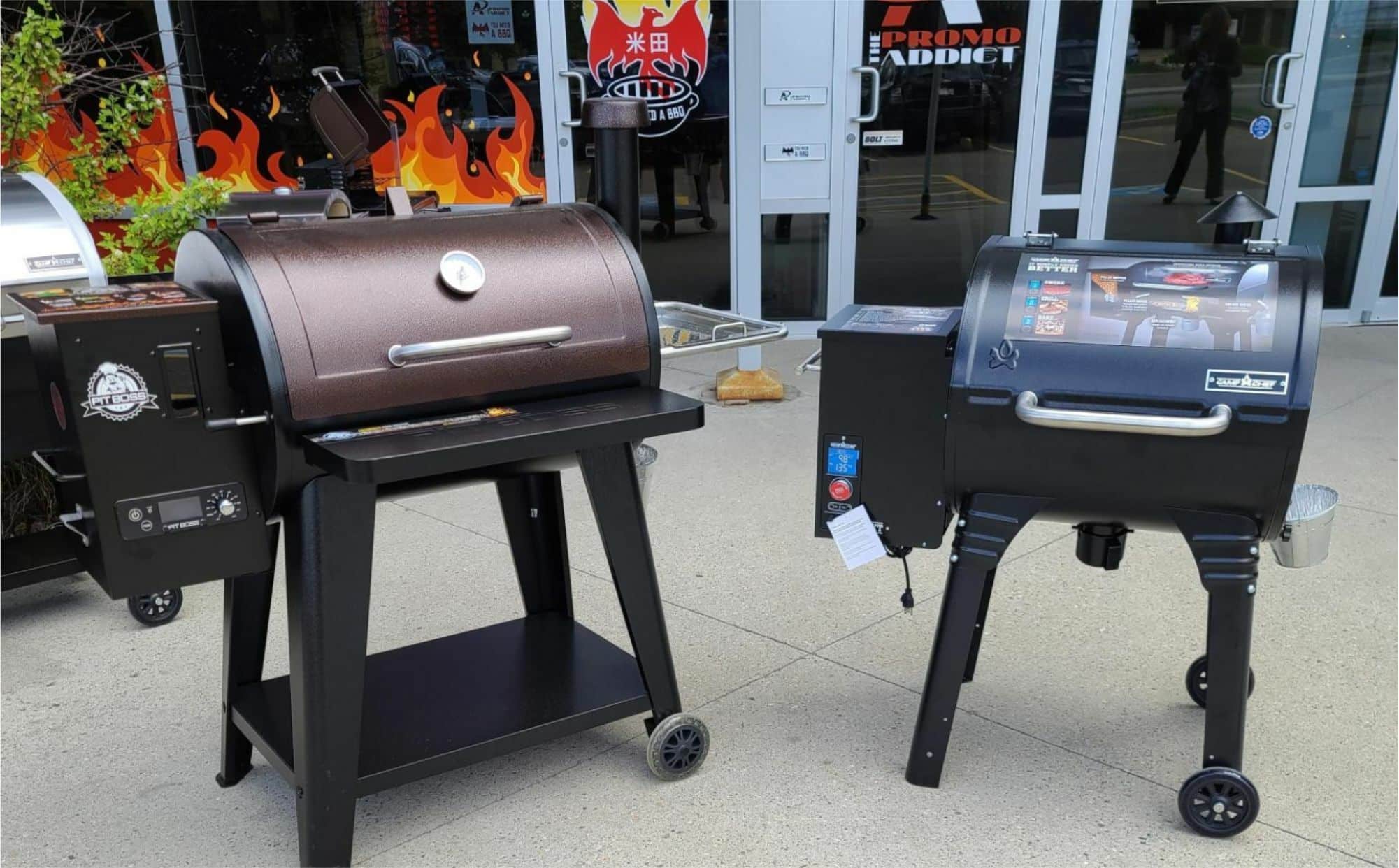 Our Number 1 Selling Grill Needed a competitor
The Pit Boss 820D3 has been our number 1 selling grill since we opened in July 2021. People love the PB820 because of its mid-range size, durability and 5-year warranty. We have run short on stock on a bunch of occasions because the supply chain has been a challenge to manage. We decided to bring in a comparable model from Camp Chef so that when we are out of stock on the PB820, we have a grill at a comparable price point with different features to compare it too. We opted for the Camp Chef XT 24. But how do these grills stack up against each other in a head-to-head battle? We put them both through some delicious testing so that we can educate you, the customer on which grill to get AND why!?
Key Features of the PB820 from Pit Boss Grills
The PB820 has a main rack cooking surface of 532 square inches (19" x 28") and a 21 lb. hopper capacity. This little workhorse is big enough to cook a huge brisket or a couple of pork butts. It's great for cooking for a large group or a small family without taking up too much space on the deck. The patented sear station technology which is built into all Pit Boss grills makes this unit a standout amongst its competitors. This patented technology is only available on Pit Boss and Louisiana Grills, not camp chef or Traeger or any of the other comparable brands. The rollerblade wheels and sturdy wheelbase with attached bottom shelf are features that are worth the price.
Key Features of the XT 24 from Camp Chef
The main difference between the XT 24 and the PB820 is that the XT 24 is 6 inches less wide. The main cooking surface on the XT 24 is 428 square inches (22.25" x 19.25"). So, the grill is slightly deeper and 6 inches less wide. This makes the XT 24 great for decks that have less space. The ample main grill size is still plenty big enough to entertain a small group or a large family with the ability to cook a brisket or multiple pork shoulders during the same cook. The larger grill diameter also makes the top rack slightly more functional than the one on the 820 D3. The Camp Chef XT 24 does come with a couple of features that are not found on the Pit Boss including the Ash cleanout system, a fully functional digital display with PID controller +/- 5 degree controls. The main feature I love on this one though is that it is sidekick compatible. This means you can hook up a propane or Natural gas side burner to your pellet grill. This is a feature we have been searching for, for years and now it is available.
Price point comparison
The Camp Chef XT 24 comes in a little higher in price than the Pit Boss 820 D3. The main reasons for that are the digital controller present on the Camp Chef. I expect these grills to both do a great job fighting for market share because of their very close comparisons on features and size.
| | | |
| --- | --- | --- |
| Feature | Pit Boss 820 D3 | Camp Chef XT 24 |
| Temperature Range | 180 – 500 F | 180 – 500 F |
| Main Cooking Area | 532 sq in. | 428 sq in. |
| Top Rack Area | 229 sq in. | 114 sq in. |
| Sear Station | Yes | No |
| Ash Clean Out | No | Yes |
| Digital Controller | No | Yes |
| Adjustable Smoke Settings | No | Yes |
| Side Burner Compatible | No | Yes |
| Removable Side Table | Yes | No |
| Included Front Table | Yes | No |
| Warranty | 5 Years | 3 Years |
Summary
I think the Pit Boss 820D3 will continue to be our best-selling grill for quite a while because it offers a larger footprint, a longer warranty and amazing versatility of cooking because of its patented sear station. However, I think the technological advances of the XT 24 are a revolution that is going to take the pellet grill market by storm over the next few years. The technology race in grills is just beginning and I think the XT 24 is going to help push its competitors to advance their own technology to help everyone make world class BBQ at home.