The Top 6 Grills and Cooking Implements for Camping
There is something about heading out into nature and its close association with food that is very primal.  I spend most of my time when I am camping playing cribbage, going swimming and cooking.  Cooking is likely the thing that I spend the most time thinking about and executing.  I basically plan entire camping trips around what I am going to eat or prepare over the fire.  But what are the best grills for taking on your trip?  I guess that depends on where you are going, what you are cooking and how you are travelling.  Here we are going to break down the best grills to take camping and why.
The Country Smokers Traveler
The frontier series Country Smokers Traveler is a lightweight miniature pellet grill.  Its small size makes it ideal for leaving in your trailer or throwing in the trunk of the SUV on your way out the door.  I leave one of these in my trailer because it is light weight and versatile enough that I can smoke or grill any meat with it.  So, whether you are tailgating or hitting the highway to a national park, this grill is perfect.
What meats can you cook on a Country Smokers Traveler?
You can basically to any meat on this smoker.  I was able to trim and cook at 15 lb brisket on this smoker by putting the point on the top shelf and the flat down below.  One time I cooked 2 racks of ribs on this smoker by trimming them into 3 bone sections and aligning them perfectly.  Because the heat baffle on this smoker can open for direct flame searing, I have also cooked pork chops and burgers or smokies on the grill on many occasions.
This Grill Needs Power
The Country Smokers Frontier Traveler does require a 110-volt power source to be able to run the auger and the convection fan, so while this grill is super versatile, you need to be in a campsite that has a power source or a generator to be able to make it work.  If you are planning to hit the back country, one of the other grills on here might be a better option for you.
Fuel Source
The Country Smokers Traveler uses wood pellets as its fuel source.  You can cook on any of the woods that we stock here including Mesquite, Charcoal Pellets, Competition Blend, Apple, Hickory or Cherry pellets, there is sure to be the right flavor available for any meat you want.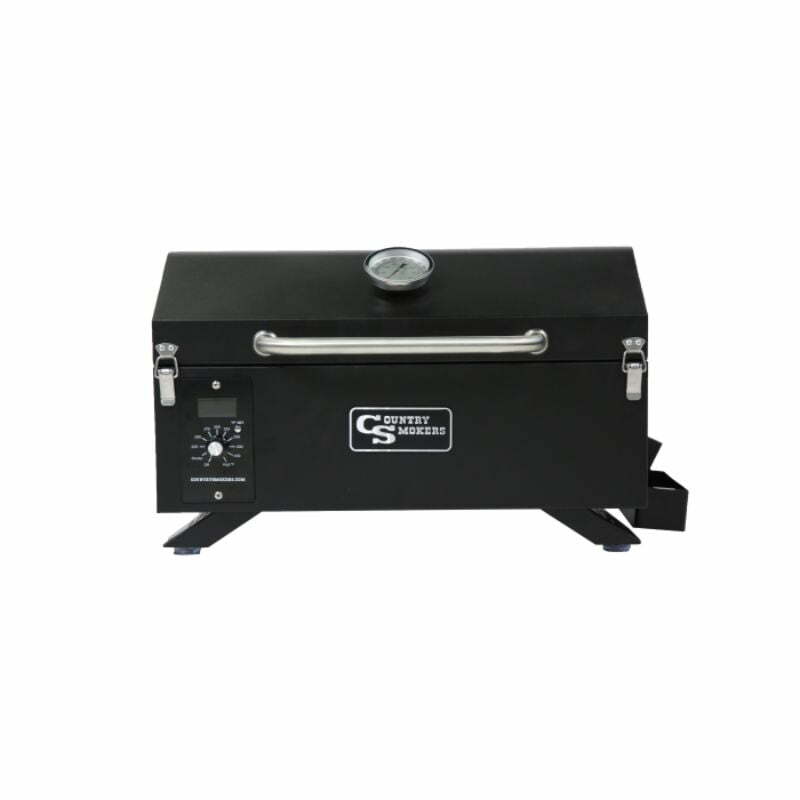 Weber Kettle 22″
The Weber Kettle has been around for many decades.  Originally designed after the shape of a floating buoy, this timeless grill has amazing versatility and has stood the test of time.  Because of its very low price point, this grill is very popular with people who are new to smoking meat and is a great way to learn to cook on charcoal because it is low cost and relative ease of use. The cart that attaches to the Kettle makes rolling it around your camp site easy, but also makes it so that to transport this grill, you likely need space in the back of a pickup truck, I would not try jamming one of these into your SUV or underneath your trailer.  The light weight of this grill does make it surprisingly portable.
What Meats can you cook on a Weber Kettle?
Weber kettles are fantastic for long smokes or direct grilling.  If you practice your fire management skills, this grill can be setup for indirect heat cooking, or the charcoal can be spread out for searing burgers, steaks, or hot dogs for the kids.  When you are cooking indirect you can do brisket, pork shoulder or any of the other big BBQ meats.
Does this grill need power?
No, this grill does not require electricity.  If you have a good chimney starter or ability to light the charcoal, this grill can be run totally off grid.  The charcoal is the only source of power and because of the natural convection created by the air vents, you do not need a fan or any thing else to keep this grill running.  So, get ready to hit the back country or do some boondocking if you have a Weber Kettle on hand.
Fuel Source
The fuel source for a Webber Kettle is usually lump charcoal, which is basically logs that have been cooked to the point of becoming charcoal and then stopped. This is a fantastic way to run the grill because lump charcoal is very easy to light with very little energy as well as being renewable and can burn quite hot or with the right fire management can be cooked low and slow.  You can also burn this grill with charcoal briquettes or use charcoal from your fire pit to get it going, but if you do that just make sure the wood is good and there are no contaminants in your fire pit.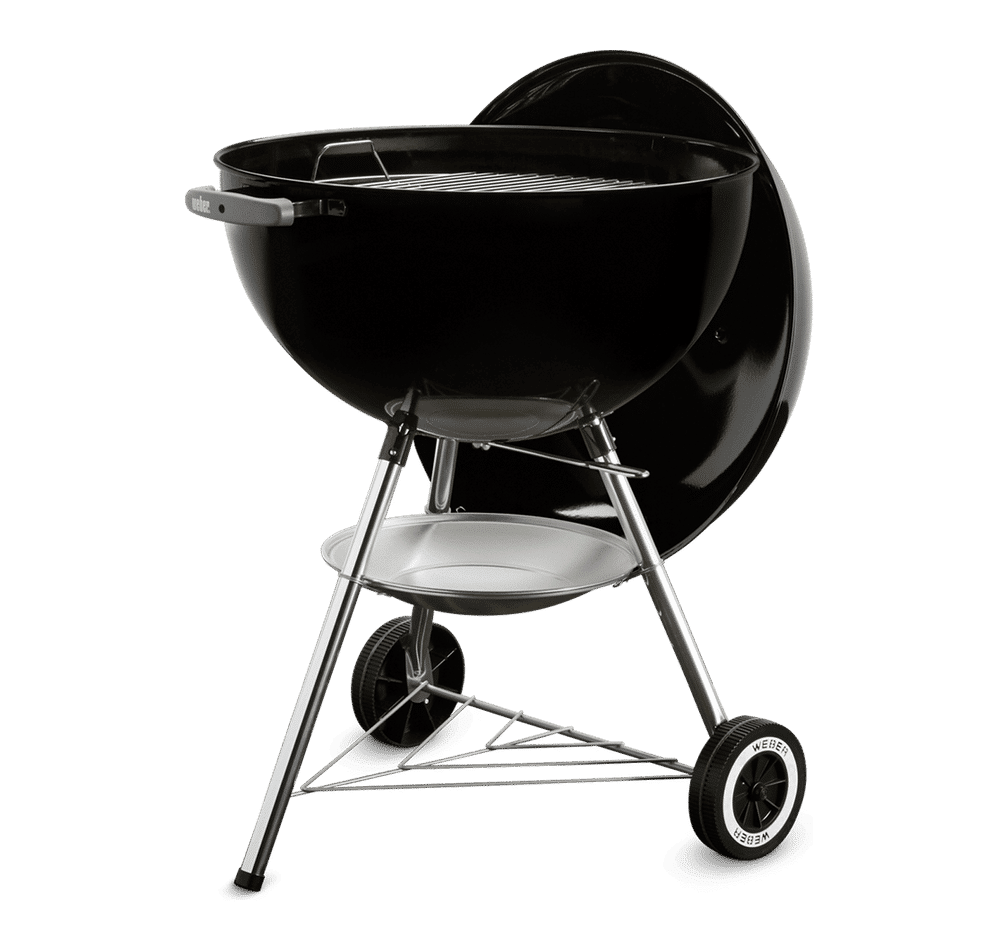 Camp Chef Pro 60X Deluxe
The Camp Chef Pro 60 X is a 2-burner stove that comes with a whole range of attachments that will make you feel like you are cooking in a kitchen, even if you are in the back country.  Whether you are making pizzeria style deep dish pizza while camping, boiling water, or frying breakfast sausage, this grill has you covered.  With a collapsible leg system that allows this grill to fit under your trailer or in the trunk of your car, this grill is very portable.  As a stand alone grill you can take this unit camping with your regular pots and pans, but if you want an elevated experience, you can also upgrade it with the griddle attachment or the pizza oven attachment.
What can you cook on the camp chef?
Camp chef is a system designed to be like a home kitchen in the wilderness, so you can literally cook just about anything on this unit. Whether you setup a pot of oil to do some back country deep frying or you throw on the pizza oven attachment to make Neapolitan style pizza in the woods, with the right planning you can cook just about anything. While this grill is not a smoker, you could cook your steaks or other meats in a cast iron pan or on the griddle.  The griddle attachment for this unit can famously fit enough pancakes in a single batch that you will not be slaving over the grill all morning.
Does this Grill Need Power?
No, this grill does not require a power source. All the heat from this grill comes from the propane fire, so you do not need to have electricity to make it run.
Fuel Source
The fuel for this grill is propane, so you can use miniature propane bottles, but because this grill can pump out 60,000 BTU of heat, we do recommend carrying a full size 20lb or larger propane bottle.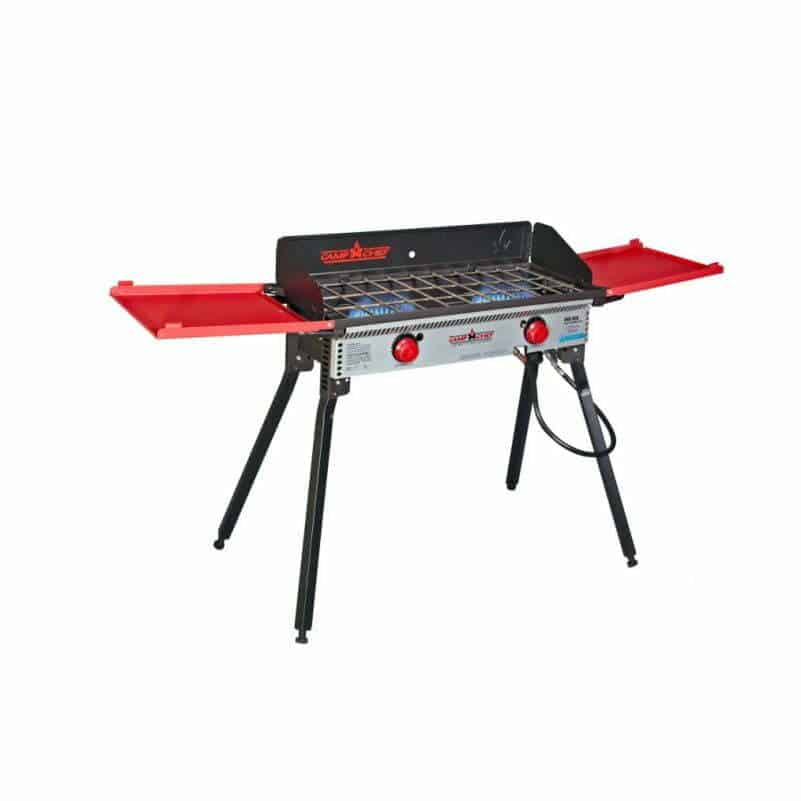 Hellrazr Yama Grill and Incinerator
Hellrazr is a relatively new player on the BBQ Landscape, these new made in Canada grills are small and made of very rugged ¼ inch thick powder coated steel.  The small size of this grill makes it ideal for taking camping, but beware it does weigh about 100 lbs., so it is definitely not going on any backpacking trips. The Yama is a square yakitori shaped grill, so it can become a reverse flow smoker, or you can set up the grills for direct grilling, add the Plancha attachment for grilling eggs or Smashburger or use the included skewers for shish kebabs.  The options are literally endless for this tiny little grill.  If you are looking for something a little smaller, you could also consider the Hellrazr Incinerator.  The incinerator is basically a charcoal chimney, but it has a grill attachment for the top.  This would be fantastic for grilling up a couple of steaks or burgers without the need to whip out a whole BBQ.
What meats can you cook on a Hell Razr?
My favorite meats to cook on a Hellrazr are steaks because when you set the grills to their lowest setting and crank up the air flow, this BBQ can sear a steak with steakhouse quality consistency (or better!).  This grill is fantastic for things like Yakitori chicken skewers, smoking some beef ribs or even frying eggs if you pickup the griddle attachment called the Plancha. So, whether it be breakfast, lunch or dinner, this grill is the only grill you need when camping for all your meals.
Does it Need Power?
Hell Razr grills do not need any electricity to run. You can light this grill with just some crumpled up paper and a lighter or a charcoal starter, however if you are using an electric charcoal starter than you will need power.
Fuel Source
This grill runs off lump charcoal or charcoal briquettes. When I am using this grill, I like to throw on a couple of fresh hickory wood chunks as well to give the food a little more smoke flavour.  I have also seen people throw whole logs onto this smoker to create their own coals instead of starting with charcoal, this is a super fun option for people that want to cook a little more primal.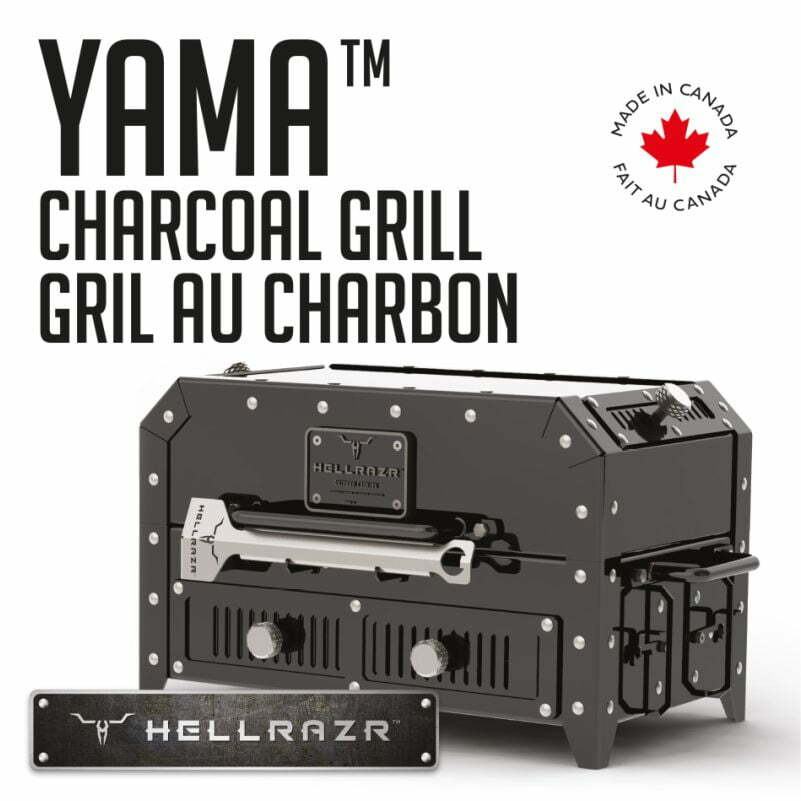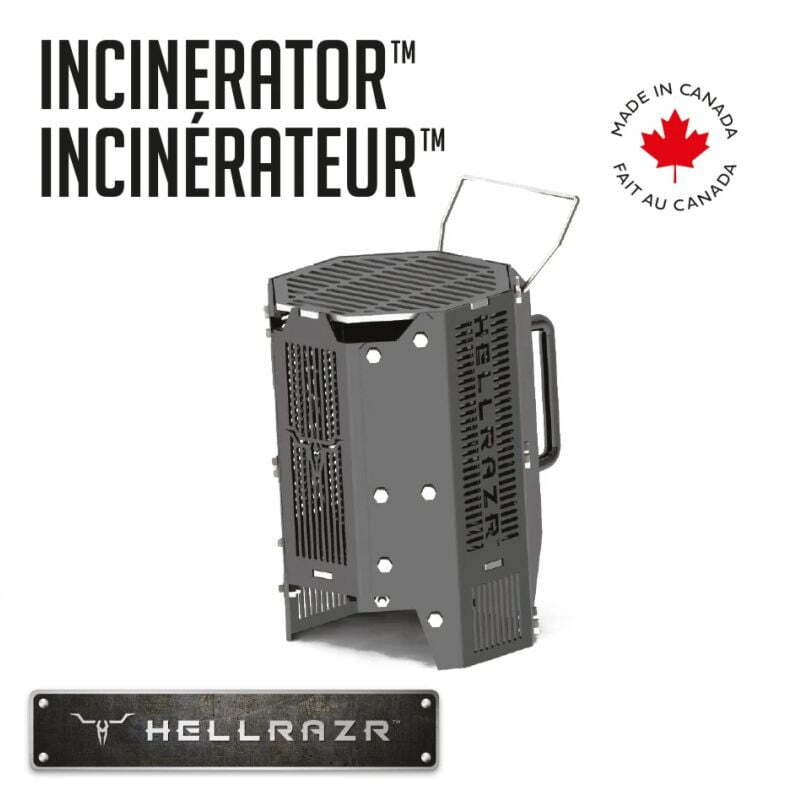 Pit Boss Cast Iron
When people think of cast iron, they usually think of a frying pan, but did you know that they make cast iron ovens and griddles and more?  The ovens are called Dutch ovens and most people look at them and see a pot, but these are so much more than a pot!  In a Dutch oven you can do all sorts of versatile cooking like baking, stewing, roasting and more.  Eats as easy as covering the oven with the lid and placing it on a fire or placing charcoal directly on top of or underneath the oven.  Cast iron skillets are also a great way to cook whole camping.  These versatile cooking units can be placed over your campfire or rested directly on a bed of charcoal on the ground. The griddle has a flat side for smashing burgers, but it also has a grill side for getting nice grill marks on a steak or cooking the fat out of items like sausages. It is amazing what you can cook if all you have is a piece of cast iron and a fire!
What food can you cook on cast iron?
Cast iron can be used for things like baking bread in a dutch oven or making items like pit beans or mac and cheese.  If you flip over to a griddle or frying pan you can do things like searing steaks, making smash burgers or frying bacon, all of my favorite foods while camping.  The options are pretty far reaching whether you are baking, frying, steaming, broiling, braising, deep frying or more, these pans and pots will elevate your camp cooking experience by quite a bit.
Fuel Source
The versatility of cast iron is that I can be put directly onto a fire, so whether that is any of the other grills listed here, or just simply placing the unit on your campfire, you can heat up cast iron in lots of different ways.  One of the less common but very useful methods is to place charcoal briquettes directly against the cast iron to heat it up directly.