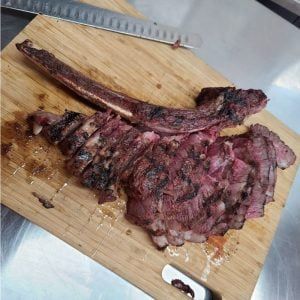 Tomahawk Ribeye Steak
Tomahawk steaks are considered by many to be the king of all the steaks. They are without a doubt the most expensive steak that you can buy, partly because you are paying for all that bone, but also because they are worth it! There is something so primal and amazing about a bone in ribeye, and seeing the long bone sticking out and across the grill gives you a fantastic handle for flipping the steak, but also adds flavor. Frenching the bone (cleaning the meat off of it) makes this Steak look like a giant meat sucker on a stick. Do not be intimidated by this outlandishly large piece of meat, it cooks up easily, just like a normal ribeye.
Equipment
Competition Blend Wood Pellets

Grill Grates

BBQ Tongs

BBQ Gloves

Louisiana Grills 1200 Premier

Yonedas Okami Chef Knife

You Need a BBQ Cutting Board
Ingredients
1

each

Tomahawk Ribeye Steak

1

can

Cornhusker Kitchen Duck Fat Spray

¼

cup

Yonedas Gold Seasoning

1

pinch

Yonedas White Seasoning
Instructions
Preparation
Preheat Your smoker or BBQ to 350 degrees and top it with Grill Grates if you have them.

Spray the Tomahawk steak with the duck fat spray all over and then sprinkle with a heavy dose of Yonedas Gold Seasoning. Let the steak rest on the counter for about 20 minutes to let the seasoning penetrate the meat.
Smoking the Tomahawk Ribeye Steak
Place the steak on the grill at 350 F and let it smoke for about 30 minutes, depending on the thickness of your steak it should take at least this long to get up to temperature. You are looking for an internal temperature of 132-135 degrees for medium rare. Once you reach your desired temperature, remove the steak from the grill and let it rest for at least 10 minutes but up to 30 minutes.
Searing the Steaks
This is where the magic happens. Place your grill grates directly over the sear station on your grill and crank the temperature to as hot as the grill will go. You really want a raging fire; the grill grates will tame the flame a little bit but get scorching hot. Spray the grill grates with duck fat spray and then get the steak onto the grates. Push down on the steak from the top to help create nice dark grill marks.
Turning and Flipping
When I am searing a Tomahawk Ribeye Steak, you should flip it twice with a quarter turn each time. This will give you a nice diamond cross hatch grill mark on both sides of the steak. Remember to push down on the top of the steak every time you turn or flip, this will help get your grill marks more pronounced. This whole process should take 3-4 minutes max, if you go longer than that you risk over cooking your steak.
You do not need to rest your steak!
When cooking using the reverse searing method, you rested your steak after the first bit of cooking, so you do not need to rest it now. As soon as you are done searing you can pull the steak off the grill and start slicing into manageable portions. I like to do the Salt Bae method where you remove the steak from the bone, slice it into ½ inch slices and then sprinkle with some Yonedas White Seasoning.
Step by Step
Preheat your grill to 350 degrees

Spray your tomahawk with duck fat spray

Sprinkle with Yonedas Gold Seasoning

Cook the steak at 350 until the internal temp is 132-135

Let the Tomahawk steak rest at least 10 minutes

Crank your grill up to max temperature and put grill grates over the sear station

Sear the steak 30 seconds and then flip and ¼ turn. Repeat 4 times until you have diamond cross hatch on both sides of the steak

Remove from grill and slice the meat off the bone and into manageable slices

Sprinkle with Yonedas White Seasoning
Notes
Where can you buy Tomahawk steaks?
Always trust your butcher. Now that we have started to sell beef, we can bring in tomahawk steaks by special order. Otherwise, I would recommend checking out your favorite local butcher, our favorites are Popowich Meat Company, Darcy's Meats, Butcher Block, Real Deal Meats, Acme Meats and Meat Head in Edmonton, Sherwood Park, St. Albert, Leduc and Nisku.
Can Bone in Ribeye be cooked the same way?
Yes, a bone in ribeye is the same as a tomahawk except the tomahawk has the bone sticking out of one end. Otherwise, they are the exact same steak and will cook the same way!
What if I am Gluten Free?
This entire recipe is gluten free and great for people with celiac disease.
What else is a Tomahawk Steak Called?
Some other names for this steak are Rib Steak, Beef Rib Steak, Bone in Rib Steak, Ribeye Steak, Cowboy Cut Steak, Cowboy Cut Ribeye, Butcher Cut Ribeye Steak, Tomahawk Chop, Cote du Boeuf. It is most called a Tomahawk Ribeye, but all of these steaks are basically the same.