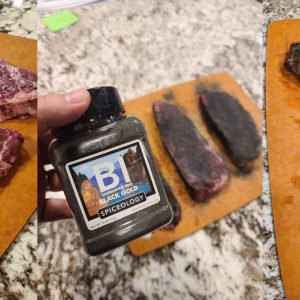 Black Gold New York Striploin Steaks
​The visual appeal of a perfectly cooked steak is one of my favorite parts of eating a steak.  It's the crispy charred bits around the edge and the cross hatched grill marks from a perfect sear.  The darker the sear marks in my books the better.  When a steak comes out glistening from the right amount of fat with the right amount of blackness, it's heaven for me. Black gold steak, is just that, it's pure gold for me.  The blackness of the charcoal really makes the visual appeal that much more, but when combined with the truffle flavour in the seasoning and the base umami flavours, this combination is a whole other level.
Ingredients
¼

cup

Spiceology Sasquatch Black Gold Rub

2

tbsp

Melted Butter

4

each

Striploin Steaks
Instructions
Preparation
Preheat the smoker or BBQ to 600 degrees or hotter.

Trim off any excess fat from the edges of the steak, it's ok to have a little bit of fat on the one edge, but we are going hot and fast on these steaks, so excess fat will not have time to break down. Sprinkle the Black Gold seasoning all over the steaks including the edges. Let the Steaks rest on the counter for at least 10 minutes to let the seasoning set on the meat.
Sear It
Place the steaks onto your cooker and press down on the top of them to create better contact on the grills.  Depending on how you like your steak done, I like to grill my steaks for around 2 minutes per side then flip.  Then 2 minutes, rotate 90 degrees ad flip again.  Continue this process until you achieve your desired internal temperature.  A basic guide is Rare: 125 Degrees, Medium Rare: 132 Degrees, Medium: 138 degrees, Medium well 145 Degrees, Well Done (yuck): 155 degrees. On your final flip, paint both sides of the steak with melted butter.
Resting the steaks
Once you have achieved your desired doneness, get the steaks off the grill, paint with melted butter one more time and rest wrapped in foil for around 5-10 minutes.
Slice and Serve
I think a properly rested steak should be sliced prior to serving.  It shows off that you cooked it perfectly, plus it makes it easier to eat.
Step By Step
Get your grill as hot as possible

Trim off any excess fat from the steaks

Season heavily with Black Gold Seasoning

Get the steaks on the grill for 2 minutes per side

Paint the steaks with melted butter on the final flip

When desired doneness is achieved, remove from grill

Paint with butter one more time

Slice the steaks and serve