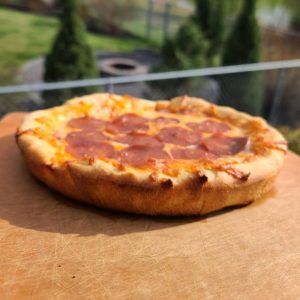 Deep Dish Bechamel Pepperoni Pizza
I love deep dish pie because when I make pizza, I always put on way too many toppings, so if the crust is floppy then it falls all over the place. With deep dish, you can get a lot more support on the undercarriage of the pizza, so it can support a lot more cheese and pepperoni or whatever else your heart desires. This pizza was inspired by a bite of pizza I had from Sepps in Edmonton. They make some of the best New York Style pizza that I have ever had outside of New York so if you are ever downtown or by the University of Alberta in Edmonton, make sure to check them out www.seppspizza.com. The specific inspiration was what I affectionately called "butter pizza", they use a Bechamel sauce on their Emilia pizza and when I took one bite my entire mouth was enveloped in a rich buttery flavor…. And now with this recipe, you can too!
Equipment
Competition Blend Wood Pellets

Ooni Pizza Peel

Camp Chef Rocking Pizza Cutter

Camp Chef Cast Iron Pizza Pan

BBQ Tongs

BBQ Gloves

Louisiana Grills 1200 Premier

Yonedas Okami Chef Knife

You Need a BBQ Cutting Board
Ingredients
1

bag

Urban Slicer Epic Deep Dish Pizza Dough

1

cup

Bechamel Sauce

1

cup

Pepperoni

2

cups

Shredded Cheese

1

can

Cornhusker Kitchen Duck Fat Spray
Instructions
Preparation
Pour the Urban Slicer Pizza dough into a stand mixer or large bowl and add 1 cup of warm water. Mix for 10 minutes by hand or 8 minutes with a dough hook in a stand mixer. Once combined and the dough has a springy texture, you want to cover it in a moist towel and let rise for 2-4 hours at room temperature.
Putting your dough in the pan
Spray the inside of your pans with a liberal amount of duck fat spray. Then you want to stretch the dough into the 2, 13" pizza pans or one large pan and let the dough rise for 1 more hour. Start your smoker and let it go to max heat, usually 500-600 degrees F.
Topping the Pizza
Put down a layer of the bechamel sauce first and then a heavy dose of your shredded cheese. Finally, top with pepperoni before tossing it in the smoker.
Firing that Pizza Pie!
Put the pizza pan in the smoker at maximum temperature and close the lid. Check the pizza after 5 minutes by lifting the crust to view the bottom. You are looking for the bottom of the crust to be a rich golden color while also having melty cheese on top. It should take about 10 minutes to finish the pizza, but I recommend checking it every 2 minutes after the 5-minute mark.
Rest the Pizza
I like to give my pizza 5 minutes to let the cheese solidify again a little bit before slicing, so once that is done, remove the pizza from the pan and slice it into triangles for serving.
Step By Step
Form your dough by mixing warm water and kneading for 8-10 minutes

Let the dough rise, covered for 2-4 hours

Stretch the dough into a duck fat sprayed pan and let rise for 1 more hour

Top with Bechamel sauce and cheese and pepperoni

Cook at 500-600 degrees for about 10 minutes until golden brown on the bottom

Let rest for 5 minutes before removing from the pan and slicing
Notes
How do you make bechamel sauce?
Melt 4 tablespoons butter into a saucepan, stir in 4 tablespoons of flour until a paste forms and starts bubbling. Add 2 and a half cups hot milk to the pan stirring constantly. And if this sounds like too much work for you, you can also use alfredo sauce or any other white pasta sauce you find in the grocery store to make this pizza. I like the real thing, but subs will also work!
What is Urban Slicer?
Urban slicer pizza dough is a line of dry ready to make pizza doughs. They were designed and founded by a fellow World Food Championships Alumni, Matt Frampton. They have 3 types of dough including their Epic Deep Dish, Neapolitan Style, and Outdoor Grilling Style. This recipe calls for the pic deep dish which can be used to make a Chicago Deep Dish or a Detroit Style Deep dish pizza.
What if I am Gluten Free?
Urban slicer pizza dough is not gluten free, however you could recreate this dish using our Authentic Foods Gluten Free Pizza Crust mix. We have received feedback on multiple occasions that this Gluten Free Pizza crust "tastes like pizza."
What other toppings would be good on this type of pizza?
I like to keep my pizzas simple with not too many toppings, but on a pizza with this rich sauce you could really mix it up. Whether you like veggies, this would be good with onions, mushrooms, olives, artichokes, green peppers, and basil. If you are more of a meat person, I would always give strong consideration to bacon, sausage, ground beef, salami and or ham.