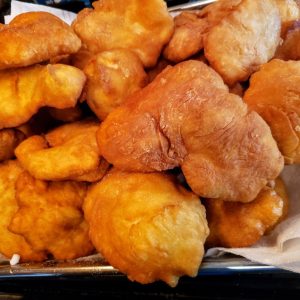 Fried Bannock and Smoked Bannock with Optional Cinnamon Sugar
When I was a child, we learned how to make Bannock in school.  I do not remember making the dough, I just remember wrapping it around a stick and roasting it over a fire.  I vividly remember really enjoying the process of learning how to make food. The simplicity of bannock is amazing because it can be made from scratch in just a few minutes and the cooking process is so simple that even small children can do it over a campfire. Fried bannock is even more delicious, but for obvious reasons I see why we didn't learn that one in school.
Equipment
Mixing Bowl

Cast Iron Pan (Optional)

Roasting Stick

BBQ Tongs

BBQ Spatula
Ingredients
3

cups

Flour

2

tbsp

Baking Powder

1

tsp

Yonedas White Seasoning

1

tbsp

Vegetable Oil

1

cup

Water

3

l

Canola Oil (for frying)

¼

cup

Cinnamon

¼

cup

Sugar
Instructions
Preparation
Mix the dry ingredients in a large mixing bowl. Add the vegetable oil and start adding the water, do not pour in all the water at once, I like to add half the water and then continue adding a little bit more at a time between mixing until you get the consistency of a sticky bread dough. Move the dough to a lightly floured countertop.
Forming the bannock
Divide the dough ball into 6-8 evenly sized balls. You want to smash each of the balls until it forms a ½ inch thick round or oval shape. These will become your portions of bannock.
Cooking the bannock over open fire
If you are cooking the bannock over open fire then you want to take your little bannock rounds and form them onto a roasting stick or place them in a over the fire cooking utensil (like a corn roaster, grilled cheese maker or pogo maker) and roast it over the fire until it is cooked through. Once the bannock is cooked you can serve with Jam or butter. Bannock can also be coked directly on a cook top like a cast iron skillet or pan. It was originally cooked on a griddle called a Bannock stone.
Deep Frying the bannock
If you are not cooking the bannock over an open fire, then you can use a deep fryer to cook the dough. You want to heat your oil to around 350 degrees. Place the dough into the oil being careful not to let any oil splash on you or over boil. Let the bannock fry until it is golden brown on the outside (around 7 minutes). Once it is the color you are looking for, remove it from the oil, drain and let cool on a cooling rack. Now you can serve with Jam or butter.
Adding Cinnamon Sugar
The cinnamon and sugar are a great add on to spice up your bannock and make it more kid friendly. You can add these elements when you are mixing the dry ingredients, but you can also add it at the end. It is also good when mixed with button and used as a spread.
Step by Step
Mix your dry ingredients in a large mixing bowl

Add the liquid ingredients and mix until you get a sticky dough

Form the dough into 6 even sized individual portioned balls

Cook the flat dough either wrapped on a stick or on a cast iron pan

You can also deep fry the balls at 350 degrees until golden

Let cool and serve with Jam orbutter.
Notes
Where does bannock come from?
Bannock in Western Canada is traditionally a food made by the Metis and Natives of the west.  It was brought to Canada by Scottish explorer and because of its simplicity and hearty nature it was quickly adopted by explorers and as such, regional variants of this type of bread can be found across Canada.
What if I am Gluten Free?
Bannock can be made by substituting gluten free flour with wheat flour. Often, gluten free diets can be a real struggle because good bread can be hard to find.  However unleavened breads like bannock are often considered the most like their gluten counterparts because they do not rise anyways.
Will your kids like it?
When I make bannock for my kids, I make sure to keep around some cinnamon and sugar to mix in to make it more like a dessert treat. Cinnamon sugar bannock is a fantastic treat for kids.  I also find that kids love to be involved in mixing the ingredients, cooking the bannock and they will definitely help eat it after it's done!