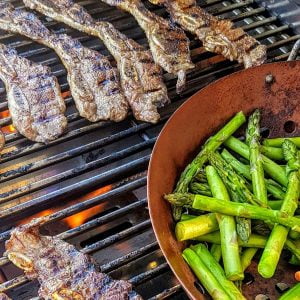 Maui Short Ribs
Everyone loves a fast and easy dinner, but imagine if that fast and easy dinner was also one of your favorite meals and knocked your socks off with flavour! Maui Ribs are exactly that, pumped full of flavour, these tender delicious slices of beef rib will excite your taste buds and are ready in basically no time.
Instructions
Preparation
Pre-heat your grill to be quite hot (around 400 degrees or as hot as it will get).

Rub the ribs down with a light coat of vegetable oil and then sprinkle with the Yonedas Gold Seasoning. Use more than you think you will need because some will fall off during the cooking process. Let the ribs sit at room temperature for a couple of minutes until the rub starts to melt into the surface of the meat.
Cooking
Place the ribs directly on the hot grill and watch them sizzle. You are going to flip them 3 times, so they end up cooking twice on each side. So every 2.5 minutes flip the ribs until each side has been cooking for around 10 minutes. Pull the ribs off the smoker and let rest for 5 minutes before serving.
Serving
I like to serve my BBQ sauce on the side, but you can also paint the surface of the ribs with the Prairie Smoke and Spice Blue Ribbin Sauce prior to serving. The bones are really easy to remove while eating, but when I'm serving to kids I like to cut the meat off before putting it on their plate.