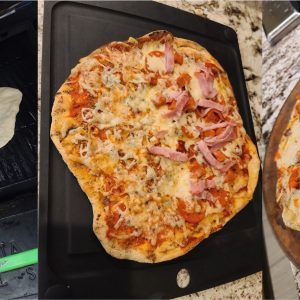 Outdoor Grilling Style Cheese Pizza
They say the best pizza has a fluffy bubbly crust and a crisp undercarriage (the bottom of the crust) with gooey cheese and a balance of delicious toppings.  I agree and am always hunting for different textures when it comes to crust.  The pizza we are doing today has the perfect crust because it has the unique experience of being cooked twice.  By par-baking the crust directly on the grill and then flipping it over, you end up getting just the right amount of char.  I was afraid that the crust would be too crusty, but it was surprisingly soft in the middle, despite that I rolled it pretty thin.  I will definitely be making this again. This is for cheese pizza, but please add any toppings you want!
Ingredients
1

Package

Urban Slicer Outdoor Grilling Dough

1

cup

Warm Water

4

cups

Shredded Pizza Mozzarella

¼

cup

Pizza Sauce

¼

cup

Pineapple (just kidding, pineapple does not go on cheese pizza)
Instructions
Preparation
Pour the dough mix into a mixing bowl and add 1 cup of warm water.  Knead the dough for 10 minutes by hand or 8 minutes in an electric mixer with a dough hook.  Once the dough is mixed divide it in half, cover it and let sit at room temperature for 2-4 hours to rise.  It should increase in size by at least double in that time.
Preheat Your Smoker or Pizza Oven
Get your BBQ smoker or pizza oven up to 500-550 degrees. This style of pizza is designed to go right on the grill, but if you prefer a pizza stone or pizza steel, that will also work. While the Barbecue gets hot, you can start to roll out your dough.
Rolling the dough
Lightly flour your flat surface and then using either a rolling pin or your hands, roll the dough out to make an approximately 13" circle of dough.
Grilling your dough
Place the dough on the grill and then close the lid and wait around 5 minutes. You are looking for the dough to start bubbling on the top and the bottom to start changing color to show a little bit of brownness or char. Once it starts bubbling it is ready for toppings.
Flip the Crust over
What used to be the bottom of your pizza dough is now going to be the top of your crust. You want to add your sauce to the side that was on the grill previously. Start with your pizza sauce and then add a healthy sprinkle of the Spiceology Pizza Cheese blend. Last you want to add your cheese, making sure to leave a crust area around the edges of the pizza.
Finish it on the grill
Take the pizza back to the grill and let it cook for an additional 5 minutes or until the cheese starts to bubble.
Slice and serve
I like to let my pizza rest for 5 minutes before serving so that nobody burns their mouth on the cheese, but go ahead and slice this pizza into individual slices and serve.
Step by Step
Mix Dough with 1 cup of water, knead for 8-10 minutes

Divide dough into 2 even balls and let rise covered for 2-4 hours

Preheat barbecue to 550 degrees

Roll out dough and place on smoker for 5 minutes until bubbles form on top

Flip dough over and apply toppings

Grill for 5 minute minutes until cheese is bubbling all over

Remove from grill, slice and serve.