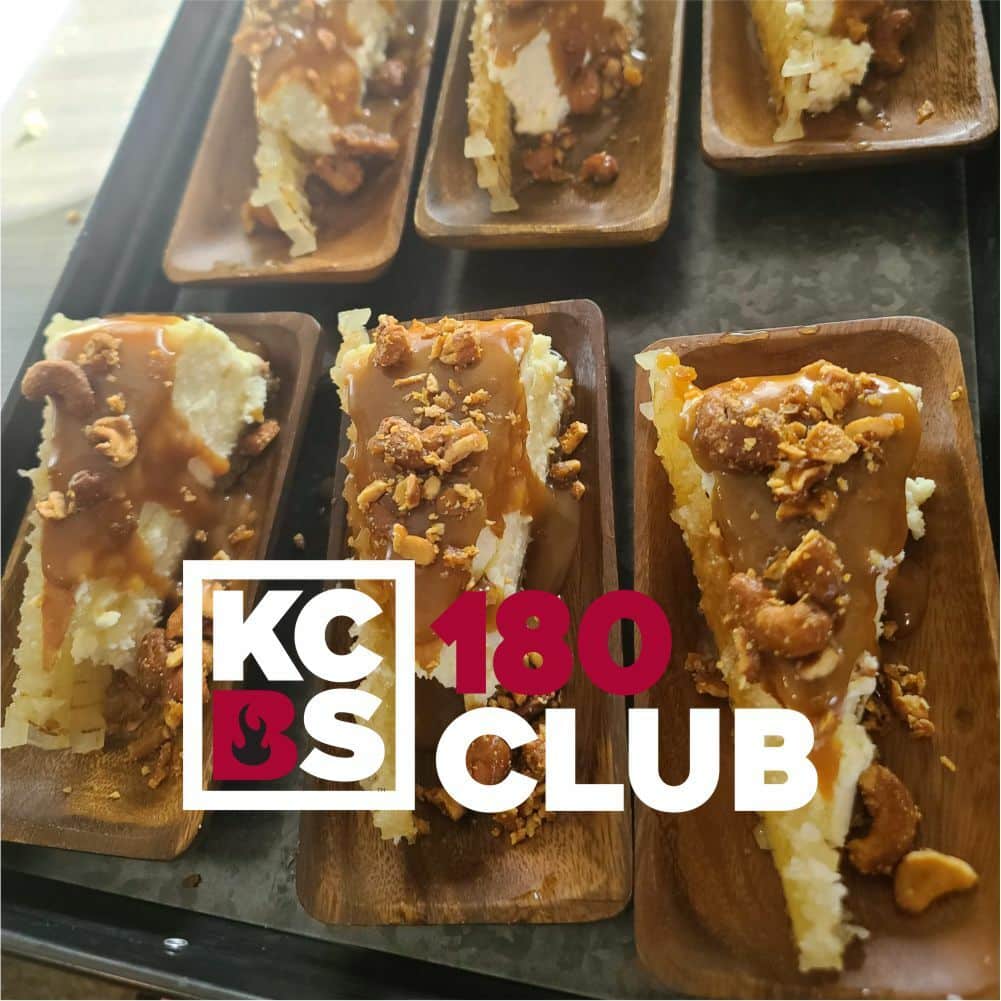 Perfect 180 Smoked Juniors Cheesecake
This weekend was the Porkapalooza Honey BBQ Cookoff sponsored by the Alberta Beekeepers Commission. My team was partnered with Peace River Honey/Honey Bunny. We were very excited to work with the folks from Peace River because they have a huge selection of flavored, as well as creamed and more traditional honeys. We wanted to make our dish as honey forwards as possible to really wow the judges. We also believe that if you put a little bit of honey in every layer, it's far better than just serving one part of the dish as honey based. A versatile ingredient like this can easily be incorporated into every single layer of the recipe. The official title of our dish was "Smoked Vanilla Cheesecake with Honey Graham Cracker Crust, Topped with Hot Bourbon honey caramel sauce and honey roasted cashews". We also served this dish with a spear of fresh honeycomb, directly out of one of their hives. The judges liked it enough to give us a perfect score.
Equipment
Spring Form Pan

Aluminum Foil

Aluminum Tray

Cooling Rack
Ingredients
Cheesecake Ingredients
32

oz

Cream Cheese

1 ⅔

cups

White Sugar

¼

cup

Cornstarch

1

tbsp

Pure Vanilla Extract

2

each

Extra Large Eggs

¾

cup

Heavy Whipping Cream
Cheesecake Crust Ingredients
1 ½

cups

Finely Ground Graham Crackers

⅓

cup

White Sugar

6

tbsp

Butter
Hot Bourbon Honey Caramel Sauce Ingredients
¼

cup

Butter

½

cup

Peace River Bourbon Hot Honey

1

cup

Heavy Whipping Cream
Smoked Sweet and Salty Honey Roasted Cashews
1

tsp

Butter

1 ½

cups

Whole Cashews (salted)

¼

cup

Peace River Honey
Instructions
Preparing the Cheesecake Crust
Preheat the smoker to 275 degrees and place a water bath in the smoker to get warm. Pour the graham cracker crumbs, sugar and melted butter into a bowl and mix until well combined. Make sure to grease the inside of the spring form pan before placing your crust mixture into it. Press the mixture into the bottom of a 9 inch spring form greased pan. Place the crust onto the smoker for about 10 minutes to par bake the crust a little bit.
Make the Cheesecake Mixture
Combine the cream cheese, sugar, cornstarch, vanilla extract, eggs and whipping cream in a large bowl. Using a mixer, mix on low speed for around 3 minutes until the ingredients are combined, then increase the speed to medium and continue mixing for 2 more minutes. Make sure to scrape the edges of the bowl so that everything mixes fully. Once the mixture is complete, grab the spring form pan and pour the mixture on top of the crust.
Placing the Cheesecake onto the Smoker
Double wrap the bottom of the spring form pan in tinfoil. This will prevent the water from the water bath from penetrating into the cake. Then you want to place your cake into the water bath. Make sure the water comes at least half way up the edge of the pan and does not overflow the water into your smoker. Close the door on your smoker and DO NOT OPEN THE DOOR. I use a glass front cabinet smoker, so I can tell when my Cheesecake is getting nice and brown on top. For my cake it took around 1 hour 45 minutes to get to the right color.
Remove from Smoker and Cool
You want to use a 2 step cooling method for this cheesecake. Place the cheesecake in the pan onto a wire rack and let cool on the counter for 2 hours. Then place the cake in the refrigerator uncovered for 4 hours. If you want, you can also chill this cheesecake overnight, but be sure to wrap it in saran wrap after the first 4 hours.
Making the Caramelized Nuts
The base of this recipe came from one on the peace river honey website, but I adapted it to fit this dish a little better by removing the spice: https://peaceriverhoney.co/recipe/sweet-and-spicy-roasted-nuts/

In a non-stick frying pan or a regular frying pan with lined parchment paper, melt the butter on medium-low heat. Once the butter is melted, add the honey and the cashews to the pan. Stir until well combined and then place on the smoker at 350 degrees for 20 minutes. Once the nuts are caramelized to your liking, remove from the smoker, and allow to cool. Once the nuts are cool, break them up and set aside for later.
Making the Bourbon Hot Honey Caramel Sauce
Melt the butter and honey together in a small sauce pan over medium heat. Stir the honey and butter together and allow it to simmer for about 10 minutes until it gets slightly darker in color. Add in the cream, stirring frequently to combine. Once the sauce comes to a boil, reduce the heat and continue to stir for 2 more minutes. Remove the sauce from the heat and allow to cool for 10 minutes.
Assembling the Cake
Remove the cake from the refrigerator and slice into evenly sized pieces. Top with sauce and sprinkle with the honey roasted nuts and serve cold.
Step By Step
Preheat Smoker 350 Degrees F

Mix the crust ingredients together and place in a greased spring form pan

Par-bake the crust for 10 minutes

Mix Cheesecake ingredients together and then pour over crust

Place cheesecake on the smoker for 1 hour 45 minutes or until golden brown on top

Cool on the counter for 2 hours and then into the fridge for 4 more hours

Prepare honey roasted nuts in frying pan by mixing ingredients together and frying on medium low heat for 5 minutes and then placing in the smoker for 20 minutes at 350F

Prepare Caramel honey sauce by mixing ingredients together and stirring on medium heat for 5 minutes

Add the cream to the sauce and continue cooking for 2 more minutes, let cool

Serve the cheesecake with a layer of the caramel sauce and sprinkle with the honey roasted cashews
Notes
What types of honey will work for this recipe?
When I made this recipe, I used hot bourbon honey from Peace River honey, but then the next time I made it, I used their jalapeno pineapple honey and it was also really good. Id recommend experimenting with a few different flavors until you find the one that is right for you. If you are not that adventurous, then you could just try regular honey as well.
What is a perfect 180?
Like in bowling when you score a 300 for 10 pin or 450 in 5 pin bowling, it's a perfect score. In the Kansas City BBQ society, they have 6 judges taste your food and they each provide a score out of 9 for taste, tenderness and appearance. A perfect score is 999. If you get a 999 from a minimum of 5 out of the 6 judges (they drop the low score) then that is considered a perfect score and receives a score of 180. You get a commemorative pin and your name goes down in history as one of the best dishes ever made. With this dish, we received a perfect 180 while attending the largest BBQ festival in Canada, Porkapalooza. This feat is so rare that in 30 years of KCBS in Alberta, according to our research, nobody has ever received a perfect score before.
What is Juniors Cheesecake?
The title of this recipe is Perfect 180 Smoked Juniors Cheesecake, so what is Juniors Cheesecake? When I travelled to New York City in 2011, I went on a hunt to find the best cheesecake in New York City. I was determined to find the best. When you google the best cheesecake in New York, a restaurant called Lindy's comes up pretty consistently as the best most world famous cheesecake (or at least it did back then). When I told a waiter at dinner one night that we were going to Lindy's for dessert, they snickered and said "the best cheesecake isn't at Lindy's it's at Juniors, that's where all the locals go"… apparently puff daddy made it famous in Making the band for having the stars go fetch him a piece of Juniors cheesecake during filming. Either way, we still went to Lindy's and it was phenomenal, but then the next day we went to Juniors and we should have listened to our waiter because it was absolutely incredible. Because there are no Juniors locations in Canada, I worked with my wife at recreating the recipe as closely as possible with a few minor adjustments and today it's here for you to try yourself! Make sure if you are ever in New York, you try the original to let us know how we did!