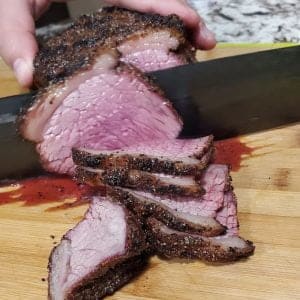 Perfect Picanha
Picanha is the top cap of the top sirloin and it is very popular in Brazilian cooking.  Most often they do it Rodizio style, which is slow roasted over coals but we don't all own that kind of smoker, so we mastered a way to make this beautiful cut of beef on your BBQ or smoker without the need for a rotisserie.
Ingredients
1

each

Picanha Roast

¼

cup

Motley Que Beef Fixx

¼

cup

Boar's Night Out White Lightning

1

can

Cornhusker Kitchen Duck Fat Spray
Instructions
Preparation
Preheat the smoker or BBQ to 350 degrees.

Score the fat side of the Picanha with a sharp knife in both directions creating little squares of fat on top of the fat cap.  Make sure not to cut all the way through the fat, just press down about 2 mm enough to create distinct lines in the fat.  Once you are done, spray with duck fat and coat liberally with the Motley Que Beef Fixx and the White lightning.
Cooking
Put the Picanha on the smoker fat side facing towards the heat, so on a Pitboss Grill or a Traeger this would be fat side down.  Smoke at 350 degrees until you reach an internal temperature of 130-135 degrees.  I pulled mine off the grill at 132 degrees.
Resting
Take the Picanha off the smoker and let it rest wrapped in foil for 15 minutes.  After 15 minutes give the outside of the roast a light coating of duck fat spray and then sprinkle with a little bit more white lightning. Now its time to crisp up that fat.
Searing the Fat
Open up your sear station on your grill or turn it up as high as it will go.  Place the Picanha directly over the fire or on the hottest part of the grill fat side down.  Turn the roast 90 degrees after about 45 seconds.  Then flip the steak to be fat side up for about a minute.  Finally turn the Picanha one more time to be fat side down and let it ride until the fat is nice and crispy (likely a minute or less).  Bring the Picanha inside for slicing.
Slicing
Find the grain of the roast and make sure you are cutting across the grain.  I found the most success slicing the roast with the fat side up because then my knife cut through the crispy fat first and then through the meat like warm butter.  I sliced mine very thin (about a half inch thickness) and then served immediately.
Step by Step
Preheat Smoker to 350 Degrees

Season Picanha with Motley Que Beef Fixx, White Lightning and Duck Fat Spray

Cook Picanha up to 132 Degrees internal temperature

Rest Picanha for 15 minutes

Re-season Picanha with more white lightning

Sear Picanha until fat is crispy

Slice across the grain and serve