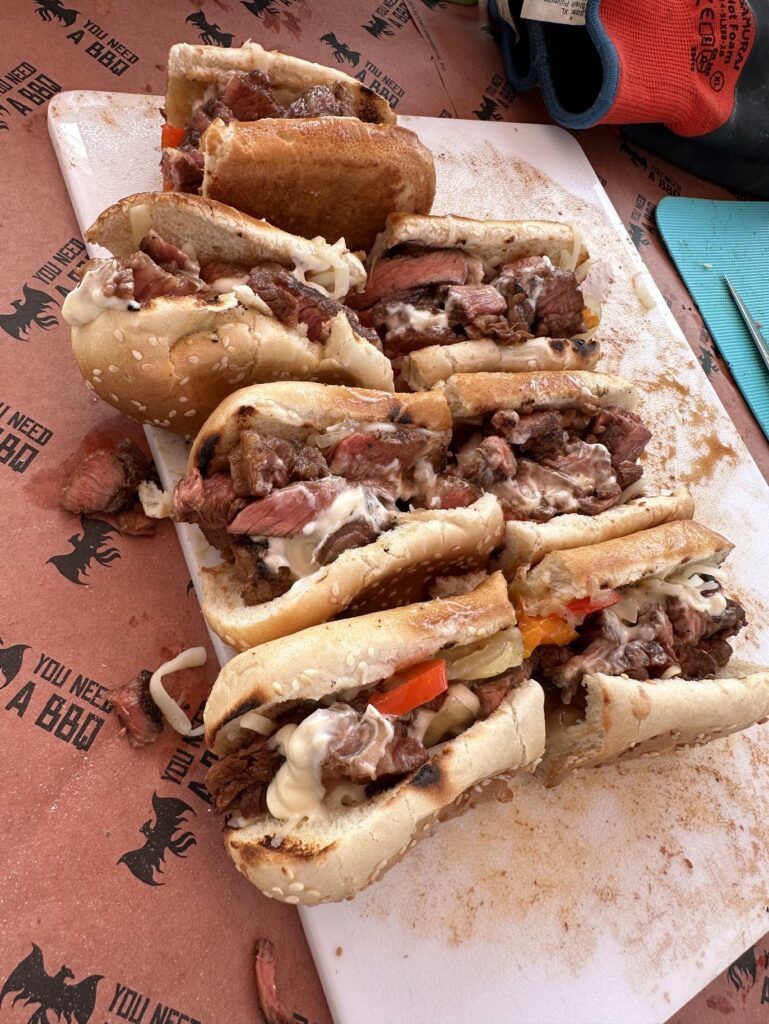 Ribeye Philly Cheese Steaks
When we were named the official tailgate bbq ambassadors to the Edmonton Elks, we knew we needed to knock our food out of the stadium! I did some research to find the best and most sensational tailgate bbq food around.  Taking my own tastes into account, I decided that philly cheesesteak sandwiches was the answer I was looking for.  The crowd gobbled up dozens of sandwiches at the first game, so we will for sure be doing this recipe again in the near future. I know these are not traditional philly's, these are just the way You Need a BBQ did it for this game and they were great, so we are giving you the recipe.
Equipment
Foil Trays

Sturdy Roll of Tin Foil
Ingredients
4

¾" Thick cut Ribeyes

1/2

cup

Yonedas White

1/2

cup

Yonedas Gold

2

Red or Yellow Bell Peppers

1

Sweet Onion

2

cups

Shredded Mozzarella Cheese

6

Hot Dog Buns

1/4

cup

Mayonaise
Instructions
Prep

Preheat Napoleon's TravelQ™ PRO285 Portable Propane Gas Grill or any similar grill to 400 degrees.

Season the steaks with the Yoneda White and then the Yoneda gold, let them setup on the side for around 20 minutes to let the seasoning work its way into the meat. Thinly slice the peppers and onions and then toss them with Yonedas White and duck fat spray in a foil pan. Place the foil pan on the bbq to soften the vegetables.

Let's cook those steaks!

Put the steaks on the BBQ and grill them until you reach an internal temperature of around 130 degrees for medium.  Once you hit your desired doneness, pull the steaks off to rest for around 5-10 minutes. 

Toasting your buns

Place your buns on the smoker face down until they start to get toasty.  Once you start seeing a little bit of color, flip the buns over and place a handful of cheese on the top of the bun, top the cheese with a scoop of the peppers and onions, some thinly sliced steak and let them continue to toast until the cheese is melted.

Serving the Philly Cheesesteaks

Now its time to add the toppings, we went with simple mayonnaise, but you could add all sorts of unique toppings like mustard, pickled banana peppers, hot sauce, etc etc.  Now give your starving guests their sandwiches and watch them get devoured.

Step byStep

1.     Preheat BBQ to 400 Degrees

2.     Season the steaks with Yonedas White and Gold

3.     Toss sliced peppers and onions inYonedas White and duck fat spray

4.     Cook peppers and onions until soft(around 20 minutes)

5.     Cook steaks until they reach 130degrees internal for medium

6.     Let steaks rest for 5-10 minutes

7.     Toast the buns and then add the cheese, onions, peppers and sliced steak

8.     Top with mayonnaise and serve hot.
Notes
Additional Thoughts:
What is the best cut of steak for a philly cheesesteak?
For this recipe we used ribeye, but you could make this recipe with just about any cut of steak.  My preferences in order would be Ribeye, Striploin, Tenderloin, Skirt Steak, Sirloin, and maybe tritip.  You just want to make sure the meat has a good meat to fat ratio.
Is this recipe healthy?
Philly Cheese steak can be made with leaner cuts of meat and low fat cheese and stuffed with vegetables, but the way we make it is designer to be all about flavor, so we punch up the cheese and high fat steak in this recipe.
What if I am Gluten Free?
This recipe is entirely gluten free if you were to use a gluten free bun.  So if your celiac friends are coming for dinner, this is a great recipe to give a try.
What are other great toppings on a philly cheesesteak?
I love putting pickled banana peppers on anything in a hot dog bun.  I have also included things like mushrooms, leeks, raw and cooked onion, peppers, jalapeños, serrano's.  Once time I even made this recipe with some Szechuan sauce to make it a little more like an Asian philly.
Tools and Accessories required to complete this recipe.
To complete this recipe, there are a few things you will need including tools and accessories.  Some of these tools are optional, but they will make your life easier if you have all of them.
100% hardwood Wood Pellets
BBQ Gloves
Pellet Grill or charcoal smoker
You Need a BBQ Cutting Board
Foil Tray
Aluminum Foil
Yonedas Slicing knife