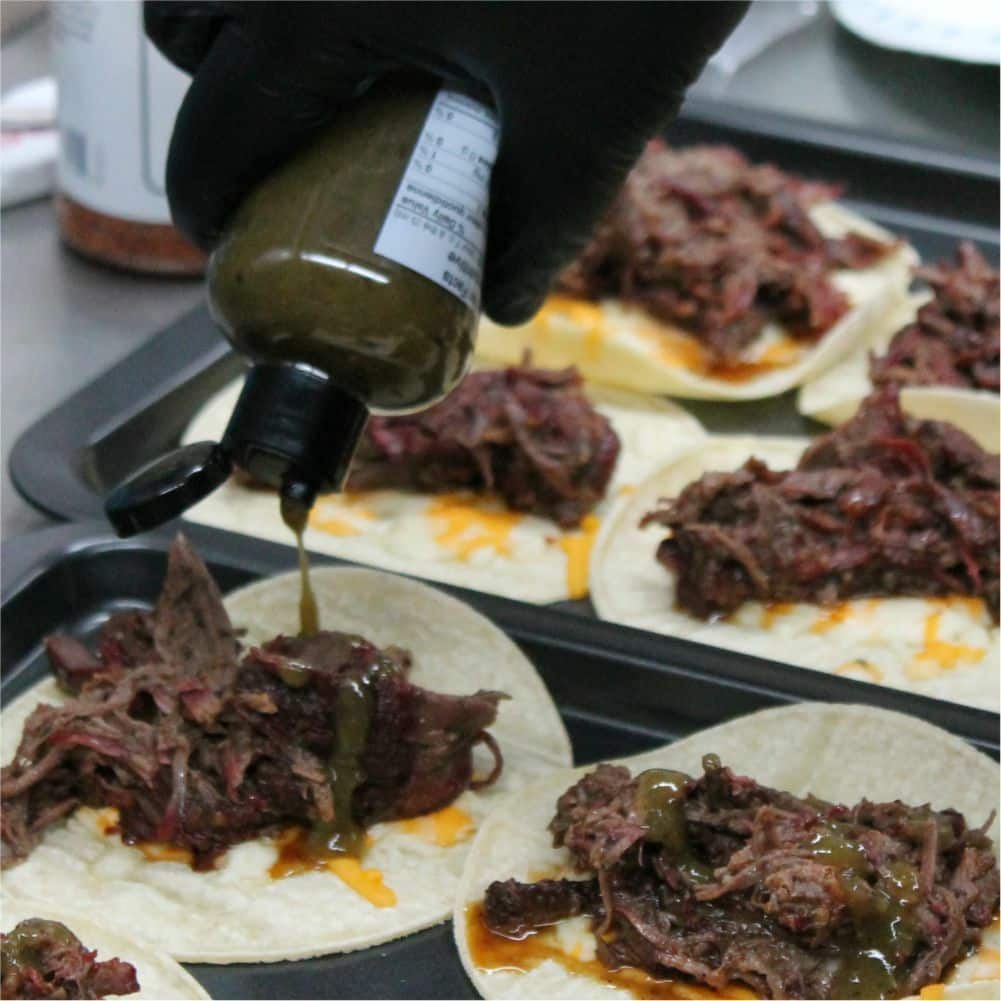 Smoked and Pulled Beef Chuck Tacos
I bought a chuck roast and cut the bottom portion into Denver steaks that were incredible! But now, I had the top portion that is usually ground up into hamburger to make incredible burgers, but I wanted to try something a little bit different. In honor of Cinco de Mayo, I thought it would be fun to make pulled beef tacos. I decided to treat the beef very similar to pulled pork, but instead of wrapping in foil, I wrapped it in a tray with some beef broth to really braise and break down the connective tissues a little more fully.
Equipment
Aluminum Foil

Foil Trays

Fat Separator
Ingredients
1

each

Chuck Roast - Denver's Removed

1

cup

Yonedas Gold Seasoning

4

cups

Beef Broth

1

package

Grated Cheese

12

each

Fresh Corn Tortillas
Instructions
Preheat Smoker to 275 Degrees
Preheat the smoker to 275 degrees.
Seasoning the Beef Chuck
Beef chuck is a tough meat with lots of silver skin and connective tissue, so make sure t trim off as much silver skin and connective tissue as possible before seasoning the meat. I took my knife and ran it through the middle of the roast as well to create more surface area on the meat for seasoning and smoke. Apply a generous coat of the Yonedas seasoning to the beef and let it rest for about 20 minutes before hitting the smoker.
Smoking the Beef Chuck
Place the beef chuck on the smoker at 275 degrees. Let the Chuck smoke for about 2 hours until it starts to caramelize on the outside. Then you want to place the chuck into a foil tray and pour the beef broth over top until the chuck is almost covered. Cover the chuck/foil tray in foil so that you can finish the chuck with a braising method. Place it back on the smoker for 2 more hours or until the chuck is tender enough to be shredded.
Straining the Aus Jus
Using a fat separator, pour the liquid from the foil tray into the fat separator, then pull the beef apart using your hands. Once all the beef is pulled nicely, you can add back in some of the strained Jus until you get the moisture content that you are looking for.
Putting the tacos together
Warm up your tortillas on the smoker, I like to add some cheese before putting them on the smoker. Once the tortillas are warmed through and the cheese is melted, then place a small amount of beef on each tortilla, drizzle with the Smoke show Jalapeno Hot Sauce and serve!
Step by Step
Preheat Smoker 275 Degrees F

Trim off any silver skin and apply a layer of Yonedas seasoning to the beef

Place the beef on the smoker and let it smoke for 2 hours

Place the beef in a foil tray and cover in beef broth, let it braise covered on the smoker for 2 more hours

Remove from the smoker and strain the au's jus to remove some of the fat

Shred the beef chuck and then re-add some of the jus back into the shredded beef

Assemble your tacos on warm taco shells with beef, cheese and jalapeno Smoke show sauce
Notes
Where is the best place to get Beef Chuck?
Many grocery stores will sell beef chuck, it is relatively inexpensive. We would recommend checking with your local butcher or grocery store that has specialty butchers in house, like Freson Bros. Call ahead so they can save you one instead of grinding it into hamburger.
What other cuts of beef can be made into pulled beef?
Many of the larger beef roasts that contain a lot of fat can be turned into pulled beef. I do recommend starting with beef chuck, but other great cuts of beef that make pulled beef would be Brisket, Tritip, Round Roast, Rump Roast. You will not see best results unless the beef you choose is well marbled, so if you choose to go another way than chuck, make sure you pick a nice fatty piece.
You made these into tacos, but what other dishes is pulled beef good with?
EVERYTHING! But seriously, we can narrow it down a little bit. Beef dip or roast beef sandwiches are great when being made with pulled beef. This recipe also makes a great enchilada, or pot of pulled beef chili. One of my families favorite dishes is fried rice, so a pulled beef fried rice would make for an incredible dinner.