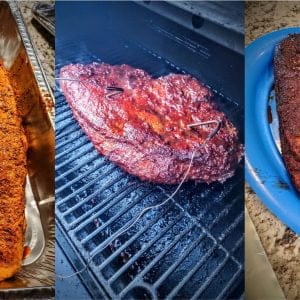 Tandoori Brisket
I was asked to help my favorite local Indian restaurant to finalize a recipe for Smoked Tandoori Brisket.  I thought it would be a fun experiment, so I agreed.  I dropped off a brisket at the restaurant and they marinated it in a secret mixture of tandoori seasonings for 3 days.  After that I picked it up and smoked it over charcoal pellets for nearly 10 hours.  What we were left with was an amazingly rich and spicy brisket that was oh so flavorful and melt in your mouth.  The tik Tok got over 30,000 views in the first day.  The things I learned in the comments section of Tik Tok.  Hindu's do not eat beef but lots of other Indians (Sikh, Punjabi, Muslim, Christians) do in fact eat beef (sometimes).  I should not call it "East Indian" cuisine because there is only 1 India, it is just called "Indian cuisine". I apparently also need to work on my Canadian accent version of how you pronounce "Tandoori".
Ingredients
1

each

Beef Brisket Trimmed

1

tbsp

Ground Ginger

1

tbsp

Ground Cumin

1

tbsp

Ground Coriander

1

tbsp

Turmeric

1

tbsp

Salt

1

tbsp

Cayenne Pepper

2

cups

Apple Juice or Guava Juice
Instructions
Preparation
Using a knife, stab the brisket all over to create holes for the marinade to go into. Then combine all the seasonings together in a bowl. Once they are all combined, rub the brisket all over with the seasonings making sure to push the seasonings into some of or most of the knife holes as well. This can be placed in the refrigerator in a brining bag or covered for 24 hours upto 3 days depending on the freshness of your beef.
Smoking over Charcoal Pellets
Preheat the smoker to 265 degrees. While the smoker is preheating you can remove the brisket from the fridge and let it start coming up to room temperature. Once the smoker hits 265, put the brisket on the smoker. Let it ride for 3 hours without peaking or opening the lid, this is when the real magic happens
After 3 Hours
After the 3 hours mark you can open the lid and stand by with a spray bottle of the apple juice. You can spray down the ends of the brisket that are starting to develop some char or crust on the outside. Check the brisket every 45 minutes to 1 hour to spray it down. You want to keep doing this until you reach an internal temperature of around 165 degrees.
Wrapping the brisket
Once you achieve your desired color and or temperature on the brisket you want to wrap it tightly with either butcher paper or foil. Foil if you want super tender and moist brisket, paper if you want a little more bark. Once it is all wrapped up tightly, put it back on the smoker and let it continue to cook until it reaches around 200 degrees internal.
Probing for tenderness
Once it reaches 200 degrees, you can start probing for tenderness. I like to take a thermometer probe and insert it into the meat all over, you are looking for spots where the meat feels tight. If you find a tight spot where the thermometer meets resistance you might want to throw it back on for about half an hour.
Resting the Tandoori Brisket
Once you achieve the desired tenderness you can remove the brisket from the smoker and place it in a warm cooler to rest for up to 4 hours. After resting you can slice and serve with your favorite Indian sides.

Pro Tip: I put chopped brisket pieces in with butter sauce (ie. What they serve on butter chicken) and it was out of this world!
Step by Step
Marinade the brisket for up to 3 days in tandoori seasonings.

Preheat smoker to 265 degrees.

Place brisket on the smoker and do not look at it for 3 hours.

Spray any dark bits of the brisket with apple juice.

Continue cooking until internal temperature reaches 165 degrees.

Wrap the brisket tightly in foil.

Place back on the smoker until 200 degrees internal

Continue cooking until desired tenderness is reached.

Rest for up to 4 hours but not less than 30 minutes