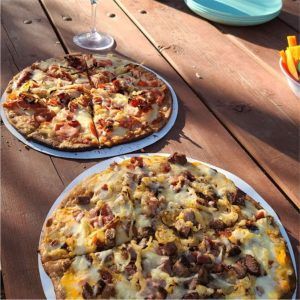 The Ultimate Camping Pizza
You will be the envy of the camp site when you roll out your shiny new pizza oven for this recipe. It does not matter if you have an Ooni, a Camp Chef artisan pizza oven or maybe even just a pizza stone or cast iron pizza pan, but making pizza while camping can be affordable, fast and easy with the right tools. For this recipe, we used a Camp Chef Artisan Pizza oven attachment for the Camp Chef Pro 60X. We used a pre-made gluten free cauliflower crust, but this recipe can also be made using Urban Slicer Dough or a regular pizza crust as well.
Equipment
Ooni Koda 16 Pizza Oven

Ooni Pizza Peel

You Need a BBQ Cutting Board

Camp Chef Rocking Pizza Cutter

Camp Chef Cast Iron Pizza Pan
Ingredients
2

each

Pizza Crusts

1

lb

Bacon

1

can

Pizza Sauce

2

tbsp

Spiceology Pizza Cheese Seasoning

8

cups

shredded cheese

¼

lb

Pepperoni

½

cup

Fried Onions
Instructions
Preparation
Preheat the pizza oven to max Heat, for us it was around 750 degrees F
Lay out your pizza ingredients
Creating the perfect mise en place for your pizza will make selecting your toppings and assembling the pizzas that much easier and faster.
Assembling your pizza
Put your pizza dough or crust onto a pizza peel and then add your sauce. Push the sauce around with a spoon to ensure an even layer all over, making sure to leave a small gap at the edge for the crust. Next sprinkle some of the pizza cheese seasoning onto the sauce. The next layer is cheese, use more than you think you need. The final ingredient is the toppings. We went with bacon, pepperoni and fried onions on our pizza, but feel free to get inventive and add whatever you have in your fridge!
Baking the Pizza
I cooked my pizzas for about 3 minutes each, spinning the pizza 180 degrees half way through. Because these pizza ovens get so hot, you really don't need to cook your pizza for very long.
Don't cut on your peel
Once the pizza is done, transfer it to a wooden cutting board and slice into wedges. Don't cut directly on your pizza peel, because you want that surface to remain flat and free from cut marks. This allows your pizza to slide on and off easier, so keep it free from knife marks.
Step By Step
Preheat the oven to Max heat (700 degrees)

Lay out all your ingredients

Assemble your pizza on a pizza peel

Transfer the pizza to the oven

Spin the pizza 180 degrees after a minute and a half

Remove the pizza from the oven after about 3 minutes, when the crust is golden brown

Transfer pizza to a wooden cutting board and slice into wedges
Notes
How do you make your own crust?
We love the Urban Slicer pizza dough mixes that we sell here in the store, for those all you do is add 1 cup of water, mix it well and let it rise for 2-4 hours. If you want to do it from scratch you can follow our recipe here: https://youneedabbq.com/the-ultimate-pizza-dough/?tx_category=pizza
What type of cheese is best for pizza?
Mozzarella cheese is the best cheese for pizza because of its' rich flavor, and how it melts to keep your pizza toppings from falling all over the place. The other most popular types of cheese for pizza are Provolone, Cheddar, Marble and Parmesan. If you want to go off book, but still have delicious pizza you could consider adding some Gouda, Goat Cheese, Gruyere or Ricotta to your pizza as well.
What if I am Gluten Free?
The premade Cauliflower crusts that we used are gluten free. You can also look at the Authentic Foods Pizza crust mix that we sell in store as a fantastic alternative to gluten based crusts. The feedback we get on this stuff all the time is that it "Tastes Just like Pizza!". That's music to my ears when I hear it from my celiac friends.
Can this be made on a bbq or in the oven?
Yes, you do not need a pizza oven to make this recipe. For a conventional oven you will want to set your oven temperature to 500 degrees and the pizza will take around 8-10 minutes to cook. If you are using a bbq make sure to keep the lid closed as much as possible to allow the heat to circulate in the bbq. The benefits of a pizza oven is that you can see your pizza the whole time, plus the heat comes from both the bottom and the top, so your pizza cooks more evenly and faster than an oven or a barbecue.