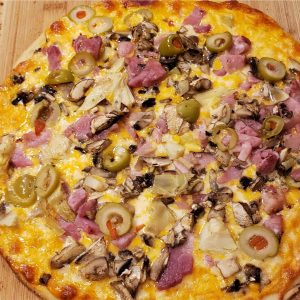 The Ultimate Pizza Dough
You probably have 3 pizza joints on speed dial, because everyone loves pizza.  However once you have tried this dough recipe and cooked it up a couple of times you will realize how easy it is and how much better fresh pizza is than delivery or frozen.  It turns out you can make fresh pizza in about the same amount of time it takes to get one delivered.
Ingredients
3

cups

All Purpose Flour

2 ¼

tsp

Dry Active Yeast

2

tbsp

Vegetable

1

tsp

Salt

1

cup

Warm Water

1

tbsp

White Sugar
Instructions
Preparation
Grab a large bowl and add in 1 cup of flour, the yeast, the salt, the sugar, 3 tablespoons of oil and the warm water. Mix aggressively for about 3 minutes making sure to scrape the sides of the bowl every couple of spins. Add in extra flour until the dough releases from the sides of the bowl and is soft. Remove the dough from the bowl and knead it for 6-7 minutes until it is smooth and a little bit bouncy. Divide the dough in half and place in 2 bowls and cover with a tea towel to let it rest and rise for 30 minutes in a warm place.
Rolling and Pizza Prep
Now your dough is ready to make pizza. If you want a thick crust you can roll out the dough and then cover it and let it rise for another 20 minutes. If you want a thinner crust you just roll it out and cook straight away. Some people like to pre-bake the crust for about 30 minutes at 375 degrees, this will give you a crispier crust for your finished product. I like to cook my pizza on a hot stone, so with that step you do not need to pre-bake the crust.
Best way to cook
Top the crust with all of your favorite ingredients making sure not to overload it. Place it in a 450 degree smoker or oven for about 15 minutes. You are looking to see melted cheese and the crust around the edges start to change golden brown.
Rest
I like to let my pizza rest for about 10 minutes after I take it out of the oven, this allows the cheese to set a little bit and prevents me from burning the roof of my mouth.
Step by Step
Add 1 cup flour, yeast, salt, sugar, oil and warm water to a large bowl

Mix the ingredients together for 3 minutes, scraping the bowl regularly

Add in extra flour to create a soft consistency

Knead for 6-7 minutes until smooth

Divide dough in 2 and rest covered for 30 minutes to rise in warm location

Roll out dough and add any toppings you want

Bake at 450 degrees for about 15 minutes until golden brown and cheese is melted