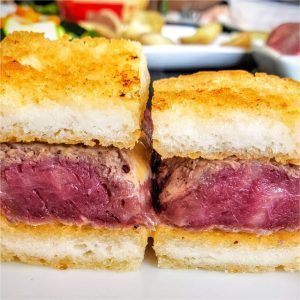 Wagyu Katsu Sando Sandwich
Make the Worlds Most Expensive Sandwich at home for less!
The Wagyu Katsu Sando is the world's most expensive sandwich. It sells on Wall St. in New York City for hundreds of dollars and believe me when I say this, it is worth every penny! But now with our exclusive lines of Wagyu Beef available on at You Need a BBQ, you can make this delectable dish for yourself at home for a fraction of the price. I like to make a couple of subs from the classic Wall Street version to make this sandwich simpler to make at home, so get ready to dive into umami heaven with this sandwich which is sure to excite your taste buds.
Equipment
BBQ Tongs

Camp Chef Woodwind Wi-Fi 36 Pellet Grill

You Need a BBQ Cutting Board

Yonedas Okami Chef Knife

BBQ Basting Brush
Ingredients
1

each

Snake River Farms Gold Graded Ribeye Steak

1

tsp

Boar's Night Out White Lightning

¼

cup

House of BBQ Experts Samurai Sauce

2

tbsp

Soy Sauce

1

tbsp

Worcester Sauce

¼

cup

Salted Butter

8

each

Slices Thick Cut White Bread
Instructions
Prep the Steak
Pre-heat your grill to 500 degrees F.

Season your steak with a liberal amount of Boars Night Out White Lightning on all sides. Let it sit out at room temperature for about 20 minutes to allow the seasoning to penetrate the steak. I have tried this recipe by breading and frying the steak, but I prefer to prep it without frying, I find it tastes better and lets the wagyu sing a little more without the flavors of the oil penetrating the breading.
Prep the Sandwich
While the steak is resting on the counter, go ahead and start buttering your bread on both sides and remove all crusts. You are going to fry this bread until crispy on both sides with quite a bit of butter. Next you want to mix your sauce, pour the Samurai sauce into a bowl and add the soy and Worcester sauce. Taste it and make sure it pops, then add more soy sauce as necessary until its nice and salty and delicious.
Grill the Steak
Once everything is prepped its time to grill the steak. Toss the wagyu steak on the grill and sear both sides evenly until you reach an internal temperature of about 130 degrees. Once you reach your desired internal temperature you should let the steak rest for 5 minutes.
Assembling the Wagyu Katsu Sandwiches
Cut the steak to be the same size as the bread so that the steak goes right o the edge of the bread. Next you want to paint the inside of the bread with the Samurai Soy sauce on both sides and then place it onto the steak to create the sandwich. Next you will need to slice the sandwich into little square 1-2 bite sections. Think finger sandwiches, except instead of egg salad, these are filled with $100 per steak wagyu instead. 1 steak should yield about 8-10 sandwiches.
Step By Step
Preheat your grill to 500 Degrees F

Season your steaks with Boars Night Out White Lightning

Let the steaks sit on the counter for 20 minutes to absorb the seasoning

Get the steaks on the BBQ and flip every 2 minutes until they reach 130 degrees F internal, then rest

Butter the bread on both sides and fry it until golden brown all over

Mix the samurai sauce, soy and Worcester sauce in a bowl and then apply to the inside of the bread

Assemble the sandwich and cut into 1-2 bite pieces
Notes
What is the different between this and a traditional Wagyu Katsu Sando?
Quite a bit, but the main difference is the frying of the steak. The traditional recipe use panko breadcrumbs and an egg wash to coat the steak and then fry it. I have done this sandwich with seared steak and with the frying method and I found the searing method to be superior, so that is how I wrote MY recipe.
What is the best type of Wagyu for this recipe?
This recipe is best to be cooked with a wagyu steak. We stock several different cuts here that would be perfect including Snake River Farms ribeye's, New York Striploins as well as Brant Lake Wagyu Bavette Steaks that are gold grade and beautifully tender like butter. The black grade bone in ribeye's from Brant Lake wagyu would be a great choice if you wanted to remove the bone and cook it separately.
Can this recipe be made with regular steak?
The trick to making this recipe successfully is to use the most ender and delicious steak you can get your hands on. So, if your steak is grade AAA, Prime, Choice, Sterling Silver, Certified Angus or one of the other amazing beef grades available, then yes you should be able to make this recipe in a very similar fashion to how it is described here. If your steaks are of a slightly lower grade, then I say still go for it! For lesser grade steaks, just make sure to cut the sandwiches into smaller portions for your final cut, because you are not cutting this steak with a knife, you want to be able to pull it apart with just your teeth.
What if I am Gluten Free?
This recipe can be made entirely gluten free by just substituting the white bread for your favorite gluten free bread. You will also need to sub the samurai sauce with mayonnaise and the Soy sauce and Worcester with gluten free soy sauce and Worcester. I have made this recipe completely gluten free and it was still incredible.
What is the correct temperature to finish a wagyu steak?
Rare: 125F
Medium Rare: 130F
Medium: 135F
Medium Well or above: wagyu steaks should not be cooked above 135 F or it could be harmful to your health. 🙂