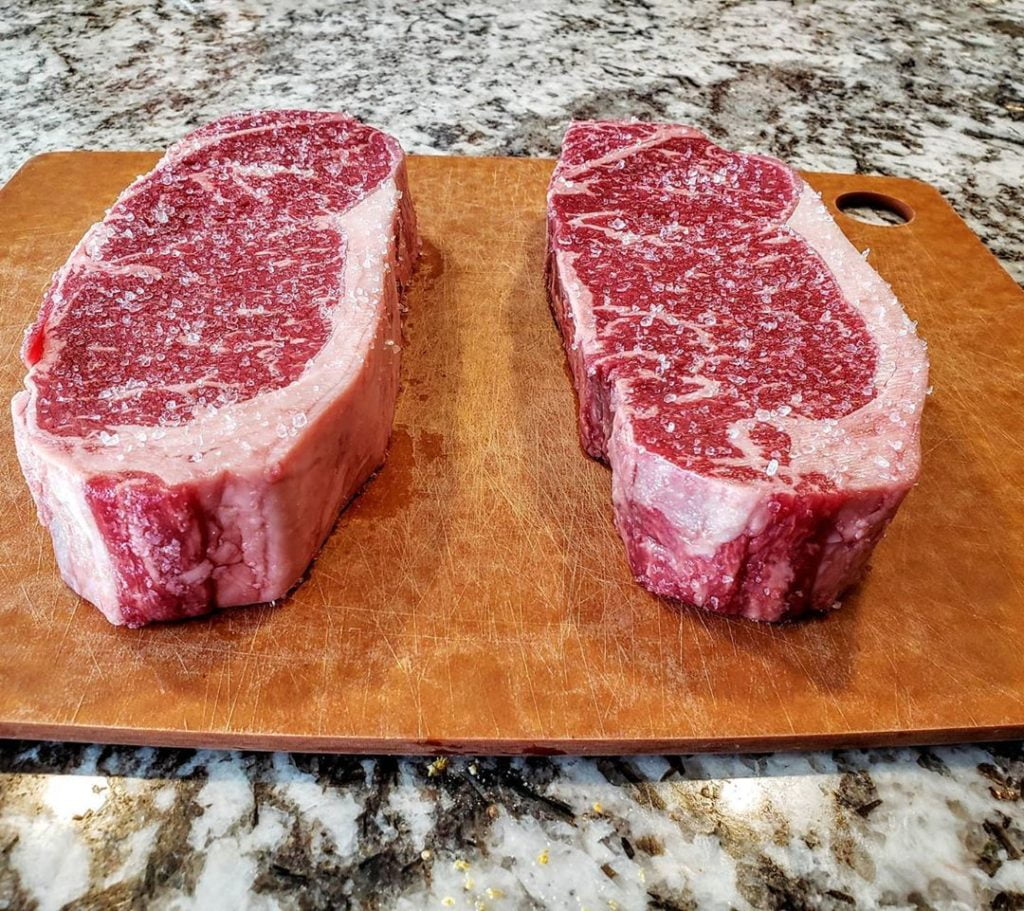 How to cook a Wagyu or Kobe Steak without over doing it
There is nothing worse than going to a restaurant and having to send your steak back when it is not cooked properly. It's even worse at home when you cook your steak wrong, because the only person you can blame is yourself and there might be no way to fix it. Using this tried and true method, you will never screw up cooking a steak again. You will be able to put a $100 steak on the grill with no fear of overdoing it.
Ingredients
4

each

Good Quality Ribeye or New York Striploin Steaks minimum 1 inch thick

2

tbsp

Melted Butter
Instructions
Preparation
Take your steaks out of the fridge and remove any butcher paper or packaging. If the steaks appear wet give them a pat dry with some paper towel. Next give the steaks a spray with the Duck Fat Spray all over both sides and then a hefty douse of the Boar's Night Out White Lightning, and finally the Big Poppa Smokers Double Secret Steak rub. Let the steak sit out at room temperature for at least 30 minutes.
Getting your steak up to temperature
Set your smoker to 350 degrees and grab a thermometer and place it in the centre of the steaks. Place the steaks in the smoker and pay close attention to those internal temperatures. For Rare you want to pull the steaks out at 110 Degrees F, for Medium Rare you want to pull them at around 120 degrees and for medium 130 degrees. If you want them more cooked then that then please have chicken. If your steaks are thicker than ¾ inch you can go a little hotter for your internal temperatures just remember that the steak will still go up a couple of degrees after you take it off the smoker.
Rest
One you have hit your desired internal temperature it is important to let the steak rest for long enough that it stops cooking completely. I like to let mine sit around for at least 20-30 minutes. This is also a great time to finish all the other prep for dinner because from this point on the steaks will be 5 minutes or less and you don't have to let them rest again after searing.
Searing Your Steak
Crank your grill up to as hot as it will go or if you have a Pit Boss open up your searing station to let the fire lick the grills. Bring your steaks and melted butter to the grill. Paint melted butter onto the top of your steak and place it butter side down on the hot grill. I like to push the steak down into the grills to get better grill marks. Now Paint butter on to the top of the steak again and repeat as necessary. Using a timer, wait 60 seconds. After 60 seconds lift the steak and flip it over. Paint the top again with melted butter and wait 60 seconds again. Now flip the steak but this time rotate is 90 degrees so that the grill marks are perpendicular to the grates, paint with butter again. After 30 seconds repeat this process one last time. This whole process should take around 3 minutes and get you amazing grill marks and buttery rich flavour on the surface of your steaks.
Serve
Put your steaks on a cutting board, slice and serve immediately with a sprinkle of the Happy Ending's Finishing Rub!