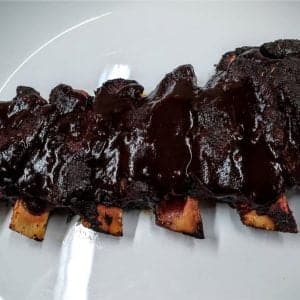 Beef Back Ribs
Beef back ribs are one of the foundations of great barbecue.  They come from the loin of the cow and are just the bone off the prime rib.  So, if you buy a bone in prime rib, you can get yourself a beautiful rack of beef back ribs by just removing the bones from the loin muscle.  Lots of people leave it on, lots of people remove it, there is no right or wrong answer.  This recipe is just to teach you how to cook these ribs if you remove them or are lucky enough to find them already removed at the butcher or grocery store. On these ribs most of the meat will end up being between the bones, unlike Plate ribs where the meat is on top of the bones.  So, you will get less meat, but it will be a little more tender and just as delicious.
Ingredients
1

each

Rack Beef Back Ribs

¼

cup

Yonedas Gold Seasoning

¼

cup

Boar's Night Out White Lightning

1

tbsp

Yonedas Grannies Gold Mustard Sauce

¼

cup

Yonedas Smoked Hickory BBQ Sauce
Instructions
Preparation
Preheat the smoker to 300 degrees.

Remove the membrane from the back of the beef ribs using a paper towel to pull it off. Coat the ribs in mustard sauce and then sprinkle all over with a heavy dose of the BBQ rub and the White Lightning. Let the ribs sit out at room temperature for 20 minutes to let the seasoning melt into the meat.
Get the ribs on the smoker
Place the ribs onto the smoker, bone side down for about 4 hours. After 3 hours you want to remove the ribs from the smoker and wrap in butcher paper.  Butcher paper will allow the ribs to continue to take on a little bit of smoke and not mess up the beautiful bark that you put 3 hours of work into.  Place the ribs back on the smoker for an additional 2 hours to finish and tenderize.
Rest, Cut, Sauce
Once the ribs reach the tenderness you are looking for (you can check this by inserting a meat probe into the meat, you want it to slide in like butter with little to no resistance).  I like to let the ribs rest for about 20 minutes before I cut into them.  Slice down between the bones, add some of the BBQ sauce and serve immediately.
Step by Step
Remove the membrane from the ribs

Coat the ribs with Mustard sauce and then season all over

Let the Ribs rest at room temperature for 20 minutes

Get the ribs on the smoker at 300 degrees for 3 hours

Wrap the ribs in butcher paper

Smoke for an additional 2 hours

Let the ribs rest for at least 20 minutes

Slice between the bones, add sauce and serve