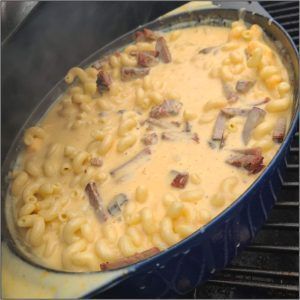 Brisket Smoked Mac & Cheese
Mac and Cheese is one of those meals that you grew up eating, and you loved it smothered in ketchup. This recipe is NOT that. There is no ketchup required with this gooey cheesy meal. The trick to making good mac and cheese is to use big noodles and good cheese, and lots of it. We like adding leftover BBQ meat to give it that amazing rich flavor. So throw away your KD and start making your smoked mac and cheese from scratch by following this recipe.
Equipment
Louisiana Grills Black Label 1000

BBQ Tongs

You Need a BBQ Cutting Board

Yonedas Okami Chef Knife

Foil Trays

Pit Boss Cast Iron Dutch Oven
Ingredients
8

oz

Dry Macaroni

8

oz

Cooked smoked brisket, chopped
Sauce
¼

cup

Butter

⅓

cup

all-purpose flour

3

cups

Whole Milk (for extra rich sauce use 1 ½ cups whole milk and 1½ cups cream)

7

oz

Aged Cheddar Cheese, grated

¼

tbsp

Boar's Night Out White Lightning

1

tsp

Butcher BBQ Sweet Chipotle Rub

¼

tsp

salt
Topping (optional)
¾

cup

Panko Crumbs

2

tbsp

Butter

½

oz

Shredded Cheddar Cheese
Instructions
Boiling the Pasta
Bring 8-10 cups of salted water in a large pot to a boil and add the macaroni. Cook the pasta about two to three minutes less than the instruction or until the pasta is just al dente. Drain and rinse with cold water to stop the cooking process.
Making the Cheese Sauce
Using a large saucepan melt butter over medium heat, once melted add flour and stir continually for about two minutes, you will start to smell a nutty aroma and at this point the flour is fully incorporated and cooked, increase the heat and slowly add the milk, keep stirring continually to a point where it is thick enough to coat the back of a spoon. This usually takes about 5 minutes. Once thickened reduce the heat and add both the cheeses, and the Boars Night Out White Lightning and Butcher BBQ Sweet Chipotle Rub, the heat will be enough to melt the cheese. At this point it will look like a lot of sauce but trust me it will work. Now add the cooked pasta and smoked meat and mix well.
Topping the Mac and Cheese (optional)
In a small dish, mix melted butter with the panko crumbs and sprinkle over the top of the pasta. You may also add additional shredded cheese to the top if you like it extra cheesy.
Let's Smoke It!
Using a large aluminum foil baking tray, place the macaroni in the tray and then top with the breadcrumb mixture. Place the pan on the smoker at 350 degrees and let it smoke uncovered for about 30 minutes. You will know it's done when the whole thing is bubbling. Serve hot and fresh.
Step By Step
Preheat Smoker to 350 degrees

Boil pasta in salted water for about 7-8 minutes until al dente

Make the cheese sauce by combining butter and flour slowly for about 2 minutes

Increase the heat and then add the milk, stir until thick enough to coat a spoon

Add the cheese and seasoning to the sauce

Add the pasta and chopped meat to the sauce

Place the pasta into an aluminum foil baking tray

Smoke the pasta at 350F for 30 minutes until heated through
Notes
What Kind of Pasta is Best for Smoked Mac and Cheese?
I like to use a larger pasta such as cavatappi as the sauce incorporates nicely. Sometimes Cavatappi pasta is also called "Scooby Doo Noodles", so keep your eyes open for that. Remember to use a dry weight measurement when using larger pastas. If using regular elbow macaroni, you may use a liquid measuring cup. Other great types of pasta for mac and cheese are Shells, Conchiglie, Bow Ties, Penne, Ziti, Fusilli, Rotini or see if you can find a funky shape that your kids will love like dinosaurs or farm animals.
What is the best type of cheese for smoked mac and cheese?
I used two types of cheddar for this recipe however don't be afraid to mix different types of cheeses. The cheese we used was Imperial Cheddar cold pack cheese and a good, aged cheddar cheese. For this recipe, these are what we recommend. That being said, other popular forms of cheese for mac and cheese are: Gouda, Gruyere, Brie, Velveeta, White Cheddar, Mozzarella and more. Don't be afraid to experiment, but make sure to try how we recommended it first.
What is the best dish for smoking mac and cheese?
Make sure to use a large pot to boil the pasta and a large saucepan that will hold all the ingredients. I find a large cast iron saucepan work nicely in a smoker and if you don't have a big enough pan you can always portion the mac & cheese in individual cast iron serving dishes. For this recipe we decided to do it everyman style and use aluminum foil disposable trays, because who likes doing dishes after serving BBQ to a crowd!
What types of meat can be put in this recipe?
For our recipe, we used leftover smoked beef brisket. This is a great way to bring leftover brisket back to life or use up brisket if it was a little bit dry after the cook. You could substitute the brisket with any other leftover meats including but not limited too: Leftover Chicken, Leftover Ribs, Leftover Pulled Pork, Leftover steak and more. I have also gone so far as to make this recipe without leftovers like fresh bacon, sausages or hot dogs. Let your imagination be your guide and use up what you have!