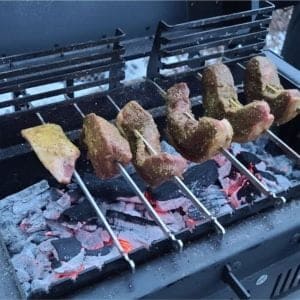 Charcoal Grilled Butter Seasoned Picanha Skewers
Picanha is one of the most sought-after cuts of meat in south America and Brazil specifically. This piece of steak comes from the top cap of the top sirloin. Often cooked rotisserie style over charcoal and then sliced on demand, it makes great steak, impressive service and is relatively easy to cook.  Known for being delicious because of its tenderness and big rich fat cap, this steak is sure to impress when cooked properly.
Equipment
Hellrazr Yama Portable Charcoal Grill

Hellrazr Yama Incinerator

Hellrazr Yama Skewers

You Need a BBQ Cutting Board

Yonedas Okami Chef Knife

Tin Foil

Pit Boss Charcoal

Butcher Paper
Ingredients
1

each

Picanha cut into steaks with fat cap attached

¼

cup

Butcher BBQ Steak House Flavour Grilling Oil

¼

cup

Spiceology Sasquatch BBQ Butter Toss

¼

cup

Butter
Instructions
Preparation
Coat the Picanha steaks in the grilling oil. It will provide a good base of flavor as well as act as a binder for the seasoning, so it does not just fall off on the grill. Then coat the steaks in a good amount of Spiceology butter toss rub. Once this is done, thread the Picanha onto the skewers by bending it in a 'U' shape and punching the skewer through the 2 tips, fat cap on the outside.
Preheat the smoker or grill to around 500 degrees
Using a charcoal starter like the Hellrazr Incinerator, get your charcoal nice and hot before dumping it into your cooker. You're' going to want to cook this meat with your air flow vents wide open so the grills run as hot as possible.
Cooking the Picanha
Place the Picanha skewers onto the grill or above the charcoal and rote them every 3 minutes. You will want to use an instant read thermometer to check the internal temperature of the Picanha after about the first 15 minutes. You are looking for an internal temperature of around 135 degrees for medium. When you slice into the beef you want a nice rich red color to achieve maximum flavor. Keep rotating the Picanha on or above the coals until you hit your desired internal temperature.
Resting the Picanha is crucial for slicing table side!
Resting the Picanha is extremely important if you plan to slice the Picanha table side. Failure to properly rest the meat and the juices will just run all over your table and guests plates as you slice it. I like to place knobs of butter on top of the skewers and then wrap them in foil so that the butter will melt over the skewers and absorb into the meat before service.
Slicing the Picanha
Picanha is traditionally sliced at the table in fine Brazilian restaurants right off the skewer and onto your plate. I did it that way for my children and they loved it! A new and different way to serve meat than slicing it before it hits their plate. Plus, who doesn't like to see dad wield a huge slicing knife right at the table (especially dad!).
Step by Step
Season the Picanha with Grilling Oil and Butter Seasoning.

Insert the skewers into the Picanha in a U shape with the fat cap on the outside.

Grill over charcoal at 500-600 degrees, rotating every 3 minutes.

After 15 minutes, check the internal temperature looking for 135 degrees.

When you reach temperature, remove from the grill and place knobs of butter on the skewers.

Wrap in foil and rest for 10 minutes.

Listen to guests say "wow".
Notes
Where can you buy Picanha?
Always check with your local butcher first. Many butchers buy whole cows to break down and sell, so they can easily grab a top sirloin and remove the cap for you. Sometimes you can find it already sliced into steaks at your local grocery store. Keep your eye out for meat labelled as "top sirloin" but has a big fat cap on it, it might be Picanha. Also, sometimes you can get a whole top sirloin, remove the cap and then you basically got the whole bottom side for free!
What if I don't own a Charcoal Grill?
You can absolutely cook your Picanha on a propane BBQ or wood pellet barbecue. Check out the recipe we made here for perfect Picanha done on a pellet grill: https://youneedabbq.com/perfect-picanha/?tx_category=beef
Is this recipe Gluten Free?
Yes! This recipe is entirely gluten free and celiac friendly. All of the individual seasonings and the meat are gluten free, so you have nothing to worry about. If you have other dietary restrictions you can also make substitutions to make it work for you. For instance if you are dairy free, just substitute the butter toss for boars night out white lightning and the grilling oil for duck fat spray.
Should you inject a Picanha?
Because Picanha is already so naturally moist and tender, there is no need to inject it. You could marinade the meat in traditional Brazilian flavours like orange juice, soy sauce, brown sugar and olive oil to give the roast a more depth of flavor, but grilling it on it's own with the prescribed ingredients is our favorite way to make the meat shine.