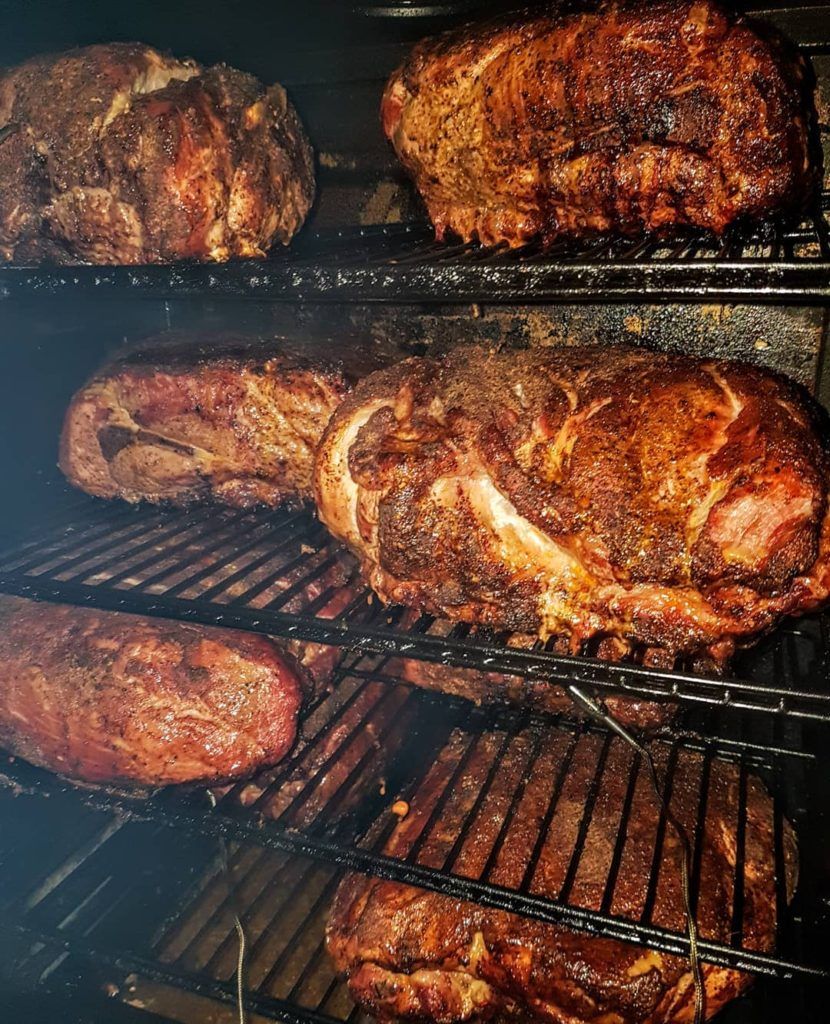 Classic Pulled Pork
Here is a classic pulled pork recipe that will wow your friends and family. Pulled pork is great as a sandwich, on its own or can be added to fries for pulled pork poutine. (watch for that recipe soon). Pulled pork is best when using a bone in pork butt, however a picnic or even a whole shoulder will work. The bone in butt is my preference as it is a nice size and you get the added flavour when cooked on the bone.
I'm not eating BUTT!
Don't be misled by the term butt as this muscle group comes from the front shoulder not the other end, that other end is where you get Ham. You will need a foil roasting pan that is large enough to hold the butt and some good quality tin foil, a temperature probe and either a spray bottle or basting brush to help you with this cook.
Instructions
Preparation
Prepare your pork butt by trimming any excess fat from the outer surface. This will give the rub a good meaty surface to adhere to. Give the pork butt a light coat of oil making sure you get all surfaces covered. The oil will help give your butt a nice bark and allow the rub to stick. Liberally apply the rub to all surfaces of the butt and let sit for at least 30 minutes. You may also place the seasoned butt in the fridge at this time to cook the next day. While the butt is resting, prepare your smoker with either hickory, apple or pecan pellets and bring up to 225 degrees f.
Cooking
Place the butt directly on the grill and close the lid, aim the fat towards the heat. Total cooking time will vary according to the size but you can plan for about 60 minutes per lb total cooking time. At 1 hour intervals check the pork and give it a spray or brush with apple juice. This will not only add flavour but keep the pork from getting too dry. Continue this until you get an internal temperature of 160 degrees. At this point the pork will have a nice dark bark and will have taken on enough smoke.
Wrap it Up!
Remove the pork from the smoker and place in the foil roasting pan and add a 1/4 cup of the apple juice cover tightly with foil and return to the smoker. Continue to cook until you get an internal temperature of at least 190 degrees. Remove the pork from the smoker and drain the juice into a separate container.
Time to Rest
Tightly cover the pork in tin foil and let rest for at least 30 minutes. It is OK to let the pork rest for 1 to 2 hours and I like to keep it in either a small cooler or even in a cold oven. When ready to serve, place the pork in a large serving container, remove the bone, it should slide out easily and be clean. Using 2 large forks gently shred all the pork. At this point you can add 1/2 the jar of BBQ sauce to and mix with the pork, reserving the remaining sauce to add to your sandwich. You may use the remaining juice to add to the pork as well if you like your pork to be more wet/moist.
Serving
Pulled pork is best served piled high on a nice bun topped with more BBQ sauce, (I like to use House of Q competition sauce because it has a nice tangy sweet flavour that matches well with pork). You can add coleslaw or even a pickle to give it some added crunch.Enjoy!