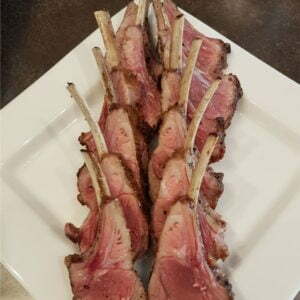 Frenched Rack of Lamb
Rack of lamb is one of those decadent dishes that always catches my attention at a restaurant and occasionally lures me away from the steak selection of a menu.  That is, until I learned to cook it at home.  I believe the most difficult part of cooking rack of lamb is Frenching the bones.  Luckily for you, most butchers and even Costco do this for you.  French bones are when about 2 inches of meat and connective tissue is removed from the bones, essentially giving you little tomahawk chops of lamb.
Ingredients
2

each

Frenched Racks of Lamb

¼

cup

Fire and Smoke Society The Usual Seasoning

¼

cup

Prairie Smoke and Spice Tumbleweed Rub

3

tbsp

Yonedas Grannies Gold Mustard Sauce

2

tbsp

Extra Virgin Olive Oil
Instructions
Preparation
​Preheat the smoker or BBQ to 400 degrees. I like to use competition blend pellets for lamb.

Remove the lamb from the packaging and pat it dry.  Mix the Olive oil and Mustard sauce together and then apply it to the surface of the meat, rub it all over.  Next you want to apply a liberal coat of the all-purpose rub and then a heavy coat of the Usual rub.  The usual contains an amazing mix of dried herbs, but if you prefer fresh, you can also add some fresh one, I like keeping it simple. Let the lamb rest on the counter for about an hour.
Cooking
Get the lamb on the grill bone side down for 5 minutes.  After 5 minutes you are going to want to flip the lamb over and cook it for another 5 minutes.  Using an internal temperature thermometer like a Fireboard, start keeping an eye on what is going inside the meat.  You want to pull it off the grill when it reaches an internal temperature of 128 degrees.  This should take about 10 more minutes; I like to flip the lamb one or 2 more times within this timeframe.  Every 5 minutes to ensure it cooks evenly in the middle.
Rest and Serve
Once you get your desired internal temperature (128 for medium rare), pull it off and let it rest for at least 10 minutes. I like to slice my lamb before taking it to the table, it makes for an amazing presentation showing off how perfectly you cooked it, but also makes service at the table really easy because the bones all have built in handles!
Step by Step
Season the lamb with Olive oil and mustard

Dry rub with Tumbleweed Rub and The Usual

Cook at 400 degrees using competition pellets

Remove from grill when it reaches 128 degrees internal temperature