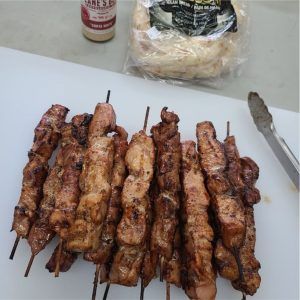 Greek Freak Pork Loin Souvlaki Skewers
I was looking to make a fast and delicious meal for the staff at work and I wanted to do some flavors unlike traditional southern USA BBQ. I decided to go with some Greek for lunch. We did Pork Souvlaki Skewers with a Sorta white sauce on Naan bread, but if you have Pita, that works good too. This fusion of Alabama white sauce with Greek flavors and Naan might be a fusion unlike the world has ever seen, but it did not stop our staff and neighbors from devouring every bite.
Equipment
Camp Chef XT 24 Wood Pellet Grill

BBQ Tongs

You Need a BBQ Cutting Board

Yonedas Okami Chef Knife

BBQ Skewers
Ingredients
3

lbs

Cubed Pork Loin

¼

cup

Spiceology Greek Freak Rub

2

tbsp

Olive Oil

½

bottle

Lane's BBQ Sorta White Sauce

1

package

Naan
Instructions
Prepping the Pork Loin
If your pork loin is already cubed then great, if not you want to cut it into bite sized cubes. Toss the pork loin into a bowl and cover in olive oil Sprinkle it with the Greek Freak seasoning and let it marinade for at least 15 minutes but up to 2 hours in the refrigerator. Once the marinating is done, remove it from the fridge and skewer the meat onto bamboo or metal skewers.
Smoking the Souvlaki Skewers
Place the skewers on the BBQ at 400 Degrees F and grill them for about 15 minutes turning regularly. You are looking for an internal temperature of 145 degrees F inside the pork for them to be done. The bigger your cubes are, the longer they will take to cook and same thing for smaller will cook faster. For our cubes, 15 minutes was the right amount of time.
Toss the Bread onto the smoker
In the final minutes of smoking/grilling the souvlaki, throw the Naan or Pita bread onto the smoker to get it a little bit warm before assembling your souvlaki sandwiches.
Assembling the Sandwiches
Once the bread is warmed through and the meat is done cooking, it is time to assemble. Pour some of the Lane's BBQ Sorta white sauce onto the surface of the bread and then place a skewer in the middle. Then you can add optional garnishes at this time like lettuce, tomato, banana peppers or onions, but for us we went au naturel with just meat, bread, and sauce. Wrap up the bread around the meat and pull out the skewer, serve with lots of napkins to your adoring fans.
Step by Step
Preheat your grill to 400F

Season the cubed meat with olive oil and Spiceology Greek Freak seasoning

Let the meat marinade for 15 minutes up to 2 hours in the refrigerator

Skewer the pork onto bamboo or metal skewers

Grill the pork up to an internal temperature of 145F

Heat Your bread on the grill until softened and warmed through

Pour about 1 tablespoon of Lane's Sorta white sauce onto each piece of bread

Place a souvlaki onto the bread and remove the skewer from the middle

Wrap the bread around the souvlaki and serve
Notes
Can souvlaki be made with chicken?
Yes, this recipe can be made with chicken instead of pork, you just need to adjust the internal temperature from 145 degrees up to 165 degrees if you are serving it with chicken. Make sure not to exceed 165 degrees however because chicken is easier to dry out than pork because of its required higher cooking temperatures for safe consumption.
Does it have to be pork loin?
No, pork loin is preferred because of its relative low cost, tenderness, and availability. However, this dish could be made with any tender cut of pork including shoulder, tenderloin, ham, or even belly. If you do decide to go with belly you will want to adjust your cooking time to be quite a bit longer so that it tenderizes, but souvlaki pork belly would likely be incredible.
What is the best bread for serving souvlaki pork skewers?
I used Naan that I picked up from a local grocery store. You could also serve this with Pita Bread, or flat bread to create this souvlaki recipe.
What if I am Gluten Free?
Every ingredient in this recipe is gluten free except for the bread, so if you don't eat gluten then just avoid the bread or pickup your favorite gluten free naan or pita bread. If you are feeling really adventurous, you could also make your own: https://youneedabbq.com/product/authentic-foods-bread-flour-gluten-free/
What is the correct temperature to finish pork loin?
The safe temperature to eat pork loin is 145 F. You no longer need to eat pork well done, don't be afraid to have a little bit of pink in your pork and you will find it to quite a bit more moist and tender than if you cook it to well done.