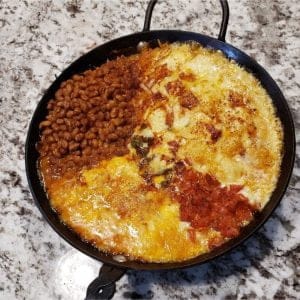 Homemade Smoker Queso
Queso is a very popular Mexican style cheese dip. It literally means "Cheese" in Spanish, but this dip is so much more than just cheese.  I've always been a fan of Tostitos Queso dip out of the jar; in fact I can tell when my wife is really happy with me because she will buy me some at the grocery store.  The home-made stuff is even better though, and you can mix it up with your own mix of flavours and spice as well. Don't be afraid to try your own mix here, the way we do it is the way we like it, but you can easily add or subtract from the ingredients list to make it your own.
Ingredients
2

cups

Cheddar Cheese

1

cup

Pepper Jack Cheese

½

cup

Diced Jalapeno (seeds removed)

½

cup

Diced Tomatoes (drained)

1

can

Browned Beans

1

cup

Leftover Shredded Prok

½

cup

Diced Sweet Onion

¼

cup

Big Poppa Smoker Jalapeno Jalalelujah Rub
Instructions
Preparation
Preheat the smoker or BBQ to 275 degrees.

Pour all the ingredients into a smoker safe pan, do not stir the ingredients yet.
Cooking
Put the Queso on the smoker for 40 minutes until all the cheese has melted and you've kissed the rest of the ingredients with just enough smoke flavour.
Stirring and Serving
This is the fun part, stir all the ingredients together and serve immediately. This dish can also be prepped a day in advance and then reheated, as necessary.
Step by Step
Preheat Smoker to 275 Degrees

Pour Ingredients into a pan

Stir Ingredients together