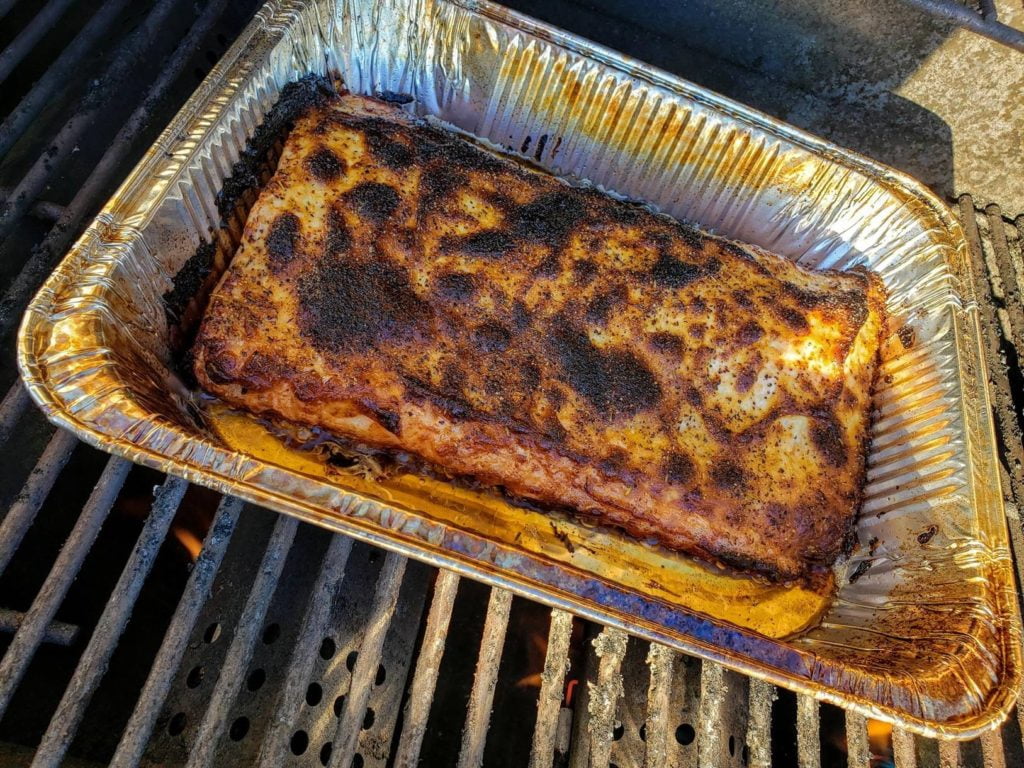 Salmon
Salmon is one of the best tasting fish to ever hit a BBQ.  Lots of people love putting it on a cedar plank and cooking it slow on the BBQ.  I honestly don't find that the plank does anything special, which is why I use a foil tray to cook my salmon.  This Salmon was the best salmon I ever had and the best part is I thought I ruined it when I pulled it off the barbecue.  Read on to find out how I did it and why it was so delicious.
Ingredients
1

each

Filet of Salmon

¼

cup

Mayonnaise
Instructions
Preparation
Preheat the smoker or BBQ to 450 degrees or Max heat whichever is higher.

Take the Salmon out of the fridge and slather it with a thick coat of the mayonnaise and then season with The Usual Seasoning.  Use more than you think you need.  The rosemary and salt in the seasoning really make the flavours pop in the Salmon. Place the Salmon in the foil tray and walk it out to the BBQ.
Cooking
Put the foil tray on the BBQ and close the lid.  This next part is where I thought I ruined it. Wait until the Mayonnaise starts to turn black.  That perfect amount of caramelization on the mayonnaise if what we want.  Mine took about 15 minutes but keep a close eye on it because with a BBQ this hot it can get away from you quickly.  You will notice some oil from the mayonnaise works its way to the bottom of the pan and bastes the fish and prevents it from burning on the bottom.
Serving
Take the fish off the smoker and rest for 5 minutes prior to serving.  We were aiming for a nice medium rare in the middle and we nailed it, but the truth is the crispy bits around the edges that were arguably over cooked were the best parts.  The richness of the oil and seasoning and fish all came together to be some of the best fish I've ever had, Enjoy!