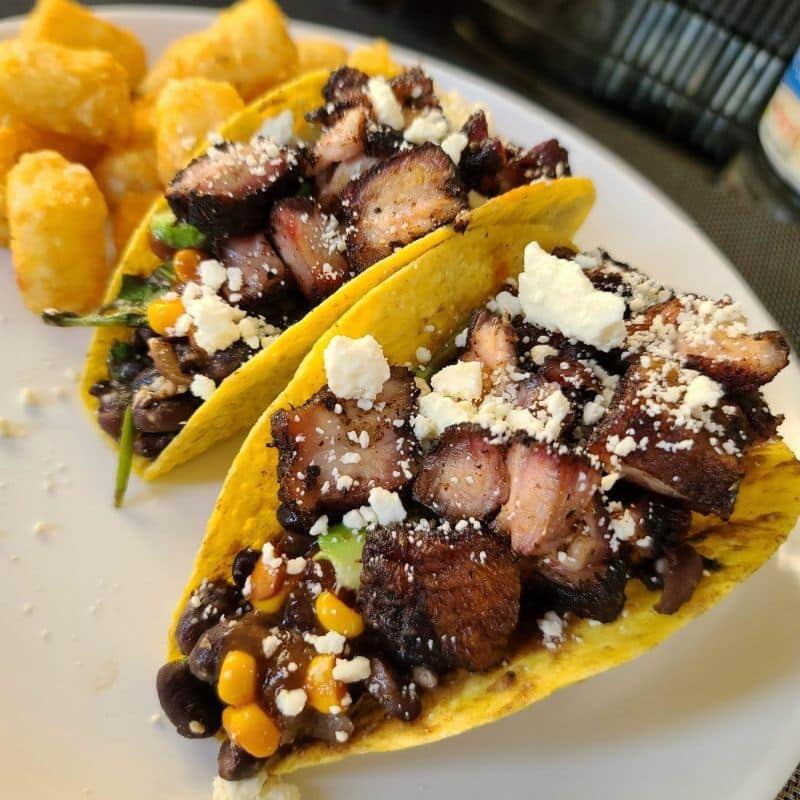 Smoked Chocolate Mole Pork Belly
Pork Mole is one of my favorite dishes whenever I travel to Mexico. Mole is traditionally a complex chili and chocolate sauce that is very traditional for south of the border. I had to learn to perfect Mole sauce when I was competing in the world food championships and had to use chocolate as one of my recipes down in Alabama. The main difference between a traditional Mole and this one is that we are using a chocolate dry rub from Yonedas, while most Mole's are done with a chocolate Mole sauce that is added at the end. This Chocolate rub is a combination of Yonedas seasoning and Jacek chocolate. Jacek is a very popular local Chocolatier and Yonedas is our locally made seasoning, when you put the two of them together you get a culinary masterpiece unlike anything the world has ever seen before. The ancho chipotle and savory notes of the Yonedas pair perfectly with the decadent power nature of the Jacek Cocoa.
Ingredients
3

lbs

Pork Belly, Skin Removed
Instructions
Preheat
Preheat the smoker to 275 degrees
Seasoning the pork
Cut the pork belly into 1" thick strips so that you can get more seasoning on all sides of the pork. Then season all 4 sides of each strip with a nice heavy coat of the Yonedas chocolate seasoning. Make sure to pat the meat on each side before turning it, so the seasoning doesn't just fall off. Let the meat rest on the counter for about 20 minutes before putting it on the smoker.
Smoking the Pork Belly
Add the pork belly strips to the smoker and close the lid. Make sure to leave at least ½ inch of space between each strip to allow the smoke to get in there and do its job. Flip the pork belly every 40 minutes or so for about 2 hours until you see the pork belly start to get crispy all over.
Wrapping the pork belly
When the pork has the desired color, take it off the smoker and wrap it in aluminum foil. When I wrapped mine, I added 2-3 strips per foil pouch and then wrapped them up tightly and placed back on the smoker for 1 more hour.
Rest, slice and serve!
After the pork is done smoking for that final hour, remove it from the smoker and let it rest for at least 15 minutes. Next you want to slice it and serve hot. This makes a great topping for Tacos, Salads, Taco Salads, Rice, pizza or just about any other dish! We did ours on Tacos.
Step by Step
Preheat Smoker 275 Degrees F

Cut the pork belly into 1" strips

Season the pork belly all over with the Yonedas Jacek Chocolate BBQ Rub

Smoke the pork belly for 2 hours, turning every 40 minutes

Wrap the pork belly in foil and let it smoke for 1 more hour

Remove from the smoker and let rest for 20 minutes

Slice and serve hot on its own, as a side or as part of another dish
Notes
You said pork belly with the skin removed, what if I can only find skin on pork belly?
Skin on pork belly is a very common way to get this cut of meat, but for the purposes of this recipe, we don't really want the skin. You are in luck though; you can cut the skin off of the pork belly and turn it into crackling! Just dry it out in your fridge for 24-48 hours and then cook it separately.
Can this recipe be made with other cuts of pork?
Yes, you could make this recipe featuring pork shoulder, pork butt, pork picnic, pork steaks or one of the other fatty cuts of meat off a pig. If you want to recreate it using a cut like tenderloin or loin, I recommend shortening the cooking period quite a lot and serving it with an internal temperature of 145 degrees instead of cooking it for 3 hours.
You said you made this with tacos, can you tell me about that?
I love Tacos so much. For me they rank right below pizza and hamburgers and right above hot dogs and smokies on the scale of handheld foods. When I made these tacos, I used another recipe which is also featured on our website for Jalapeno black beans, combined the 2 together in delicious hard taco shells. You've probably never seen my kids so happy with a dinner I made.