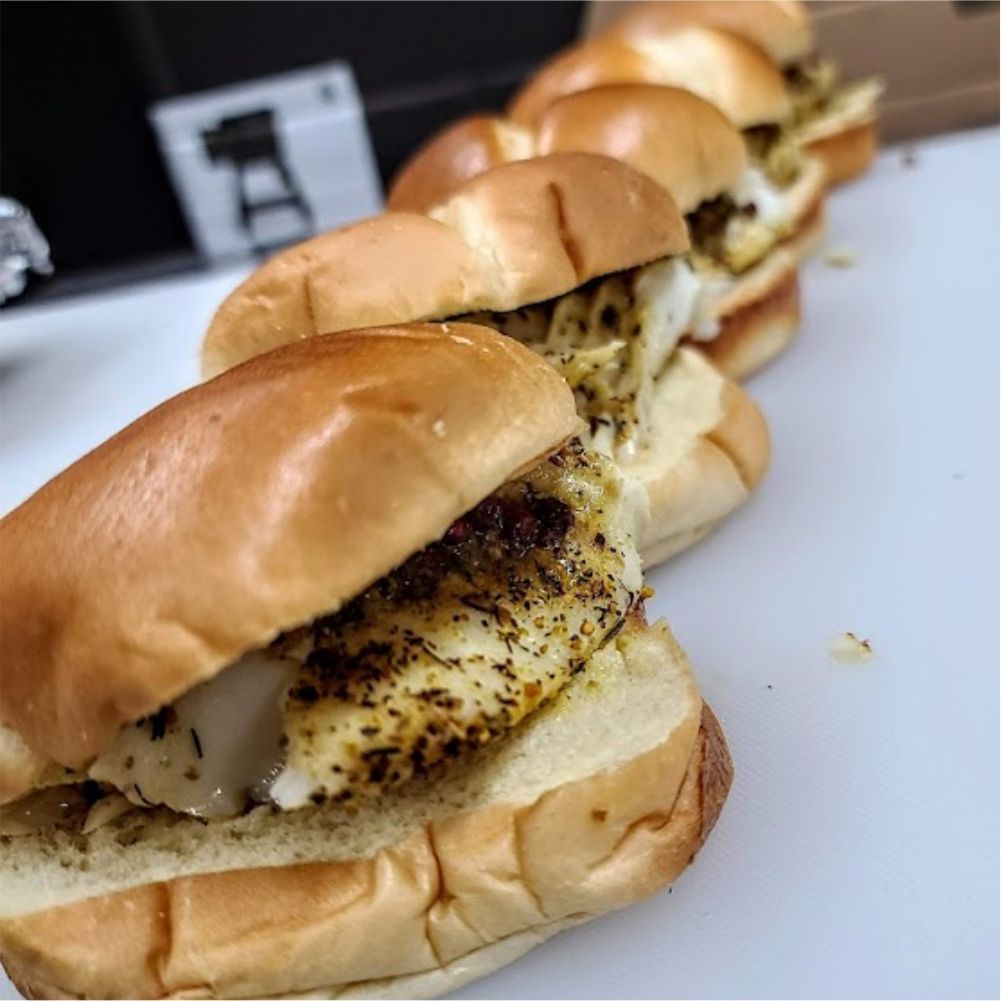 Smoked Cod Sandwiches with Pink Peppercorn Lemon Thyme Salt Free Seasoning
We keep getting asked in the shop to bring in Salt Free seasonings and we were hesitant because salt tastes so good! However based on the volume of requests, we decided to give it a try on a couple of seasonings that sound great despite not having salt. The Pink Peppercorn Lemon Thyme seasoning from Spiceology was the first one to get a real test run. I decided to make Cod Sandwiches for the staff and they did not disappoint. I seasoned the fish quite liberally with the Peppercorn seasoning and a little bit of duck fat, took it up to 145 internal and then assembled the sandwiches. 100% will have again, these sandwiches were creamy, moist, rich and flakey.
Equipment
Large Baking Sheet or BBQ Tray
Ingredients
1

package

Brioche Buns

1

package

Fresh Cod Fillets (3)
Instructions
Seasoning the Cod
Pre-heat your smoker to 250 degrees.

Spray the fish down with some duck fat spray, this will allow the seasoning to stick a little better to the fish and prevent it from burning in the pan. Next you want to place the fish into a foil tray and then season liberally on all sides. You will notice that there are whole pink peppercorns in the mix, but do not worry, they are not as harsh as black peppercorns, and while they do provide a pop of pepper, it is not overbearing.
Let the seasoning sit
Once the seasoning is all over the fish, let it sit out at room temperature for about 20 minutes before hitting the smoker.
Smoking the Cod
Place the foil tray onto the smoker at 250 degrees for about 30 minutes. Place an internal probe thermometer into the thickest part of the fish, when it hits 145 degrees internal, it is done.
Resting the Cod
Wrap your foil tray in foil and let it sit on the counter for about 5 minutes. In that time you can prepare your buns and sauce for assembly.
Assembling the Sandwiches
Place a piece of cod on each bun and squeeze a fair amount of sauce onto the top. You can add a scoop of coleslaw or other veg at this time, but I prefer to take it down au naturel with just the bun, sauce and fish.
Step By Step
Preheat your grill to 250F

Season your cod with Pink Peppercorn Seasoning and Duck Fat Spray

Let the seasoning rest on the fish for 20 minutes

Smoke at 250 Degrees about 30 minutes to internal temp of 145 Degrees

Wrap the fish in foil and let rest at room temp for 5 minutes

Assemble the sandwiches with fish, bun and sauce
Notes
What is the best type of fish to smoke?
For this recipe, we used Cod because it is nice and meaty and available at the local supermarket where I shop. This recipe could easily be recreated using Halibut, Pollock, Haddock, Monk fish, Sea Bass, Sole, Swordfish, Butterfish, Tilapia, Basa or other depending on what is available to you. Just keep in mind that the key indicators of good fish are the thickness of the filet and the freshness of the fish. If you are not sure, ask the fishmonger at the supermarket to make a recommendation.
Why Salt free?
Many people are required to eat less sodium in their diets due to a variety of reasons including but not limited to heart diseases (less sodium can reduce blood pressure). This is not the case for everyone, so if you prefer to eat this recipe with salt, it can easily be added during the seasoning portion of the recipe. The challenge for people who are required to eat less salt is that it's harder for them to take salt out of seasonings which is why this one comes completely Salt Free.
Butter, Oil or Duck Fat?
We cooked this recipe with duck fat because it was what we had readily available. This recipe would also be good with butter flavored grilling oil from butcher bbq, butter, margarine, olive oil, canola oil or any other type of edible oil that you have around.
What if I am Gluten Free?
This recipe is entirely gluten free except for the brioche buns that we used, so you could substitute that part of the recipe with your favorite gluten free bun.
What is the correct temperature to finish fish?
Fish should always be cooked to 145 degrees F internal for general food safety.