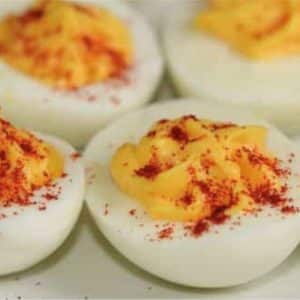 Smoked Deviled Eggs
Deviled eggs are a tasty traditional holiday appetizer. Today we are going to take a traditional dish and add a smoky element to it and use some unique BBQ spices to enhance the flavour.
Ingredients
12

each

Large Eggs

2

tsp

Yellow Mustard

½

cup

Mayonnaise

¼

tsp

Truff Black Hot Sauce

¼

tsp

Boar's Night Out BBQ Rub
Instructions
Place whole eggs directly on a 350 degree preheated smoker

Cook for 30 minutes turning ½ way through

Place cooked eggs in an ice bath to cool

Peel the eggs and place back on the smoker for another 30 minutes at 180 degrees

Once eggs are done, carefully slice the egg lengthwise and remove the yolk

Mix the yolks, mustard, mayo, hot sauce and ½ the BBQ rub

Blend all the ingredients until smooth, you may use a fork or electric mixer

Spoon or pipe the mixture into the cut eggs

Sprinkle the remaining rub from a height over the eggs
Notes
Eggs a very porous and take on a lot of smoke, you may have to vary the cooking time but I find 30 minutes at 350 is usually good. By peeling and re-smoking the eggs you will get a deeper smoke flavour, however you may skip this step if you like. This recipe call for truffle hot sauce but you can substitute and good quality sauce. The BBQ rub I'm using has a nice combination of salt, paprika and spices and its deep red color gives the eggs a nice presentation. Hope you give this a try.