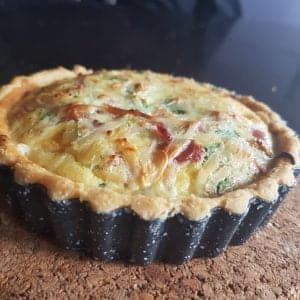 Smoked Molten Center Lava Quiche Lorraine
I had to create a new recipe for the world bacon championships, so I invented this recipe. Lots of recipes on the internet are not new, they are just copying of other people's recipes with a small change, but this one is all mine.  So, if you do it, please tag #youneedabbq so we can see your amazing creation.  Our thought behind this dish was that a gooey cheesy quiche is amazing, but if you put a cheese sauce in the middle of a quiche, it will just incorporate with the egg and end up an eggy gel like the rest of it, we wanted leaky cheese, so we figured out how…. Think Lava cake for breakfast.
Ingredients
1

each

Premade Pie Crust. Make your own if you want but premade is fine.

½

lb

Bacon - precooked

½

cup

Cream

1

cup

Milk

4

each

Eggs

1

cup

Shredded Cheese (cheddar or your favorite)

1

tbsp

Chives

¼

cup

Cheese Sauce: Frozen (I like Queso dip for this)
Instructions
Preparation
Preheat the smoker to 350 degrees

Mix the eggs, milk, cream, shredded cheese, bacon and pour them once incorporated into the pie shell.  Place a small chunk of frozen cheese mixture into the middle of the quiche now.  This frozen cheese will slowly melt as the rest of the egg mixture cooks.
Cooking
Place the quiche onto the smoker and cook at 350 degrees until the top of the quiche is golden brown and you can insert a toothpick into the non molten section of the quiche and it comes out clean. This should take about 40 minutes.
Garnish and serve
Once the quiche is done cooking you can dice up the chives and sprinkle them over the top prior to serving.
Make sure to tell people what they are eating
This dish is quite impressive, but sometimes people think it's just undercooked, let your guests know that it is supposed to be a molten cheese center prior to slicing.
Step by Step
Preheat smoker to 350 degrees

Mix eggs, milk, cream, shredded cheese, bacon and pour into the pie crust

Place frozen cheese sauce into the center of the quiche

Get it on the smoker for 40 minutes until the top is golden brown

Garnish with chives and serve