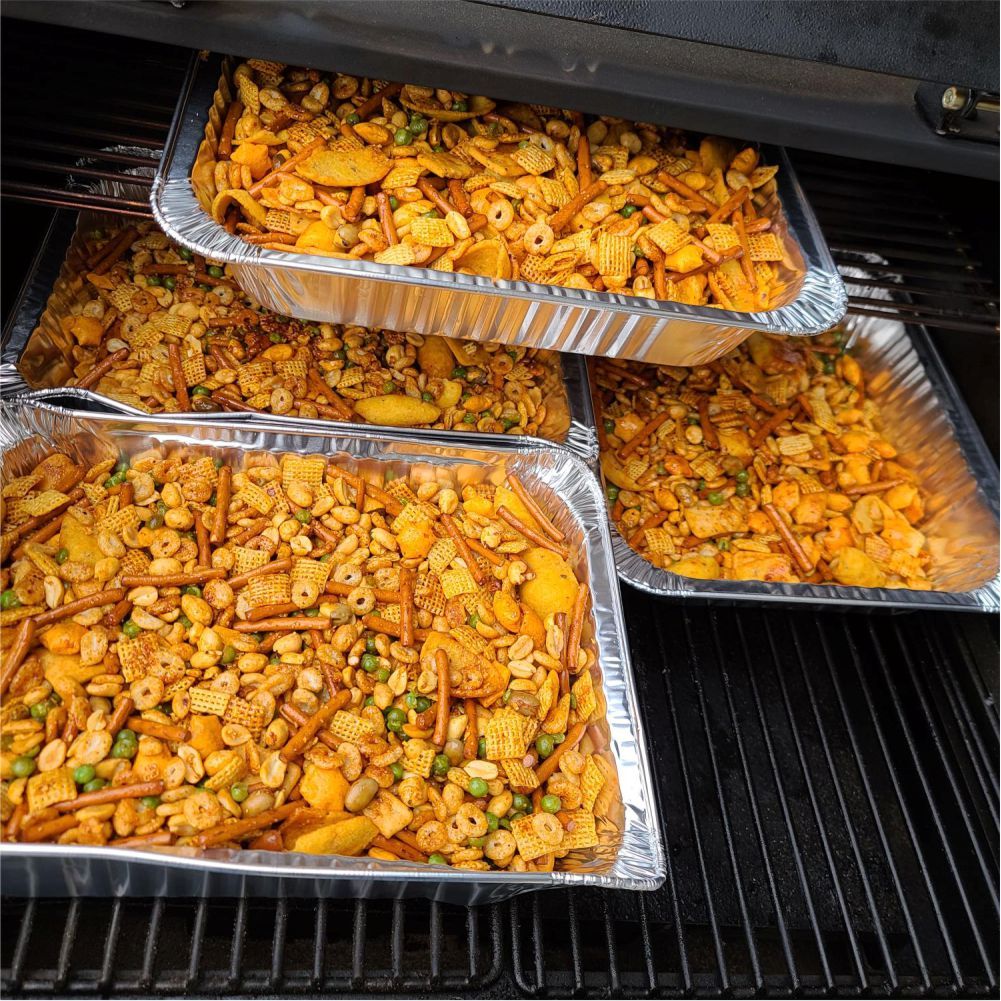 Smoked Nuts and Bolts (Gluten Free!)
Nuts and Bolts is one of those time-honored Christmas traditions that everyone loves. I haven't been able to have nuts and bolts in the house for the last couple of years due to allergies in the house, so this year I decided to come up with a new recipe for nuts and bolts that is gluten free! Let me tell you, they did not disappoint. I got all the crispy, spicy salty goodness of all the ingredients and didn't feel like it was missing a thing. If you are really into gluten, you can still add your favorite regular nuts and bolts ingredient like Shreddies or regular cheerios, but this one was designed for the Celiacs in my life.
Ingredients
½

lb

Melted Butter

4

tbsp

Soy Sauce (Gluten Free)

¾

cup

Yonedas Red Seasoning

1

package

Shen Xiang Zhen Garlic Gree Peas

1

box

Honey Hun Chex

1

bag

Corn Chips (Gluten Free)

1

box

Cereal O's (Gluten Free)

1

box

Cheese Crackers (Gluten Free)

1

bottle

Salted Peanuts
Instructions
Preparation
Preheat the Smoker to 225 degrees.

Mix the melted butter with the Yonedas seasoning and soy sauce, then dump all of the ingredients into a large bowl or bucket and combine thoroughly.
Smoking Your Nuts and Bolts
Pour all of the nuts and bolts mix into disposable aluminum foil trays or onto baking sheets and then place them on the smoker.
Stirring Regularly is Key
Make sure to stir the snack mix regularly, like every 10 minutes to get an even crispiness all over within the mix.
Don't Overdo It!
Everything in this mix is pre-cooked, you are just looking to setup the butter and seasoning on the mix, so don't over do it. It only takes about an hour at 225, there is no reason to go longer unless you want a ton more smoke flavor.
Step By Step
Preheat Smoker to 225 Degrees

Combine melted butter, Yonedas seasoning and Soy sauce

Dump all the dry ingredients into a bucket and combine

Pour the melted butter mixture over the dry ingredients and stir

Pour the dry ingredients into a foil tray and smoke at 225 degrees for 1 hour

Let cool completely and serve

Can be stored for up to 2 weeks for regular holiday consumption
Notes
Does it have to be gluten free?
Absolutely not! The most popular versions of this snack mix are not gluten free because they contain things like Shreddies, Cheerios, Ringolos, cheddar cheese crackers and more. You are welcome to add any of these items to your snack mix, or even go crazy by adding items like wasabi peas, sesame crackers or anything else you think you might enjoy. When I made mine, I just walked up and down the gluten free snack aisle at the grocery store and grabbed things I thought would taste great.
Where can you buy the Shen Xiang Zhen Garlic Green Peas?
I bought them in the Asian food aisle at Superstore. Do not feel like you need to buy that specific brand, they were good, but any crispy snack vegetable will do. I also tried this recipe with crispy snacking fava beans, and they were OK, but the green peas were better.
What if I am Gluten Free?
This recipe is entirely gluten free