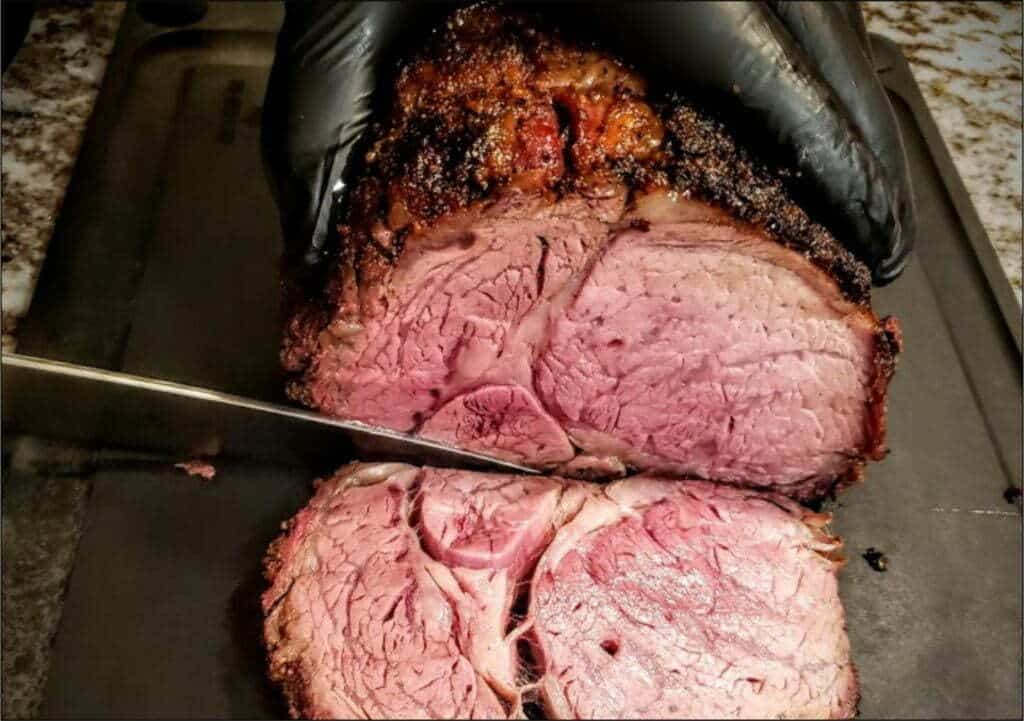 Smoked Prime Rib
Prime rib, the king of the meats.  You can read all about what a prime rib is here: https://youneedabbq.com/navigating-the-different-steak-cuts/ but for those who want to just read it here, the prime rib is basically a section of the rib loin that has not been cut into steaks.  It can be served bone in or bone out and is also called a standing rib roast among other things.  This beautiful cut of meat is comprised of 2 main muscles, the rib lip which covers the top of the round center portion called the Rib eye.  The rib lip is my favourite part because of it's intense marbling, at some steak houses you can order just the rib lip and they cut it off, tie it up into a circle and cook just that for you.  But you are here to find out how to cook this sucker whole, so let's dive into it.
Instructions
Preparation
Preheat the smoker to 300 degrees.

Pat the roast dry using a paper towel. Spray the roast with duck fat spray to help the rubs stick to the meat.  Cover in a heavy amount of Motley Que Beef Fixx, then hit it again with the double garlic butter.  You want to create a nice crust on the outside of the meat, believe e it can handle it.  Move the meat back to the fridge and let sit for 1-2 hours.
Cooking
Take the prime rib out of the fridge and place directly on the smoker.  Using indirect heat smoke the prime rib for about 20 minutes per pound.  I did a 5 lb prime rib and it took around 1 hour 30 minutes. I like to raise the temperature for the last ½ hour of the smoke to around 350 degrees to increase the char on the outside of the roast.  For medium rare you want to aim for an internal temperature of about 125 degrees.  The roast will continue to climb in temperature for about 10 minutes after the cook.
Rest
Resting prime rib is probably more important than any other cut of meat, you need to wrap it in foil and let it rest for at bare minimum 10 minutes.  This will allow the juices to settle in the meat, so they don't just run all over the counter as soon as you cut into it.
Serving
I like to slice my prime rib about ½ inch thick and serve with a side of Motley Que Ivory heaven or a traditional horse radish sauce. 
Step by Step
Preheat Smoker to 300 degrees

Pat roast dry and spray with duck fat spray

Season heavily with Motley Que Beef Fixx and double garlic butter

Rest in the fridge for 1 hour

Place on the smoker and cook for 20 minutes per pound

Increase smoker temperature to 350 degreed for last 30 minutes

When roast reaches 125 degrees internal remove from smoker

Rest on counter wrapped in tinfoil for minimum 10 minutes

Slice and serve with Ivory Heaven or horse radish