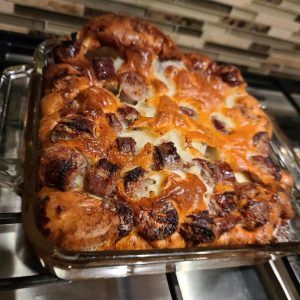 Smoked Sausage Yorkshire Pudding
Yorkshire pudding is an incredible side when served with roast beef, but did you know that if you stuff it with sausage and smother it in gravy that it's a meal in itself! In England they sometimes call this recipe Toad in a Hole. I have seen mini versions of this recipe; muffin tin sized ones and I have seen it where you leave the sausages whole. We are doing a large version where you cut the sausages up into bite sized portions, because it's easier to serve to my children that way. If you want to try one of the other ways mentioned here, it would only be small changes, let us know how it turns out!
Equipment
Hickory Wood Pellets

Pit Boss 820D3 Pellet Grill

Oven Safe Baking Dish

You Need a BBQ Cutting Board

Yonedas Okami Chef Knife

Blender
Ingredients
10

each

Fresh Sausages

1.5

cups

Tapioca Flour

½

cup

Full Fat Milk

6

each

Eggs

½

tsp

Yonedas White Seasoning
Instructions
Prep by cooking the sausages
Preheat the smoker to 425 degrees

Start by boiling the sausages until they are cooked through. Once the sausages are cooked through, slice them up and place them in a smoker or oven safe baking dish. Put the dish into the smoker and let the sausages brown for about 10 minutes.
Prepping the Yorkshire Pudding mix
Mix the Tapioca Flour, Milk, Eggs and Yonedas White seasoning in a blender until it is bubbly and well mixed. The mixture will be quite runny, but this is part of the secret of puffy Yorkshire pudding, when the bubbles get in there, they act to create huge air pockets in the mixture as it cooks.
Combining the sausage and Yorkshire pudding mix
Remove the sausages from the smoker and pour off some of the fat. Depending on how fatty your sausages were, you are going to want to normalize the amount of fat in the dish so that it doesn't end up too greasy. I left about 4 tablespoons of fat in the dish. Pour the Yorkshire pudding mix over the sausages and then return it to the smoker to cook for 27 minutes. Do not open the lid to check on it as the rush of cooler air can make the Yorkshire pudding collapse.
Don't rush it
The final few minutes of cooking is where the magic happens. You can have big, beautiful Yorkshire pudding that collapses completely when removed from the smoker because it wasn't allowed to harden while cooking. You are not looking for golden brown here, you want this recipe to be dark, that is what will make the Yorkshire pudding hold its shape. Once you are ready to remove it from the smoker, you can serve it immediately.
Step By Step
Preheat the smoker to 425 Degrees F

Boil the sausages until cooked through and then slice them

Put the sausages in an oven safe dish and put in the smoker at 425 degrees F

Prepare the Yorkshire pudding mix by mixing Tapioca Flour, Eggs, Yonedas White and Milk in a blender until bubbly

Pour the Yorkshire Pudding mix over the sausages

Smoke it for 27 minutes without opening the lid of the smoker

Remove from the smoker and serve
Notes
What is the best sausage flavor to use for this recipe?
I used mild Italian sausages for this recipe, but there are lots of styles of sausage that would be great. I plan to remake this recipe using the sausage that won Edmonton's sausage of the year in 2021, the Bratwurst from Darcy's Meats. This recipe would also be good with Chorizo, Andouille, or Spicy Italian, if you are feeling adventurous you could even try this recipe with breakfast sausage.
Where can I buy Yonedas Seasonings?
If you check out www.yonedas.com they are expanding their sales across Canada and hopefully to break into the USA soon. You can also buy it on our website, where we ship seasoning orders over $150 for free Canada wide.
What if I am Gluten Free?
This is the best gluten free recipe for Yorkshire pudding on the planet! Everything in this recipe is gluten free (make sure your sausages are gluten free!) so you'll be truly blown away by how high the Yorkshire pudding pops up!
What else is this recipe called?
In England this recipe is called Toad in a Hole. Throughout this recipe we keep calling the batter portion of it Yorkshire pudding, but in America it would be referred to as a popover. No matter what you call it though, we call it delicious.