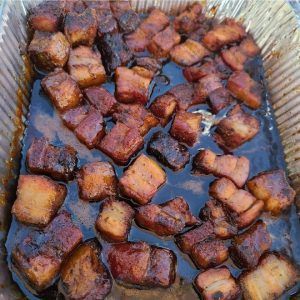 Sticky Asian Pork Belly
Most of the recipes we post on here are focused on American flavors of BBQ like Mustard, Ketchup, Tomato, Brown Sugar, Vinegar and Butter. This new recipe takes us over seas to focus on more umami with flavors of Soy, Sesame, Onion, Molasses and Rice Wine, but yes it also contains butter. This combination gives your pork belly a rich brown color instead of the red or mahogany that we are used to seeing, it also contains quite a bit more sugar, so be prepared with some wet naps to clean up after you devour this pork belly right out of the pan!
Equipment
Apple Wood Pellets

Foil Trays

BBQ Tongs

BBQ Gloves

Pit Boss PB 1000 Grill

Yonedas Okami Chef Knife

You Need a BBQ Cutting Board

Sturdy Roll of Tin Foil
Ingredients
1

each

Pork Belly

¼

cup

Yonedas Grannies Gold Mustard Sauce

¼

cup

Yonedas Red Seasoning

¼

cup

Butter

1

bottle

Kosmos Q Sticky Asian Rib Glaze
Instructions
Preparation
Preheat the Smoker to 350 degrees.

Put the Pork Belly on a cutting board and slice into 1" strips. Next you want to paint it with a light coating of the You Need a BBQ Grannies Gold Mustard Sauce. This will act as a binder for the rub but also keep the surface moist as it begins to cook. Next you want to hit the pork with a heavy coating of You Need a BBQ chicken and Rib Rub. Let this rest on the counter at room temperature for about 20 minutes.
Get the Pork Belly onto the Smoker
Place the pork belly on the smoker at 350 degrees and let it smoke for about 2 hours. After the first hour, you will want to consider flipping the belly strips so that you get even color on the top and bottom of the belly slices.
After 2 Hours
After 2 hours on the smoker, you will remove the pork belly from the smoker and cut it into evenly sized 1 inch cubes. Cube up the butter and place it into a foil tray with the pork and then pour the sticky Asian rib glaze into the pan as well. Give all of the ingredients a stir so that everything is evenly coated. Place the foil tray covered in foil back onto the smoker and let the pork belly braise in the grilling butter and sticky Asian rib glaze for about 1 hour.
Fin!
The Pork belly is now basically ready to eat, so if you want to set the sauce a little bt you can remove the tender bites from the foil tray and place directly on the grill for 5 minutes, but I like to eat mine directly out of the pan without finishing them.
Step by Step
Preheat the smoker to 350 degrees F

Season the pork belly with Grannies Mustard and You Need a BBQ Chicken and Rib Seasoning

Place on the smoker at 350 Degrees F

Smoke for 1 hour and then flip the pork belly slices

Slice the pork belly into cubes and place in a foil BBQ tray

Season the Pork Belly with butter and the sticky Asian rib glaze, then braise for 1 more hour covered in foil

Rest 5 minutes then enjoy!
Notes
What is the finishing temperature of the pork belly cubes?
I go off of tenderness, not temperature when it comes to pork belly. These will be well over the safe cooked temperature for pork, which is 145 degrees F. They will probably be closer to 200 Degrees F, but like I said, I am looking for cubes that will basically melt in your mouth while not falling apart in the sauce.
Can this recipe be made with other cuts of meat?
Yes, I would recommend trying it with cubed pork shoulder or beef belly if you want to try something different. You could also make brisket burnt ends with this sauce that would be out of this world.
What if I am Gluten Free?
Unfortunately the sticky Asian sauce from Kosmos Que is one of the few non gluten free sauces in our store. You can substitute this sauce for one of the other rib glazes that we stock or your favorite gluten free Asian sauce like Teriyaki, Honey Garlic or one of your other favorite Gluten Free Asian sauces.
What are good sides for Sticky Asian Pork Belly Cubes?
I like eating pork belly with rice because you can serve the pork belly and sauce over the rice to balance out all of the flavors. Other great sides would be slow roasted pit beans, mac and cheese, coleslaw with Asian sesame dressing or roasted vegetables. This dish could also be turned into a wrap or a sandwich because the pork belly should be so tender that it would just melt in your mouth.