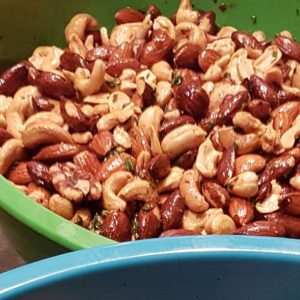 Sweet and Spicy Smoked Nuts
One of my favorite Christmas recipes is Rosemary smoked sweet and spicy nuts.  I make it every year, but I have never written the recipe down until now. This is one of those recipes where you can make a big batch early in December and toss it in the fridge and munch on them right up until Christmas.  Its far healthier than crushing a whole bag of potato chips too, so keep the holiday pounds off with this healthier snack nut mix.
Ingredients
2

lb

Mixed nuts (any nuts, but I like mixed nuts with cashews)

3

tbsp

Melted Butter

2

tbsp

Fresh Chopped Rosemary

2

tbsp

Brown Sugar

½

tsp

Cayenne Pepper

1

tbsp

Big Poppa Smoker's Happy Endings Finishing Rub
Instructions
Preparation
Preheat the smoker to 350 degrees F.

Line a baking sheet with parchment paper. Pour all the ingredients into a large mixing bowl and stir until well incorporated.
Smoking the Nuts
Place the baking sheet with the nuts onto the smoker and smoke them for around 15 minutes, stirring half way through. Once you start to see them change color or brown or the sugar starts to caramelize, it is time to take them off.
Cool Nuts!
Allow the nuts to cool for around 15 minutes before serving. These nuts can be stored in the fridge for up to a month for easy snacking.
Step by Step
Pre heat the smoker to be 350 degrees

Line baking sheet with parchment paper

Mix all of the nuts and seasonings together in a large bowl

Pour the ingredients onto the baking sheet

Smoke the nuts for 15 minutes, stir half way through

When nuts start to caramelize, remove from the heat

Rest for 15 minutes and then serve