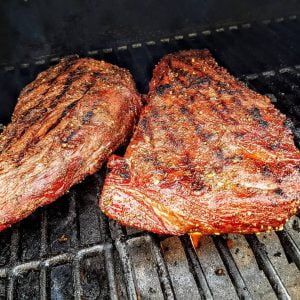 The Secret to Cooking Tritip
Tritip is a triangular cut of beef (hence "tri") coming from the bottom subprimal cut and is a high quality sirloin roast. It's a high flavour and tender cut if cooked correctly that's sure to please.
Ingredients
1

each

Tritip Roast

¼

cup

Hardcore Carnivore Black Seasoning

¼

cup

Fire and Smoke Society Thundering Longhorn

2

tbsp

Vegetable Oil
Instructions
Preparation
Seasoning the first

Tritip is a really beefy cut and can handle a lot of seasoning, I like to season mine twice during cooking. To start, rub the roast all over with oil to help your rub stick to the meat. Next apply a layer of Hard Core Carnivore black seasoning all over the meat. Let it sit at room temperature for at least 20 minutes before putting it on the grill.
Cooking
Getting it up to temperature

Place the seasoned roast on your grill set to 300 degrees F. place an internal thermometer into the thickest part of the roast and now wait until it reaches 128 degrees internal temperature. Once it reaches this temp, you should be a perfect medium rare, pull it off the grill and let it rest for at least 20 minutes.

Seasoning the second

Take the Thundering Longhorn seasoning and sprinkle a heavy dusting all over the Tritip, if you don't like spicy you can also use Motley Que Simple Beef at this point. Continue to let the steak rest for a few minutes to allow the rub to penetrate the beef.

Sear it with fire!

Turn your grill up as hot as it will go and place the Tritip directly on the fire or the hottest part of the grill. Let the tri tip sear like this for 60 seconds and then flip it and let it go for another 60 seconds. If you're feeling adventurous you can also turn the roast to the edge and let it sear for 30 seconds making sure you don't let the roast fall onto one of the sides you already.
Finishing
Slice it up.

Take the Tritip and put it on a cutting board and cut it across the grain to make ½ inch thick slices. Beware, about half way down the Tritip the grain changes direction! So at the point where that happens you need to cut the other direction. If you want further instruction on how to do that then please take one of our BBQ classes.