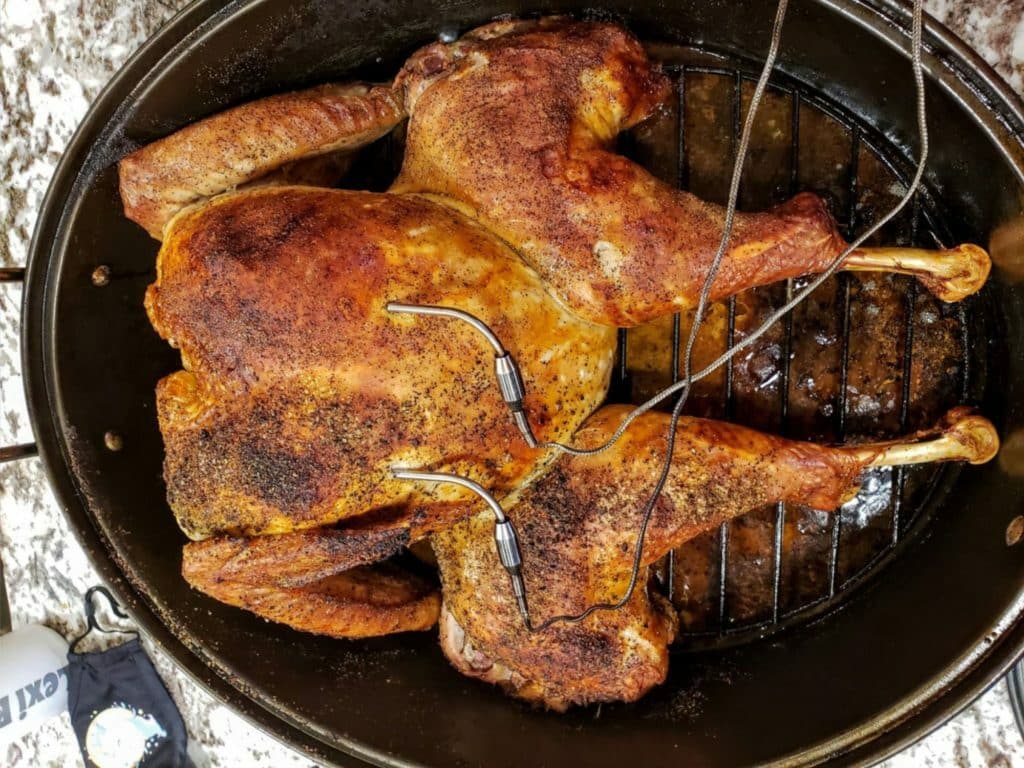 Turkey in Under Two Hours!
You want to host thanksgiving or Christmas dinner, but you do not want to spend all day cooking.  We have perfected the method to have turkey ready in under 2 hours.  This way when dinner is at 6, you do not even need to get off the couch until 4.  Obviously, the size of your turkey will affect this, so when we did our tests, we did them with a 15lb turkey, which is the average size for a turkey.
Ingredients
1

each

15lb Turkey - pre brined
Instructions
Preparation
Set Smoker to 350 degrees Fahrenheit. If you are doing this in a convection oven then 350 will work.

Spatchcock the turkey by flipping it breast side down and using a good pair of kitchen shears cut down both sides of the backbone to remove it completely. Set the neck and giblets aside and then flip the bird back over so the breasts are facing up. Now push down on the center of the bird until it is as flat as possible on the prep surface.
Seasoning
Wipe the bird dry with paper towel, spray with duck fat, and then sprinkle with the Boars Night out White Lightning.  Make sure to do both the top and bottom of the bird and inside all the crevasses.
Cooking
Place the turkey in the cooker with the breasts facing the hottest part of the grill or the direction the heat is coming from, but bones should be on the grill.  Cook until you get an internal temperature inside both breasts of no less than 165 degrees.

Keep your eye on the turkey for any spots that get too dark and you can wrap them in foil to protect them from the direct heat of the smoker.  Once you hit the desired internal temperature, remove the turkey from the cooker and let rest for 15 minutes wrapped in foil. My 15 lb turkey reached an internal temperature of 165 degrees in exactly 1 hour 45 minutes.
Resting
Turkeys that are brined will contain a lot of moisture, so resting is a very important step, this will allow the juices to stay in the turkey as you begin to slice it. Nobody likes dry turkey, so I like to rest for no less than 15 minutes at a minimum but longer is ok as well up to a maximum of 4 hours while maintaining food safe holding temperatures of at least 145 degrees.
Serving
I like to remove the legs, thighs, and any dark meat from the carcass first and either shred or slice it then move on to the breasts.  To remove the breasts, you simply run your knife down the middle of the breast bone and continue cutting along the ribs until you have removed the entire breast from one side.  Place the breast on the cutting board and slice into ¼ inch thick slices.