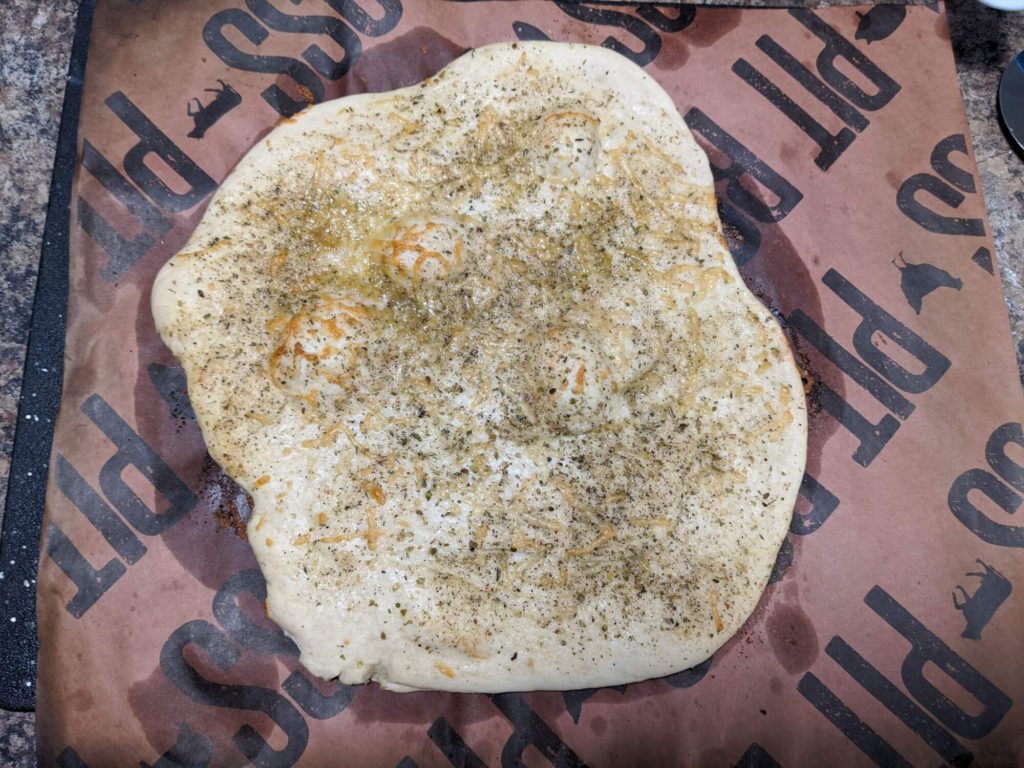 Wood Fired Pizza Bread
When we go out for pizza, my kids are always asking to get bread sticks or pizza bread as an appetizer.  I've done a lot of pizzas on my Pit Boss, so I figured I could make a superior version of this family favorite appetizer as well. 
Ingredients
Pizza Ingredients
1.5

cups

All Purpose Flour

½

tsp

Quick Rise or Pizza Yeast

½

tsp

Salt

⅔

cup

Very warm water

2

tsp

Honey (sugar also works, but honey adds a nice extra flavour)
Toppings
¼

cup

Olive Oil

2

tbsp

Oregano

¼

cup

Parmesan Cheese
Instructions
Dough
If you've ever made bread of any sort, this part of the recipe should be quite familiar.

In a medium bowl, mix flours, yeast and salt. Measure water in cup and add olive oil and honey. Pour into dry ingredients. Mix with a wooden spoon until it forms a ball. Turn out onto a floured surface and knead for 2 minutes. Placed in oiled bowl. Cover with plastic wrap and let rise until double in size, about 45 minutes to an hour. 
Preparation
Cut off two pieces of Pit Boss Peach Butcher Paper, and roll out the dough into 2 – 12″ circles.  Place each circle on top of the butcher paper. Brush each pizza with olive oil.  Sprinkle the White Lightning Double Garlic, Oregano, Parmesan Cheese onto the dough. The secret ingredient here is the White Lightning Double Garlic.  This stuff is absolutely amazing on a number of dishes.  You'll probably put too little on your pizzas the first time, so experiment to find flavours that you like!
Cooking
Set your smoker to 400 degrees.  You can cook the pizzas using the butcher paper directly onto the grills or use a pizza stone if you have one.  The "direct on grill" method yields a crispier crust and cooks faster than the pizza stone.

Cook 8-12 minutes per pizza.  They will cook quicker the thinner they are.  If you are making thicker pizza's try dropping the heat to 350 and cooking for a bit longer.  A bit of practice will yield excellent results.  
Serving
Cut up and serve with your favourite pasta sauce.