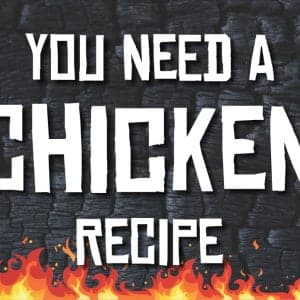 You Need a Chicken Recipe
Our Signature Chicken Recipe. Buy the kit, make the best chicken you ever had!
Ingredients
¼

cup

Yonedas Red Seasoning

⅓

package

Kosmos Q Wood Fired Chicken Injection

1

bottle

Yonedas Chicken and Rib BBQ Sauce

¼

cup

Yonedas White Seasoning

12

each

Chicken Drumsticks, skin on

3/4

lb

Salted Butter
Instructions
Preparation
Place chicken drumsticks on a foil tray and pull back the skin to expose the meat, make sure to leave the skin attached. Shake a coating of Yonedas Red all over the chicken leg and then roll the skin back up to the top and continue to season the outside of the skin now too. Follow the direction on the Kosmos Q Chicken Injection package and inject each leg. Once the legs are all seasoned, place about ½ to ¾ lb of cubed butter into the pan on top of the chicken.
Cooking
Pre-heat the smoker to 300°F and place the foil tray onto the smoker and close the lid. After 30 minutes baste the chicken with the sauce in the tray. After an additional 15 minutes check the internal temperature for your chicken. You are looking for a minimum of 160°F near the bone to indicate that the chicken is cooked throughout, make sure to check more than one piece.
Resting the Chicken
Check the internal temperature of the chicken. It should be above 165°F and the juices within the chicken should run clear, not pink. You may see a little bit of pink meat from the smoke, but the juice should not be pink. Let the chicken rest for 5 minutes and then sprinkle with Yonedas White and then serve it up to your adoring fans.