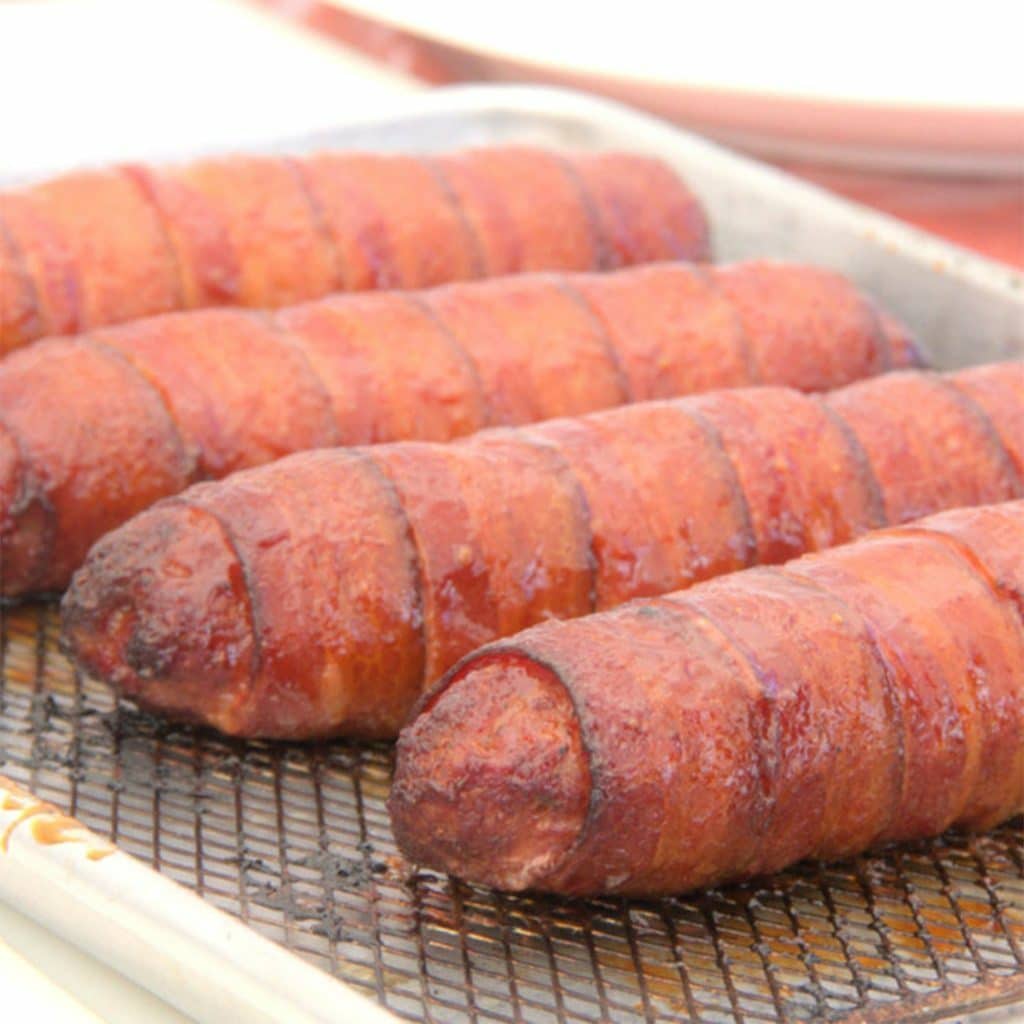 Bacon Wrapped Sausages
I love smoked sausage, if I am ever going to a smokehouse for dinner I always get the sausage as one of my meats.  I also love bacon, ever since I won the Canadian bacon championships its been a passion of mine to include bacon with all sorts of dishes.  When you combine bacon and sausage you really pump up the flavours of both meats, so I recommend giving it a try. This recipe was inspired by my friend Saffron from www.bushcooking.com and her home made bacon wrapped sausage recipe here: https://bushcooking.com/recipes/bacon-wrapped-sausage
We are going to use Johnsonville sausages in this one because they are premade, small enough to wrap a whole sausage with 1 piece of bacon and they are also gluten free.
Ingredients
1

each

Pack Johnsonville mild Italian sausages

1

each

Pack of thick cut bacon

¼

cup

Heath Riles Honey Rub

1

tsp

Gluten Free Worcester Sauce

1

tsp

Soy Sauce

3

tbsp

Apple Juice (as required)
Instructions
Preparation
​Preheat the smoker or BBQ to 250 degrees.

On a baking sheet or cutting board, lay out 6 slices of bacon next to each other.  Place a sausage onto each slice of bacon and then wrap it around tightly, cut off any excess bacon when you get to the end or consider overlapping the bacon a little bit to that there is no excess bacon. You don't need to secure the bacon with a toothpick because you will place the bacon seam side down when putting it on the smoker, so gravity should keep it in place.
Prepping the Glaze
Combine the rub, sauces and apple juice in a small bowl and stir until well incorporated. Keep adding apple juice until it reaches to consistency of a spreadable paste.
Smoking the sausages
Place the sausages on the smoker for about 45 minutes making sure to have the bacon seam side down so it doesn't start unwrapping as it shrinks.
Glazing the sausages
Paint the glaze onto the outside of the bacon and let them continue cooking for the final 15 minutes, if you want the glaze to be shinier or thicker you can repeat this step as many times as you like.
Resting and serving
Once the sausages are done you can pull them off the smoker and rest for 5 minutes before serving either sliced or on a bun.
Step by Step
Prep the glaze by mixing the rub, sauces and apple juice

Smoke the sausage for 45 minutes at 250 degrees

Glaze the outside of the sausage and continue smoking for 15 more minutes