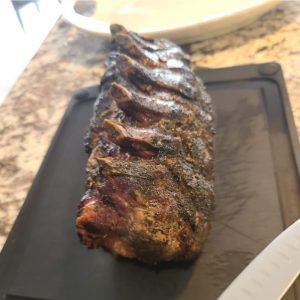 Black Bone in Pork Loin Roast
Bone in pork loin is one of my favorite cuts of pork because you get the loin chops with the rib bones all in one. When cooked properly this amazing cut of meat can be crazy tender, but also extremely flavorful because of the fat content and presence of the bone. When I am slicing this piece of meat up to serve to my kids, I usually take theirs off the bone and then add the bone to my plate (don't tell them…). The best part about this roast after saying all of that though is the price. Pork loin is one of the least expensive cuts on a pig, so if you can find a bone in loin for a fair price, make sure to snap it up and follow along with this recipe to impress your friends on a budget.
Equipment
Camp Chef XT 24 Wood Pellet Grill

BBQ Tongs

You Need a BBQ Cutting Board

Yonedas Okami Chef Knife
Ingredients
1

each

Bone in Pork Loin

5

each

Sprigs fresh lemon thyme (diced)

4

each

Cloves Fresh Garlic (diced)

¼

cup

Olive Oil

¼

cup

Spiceology The Grill Dads Black Tuxedo
Instructions
Prepping the Pork Loin
Pre-heat your smoker to 350 degrees.

Remove the pork loin from the packaging and pat dry with paper towels. Place the pork loin on a cutting board and get ready to season it. Combine the lemon thyme, garlic, olive oil and grill dad's black tuxedo seasoning in a small bowl and stir until well combined. Pour the seasoning mixture all over the pork loin and massage the rub into the meat. Once the meat has been well coated, come back and hit it with a little more grill dads over top of the oil mixture.
Smoking the pork loin
Place the pork loin on the smoker at 350F for about 2 and a half hours. Using an internal temperature thermometer, you are looking for an internal temperature of 145 degrees F for this roast to be done. Once you hit the desired temperature, remove the roast from the smoker, wrap in foil and let it rest for 5-10 minutes.
Slicing the Bone in Pork Loin
Using a great slicing knife, cut straight between the bones to create nice big 1" thick pork chops. Don't forget to take a picture and tag us on Instagram using #youneedabbq to show us how you did!
Step By Step
Preheat your grill to 350 F

Combine the Garlic, Lemon Thyme, Grill Dads Black Tuxedo and Olive Oil in a bowl

Pour the seasoning mixture all over the Bone in Loin and massage it into the meat

Sprinkle a little extra Grill Dad's seasoning all over the roast

Place the Bone in Pork Loin Roast on the smoker at 350F

Using an internal thermometer, let the roast smoke for 2.5 hours or until the internal temp reaches 145 degrees

Wrap the roast in foil and let is rest for 5-10 minutes

Slice between the bones and serve with your choice of sauce on the side
Notes
Can you make this recipe with deboned pork loin?
Yes, for this recipe you can make it with deboned pork loin. I just prefer bone in because the bone holds so much flavor, and after you slice it, it makes big bone in chops, which are more fun to eat.
What if I cannot find Lemon Thyme?
I grow lemon thyme in my garden, so for me it is easy to get in the summer months. If you are having trouble finding it, you can simply omit this ingredient or you can use a mixture of regular thyme and lemon zest as a substitute.
Is there a shortage of charcoal seasonings?
You noticed that too, did you? Our supplies of Grill Dad's Black Tuxedo, Sasquatch BBQ Black Gold, Sasquatch BBQ Dirt, Jess Pryles Hardcore Carnivore Black have all come to a grinding halt due to a shortage of some of the active ingredients in making the activated charcoal in these rubs. If you cannot get one of these great rubs, then feel free to sub with your favorite all-purpose BBQ rub. This shortage was likely caused by the pandemic or by all of you people jumping on the new "black lemonade" craze.
What if I am Gluten Free?
Every ingredient in this recipe is gluten free, so you know you can eat it without fear if you suffer from celiac disease.
What is the correct temperature to finish pork loin?
You do not eat to eat pork well done anymore! Lots of people are tending to eat pork closer to medium. They say a safe temperature for pork is at 145F internal temperature. I find that this temperature there might be a little bit of pink, but that the pork is cooked through and still tender and juicy.