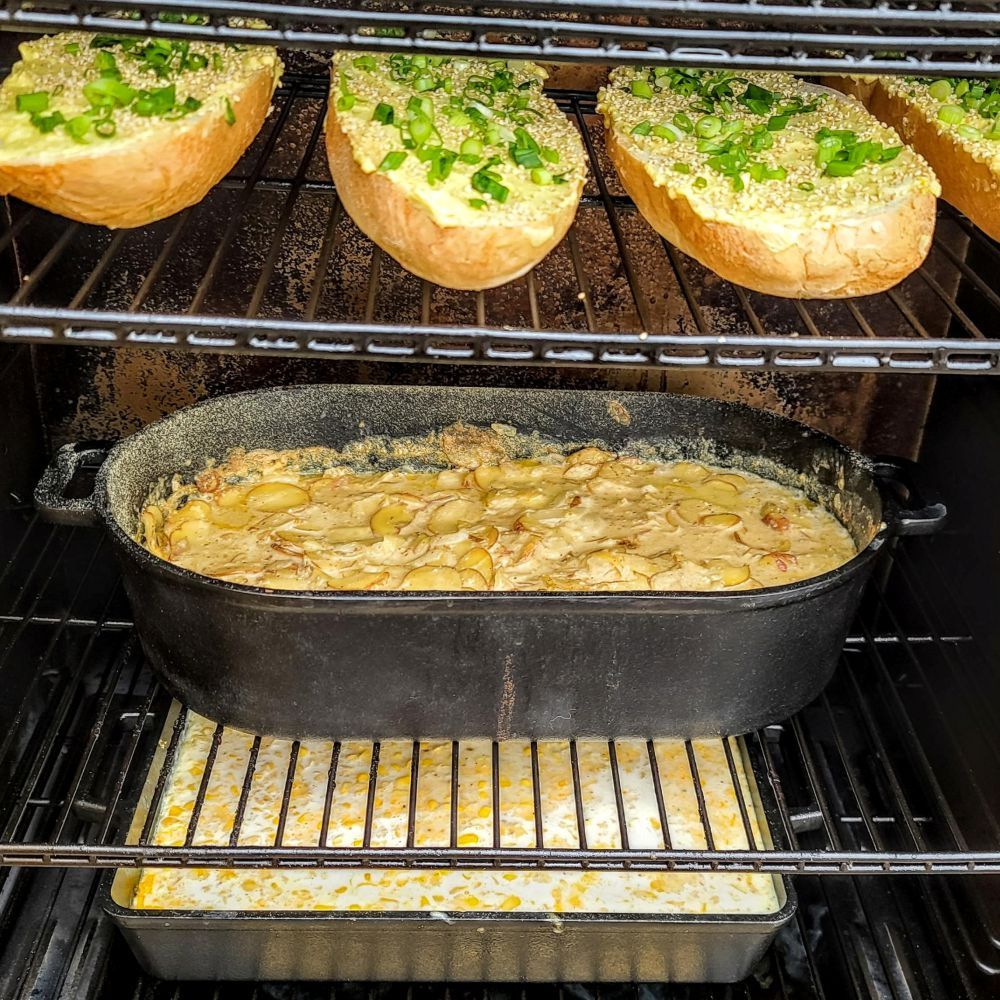 Black Truffle Smoked Potatoes au Gratin
Potatoes Gratin is a very similar dish to Scalloped potatoes, which was one of my favorite dishes growing up. Potatoes Gratin is usually a richer dish with more flavor and more cheese than scalloped potatoes, so get your tastebuds ready because this dish will knock your socks off. A very popular dish for pairing with roast beef, Turkey or ham dinners, this dish is great because it goes a long ways and potatoes are inexpensive. This dish is also called Potatoes Dauphinoise because they originate in Dauphine France in the late 1700's. So, when your guests ask you what's for dinner, just let them know that you are making them a classical French dish with black truffle, and they will be very impressed.
Ingredients
5

lbs

Bag of The Little Potato Company Little Potatoes

2

each

Medium White Onion

¾

litre

18% cream

1.5

lbs

Marble Cheese, Grated

¼

lb

Butter
Instructions
Preparation
Preheat the Smoker to 350 degrees.

Slice the potatoes thinly being very careful with your knife or mandolin. You want to make sure the potatoes are all the same thickness. I usually aim for about 1/16th of an inch thick. I like working with little potatoes because the size is consistent and they are prewashed, so all you must do is start slicing. Next you want to slice your onions to the same thickness.
Mix Your Ingredients in a Roasting Pan
Add the potatoes, onions, cream, 1lb cheese (reserve ½ lb. for later), seasoning and butter to a roasting pan and combine well.
Roasting the Potatoes
Place the potatoes on the smoker at 350 F. for about 1 hour uncovered. After an hour you will notice that the cream sauce is now boiling throughout. Take a slice of potato out to check for tenderness, you want the potato to be soft but not falling apart on contact. This is also a good time to confirm the seasoning of the potatoes. Sometimes potatoes can handle a ton of seasoning, so when you check these for tenderness, taste it and see if it needs a little more seasoning and then add to taste.
Add the Gratin
The Gratin in Potatoes au Gratin is a crispy cheese of breadcrumb crust on the surface of the potatoes. So, add in the ½ lb. of cheese that you reserved earlier in the recipe to the surface of the potatoes. Cover the whole top evenly. Crank your smoker up to 500 degrees and then place the potatoes back on the smoker for 20 more minutes or until the cheese is nice and crispy.
Serving
I like to serve these potatoes directly from the roasting dish. I find that if you try to transfer them to a serving platter then you run the risk of ruining that cheesy crust that you worked so hard to create
Step by Step
Preheat Smoker to 350 Degrees

Slice the potatoes and onions to 1/16" thick

Combine the potatoes, onions, cream, cheese, seasoning and butter in a roasting dish

Smoke at 350 F for 1 hour

Raise smoker temp to 500F

Cover the potatoes in a layer of cheese and place back on the smoker until cheese is crispy

Serve hot in the roasting dish.
Notes
What is the best potato for Potatoes Gratin?
The best potato for this recipe is the white creamer potato from the Little Potato Company. If you are unable to find their specific potatoes then you can also use any small or baby potato or even russet potatoes, just make sure to wash them first. I like the little potatoes because of their consistent size, soft flesh and that they come pre-washed.
What is the difference between scalloped potatoes and Potatoes au Gratin?
The biggest difference between scalloped potatoes and potatoes au Gratin (Dauphinoise) is the cheesy crust on the top. Scalloped potatoes you usually mix in all the cheese and in this recipe, you reserve some cheese to make a crispy crust on top. I like it both ways, so I highly recommend making this recipe twice so that you can try it both ways to figure out which is your favorite.
What if I am Gluten Free?
This recipe is entirely gluten free. So, you can eat this dish if you are celiac or gluten intolerant. Often Potatoes Gratin can be made with breadcrumbs as the crust instead of cheese, so if you opt for that route and need gluten free, then just use gluten free breadcrumbs or pork panko.
What is the best cheese for potatoes au gratin?
The best cheese for Potatoes au Gratin is one that has a strong flavor and melts and crisps up nicely. For our recipe we used marble cheese, but a good sharp cheddar, gruyere, mozzarella, gouda or fontina would also do very well with this recipe. You also really want to find a cheese that will stand up to the truffle flavor in the seasoning of this recipe as well.
What are items I can add to make this recipe a complete meal?
This recipe makes a great side for Thanksgiving dinner, Christmas Dinner, Easter Dinner and more, but if you wanted to turn this simple side dish into a complete meal, it's as easy as adding a protein! Potatoes au Gratin makes an awesome meal if you just add in some bacon, ham, ground beef, sausage or whatever your favorite meat is. This dish can also be jazzed up with your favorite selection of fresh veggies including scallions.