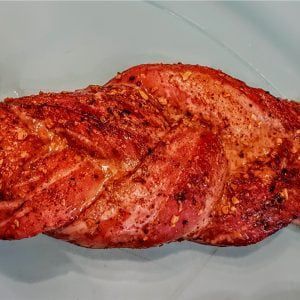 Braided Pork Tenderloin
Pork Tenderloin is one of the most tender cuts of meat on the pig but it gets a bad rap because most people under season it or the seasoning all falls off during the cooking process. This unique method of preparation will help with that and get you singing the praises of this under valued piece of meat.
Ingredients
2

each

Pork Tenderloins

¼

cup

Yonedas Red Seasoning
Instructions
Preparation
Set the smoker to 300 degrees Fahrenheit

Take 2 pork tenderloins out of their packaging and pat dry with a paper towel. Take a chef's knife and 1 inch from the end of each tenderloin, run your knife down the muscle length wise, cutting the muscle into 3 strips, making sure to leave it connected at the end. When you are done this step the tenderloin should look like it has tentacles that are all connected at one end. Repeat this step for the second tenderloin as well. Next you want to coat the muscle in a light coating of Motley Mustard all over and follow that with a healthy coating of the Yonedas Red Seasoning. Once the tenderloin is seasoned you want to braid it by placing the left tentacle over the center one and then the right and then repeat until the whole loin has been braided together, nice and tight. If you notice that the second one looks better than the first one, it's OK to re-do the first one now that you are good at it.
Cooking
Place both pork tenderloins directly on the smoker and cook until you reach an internal temperature of 140 degrees (about 30-40 minutes). Sometimes you can cook pork to medium rare, but in this instance it is best to take it up to medium or medium well because you put the outside of the pork on the inside. Once you have reached the desired internal temperature, baste the loin in the Motley Mustard. Let the sauce set on the smoker before removing from the grill.
Serving
Let the loin rest for 5 minutes prior to serving. I find it's best to place the whole loins on the table unsliced because once you start slicing this the braids can come apart, so it looks the best when it's left whole until you are ready to plate. You will notice when serving this that the seasoning penetrates the whole loin and therefore has a lot of flavour. If you want to really jack it up, hit it with a dusting of Yonedas White Seasoning. Serve a side of Motley Mustard and enjoy!