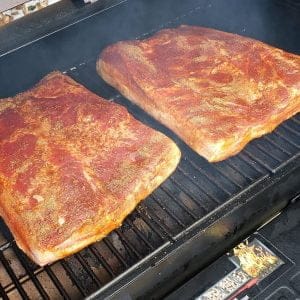 Cherry Pecan Glazed Pork Belly
When I got called to the stage at the world food championships for ribs, I was very excited and happy, but I wasn't surprised.  I had spent all summer winning awards for my ribs including taking home first place at the Montana state rib championships.  I know you're wondering, what does this have to do with pork belly?  Well, my recipe for ribs was a cherry pecan glazed rib, and it turns out that flavour combination works on all sorts of different pork cuts.  So here I am going to teach you how to take pork belly and make it sing with the same flavours I used at the world rib championships.
Instructions
Preparation
Preheat the smoker to 250 degrees.

Trim off any silver skin from the meat side of the pork belly, no trimming should be required on the fat cap side.  Pour some mustard sauce all over the pork belly and spread it out evenly using your hands or a brush.  Next you want to hit the pork belly with a heavy dose of both seasonings.  I like to put the pecan seasoning down first with just a touch of cherry on top, probably because that's how you make a Sunday (put the cherry on top!)
Place it on the Smoker
Place the Pork Belly onto the smoker fat side down.  Let it ride like this for about 3 hours.  Keep your eyes on it though because sometimes with that much fat on the meat you can get little flare ups from the heat baffle.  If that happens, just flip the meat over and trim off any dark spots so they don't get too over caramelized.
Wrap it up
Once the pork belly reaches the color you are looking for (think rich red color) it's time to wrap it up.  This step usually takes about 3 hours to get to this point.  Wrap up the pork belly in butcher paper and place it back into the smoker for an additional 2 hours.
Make Magic Happen
Now the pork belly is done smoking and it perfectly tender and ready to eat, but here is where the magic happens.  I like to either cube or slice the pork belly, hit it with some sauce and put it back on the smoker to render out just a little more fat.  Try taking a couple slices of your cooked pork belly and toss it into a hot skillet to crisp up the edges, now serve them on a warm toasty bun or on a bed of rice for the ultimate pork belly meal. Make sure to add sauce prior to serving.
Step By Step
Preheat Smoker to 250 Degrees

Paint the pork belly with mustard sauce

Season the belly with pecan and cherry seasoning on both sides

Place the belly on the smoker, fat side down for 3 hours

Wrap the belly in butcher paper and place back on the smoker for 2 more hours

Take off the smoker and slice up as desired

Optional: fry the belly or smoke it on high after slicing to render off a little more fat

Serve as desired on a bed of rice or as a pork belly sandwich with sauce