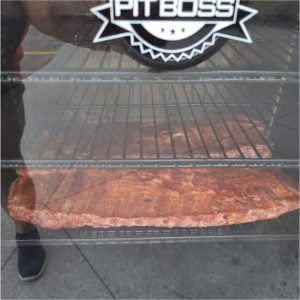 Corkys Memphis Dry Ribs
Memphis is famous for their dry BBQ. No, I do not mean the meat is dry, I mean the seasonings are Dry. And in Memphis, nobody is more famous than Corky's Ribs and BBQ. This famous Memphis rib restaurant has been turning out world famous ribs for over 30 years. In that time, they have been voted Memphis's best BBQ joint a whopping 22 times (and counting!). Locals are rarely wrong, especially when it comes to the best BBQ in their city. So now we have brought a small taste of Memphis to you! You can make these ribs using Corky's Memphis seasoning, right here in Edmonton (or anywhere in Canada if you take advantage of our free shipping on seasonings). Follow along and whether you prefer Bourbon Rub or Honey Seasoning, we have them both.
Equipment
Camp Chef XT 24 Wood Pellet Grill

BBQ Tongs

You Need a BBQ Cutting Board

Yonedas Okami Chef Knife

BBQ Skewers
Ingredients
2

each

Racks St. Louis Cut Pork Side Ribs

¼

cup

Corky's Grip IT N Rub Honey Seasoning

OR

¼

cup

Corky's Grip IT N Rub Bourbon Seasoning

¾

cup

Heath Riles Tangy Vinegar BBQ Sauce

1.5

cup

Cold Water
Instructions
Seasoning the Ribs
Pre-heat your smoker to 250 degrees.

Season your ribs with your choice of Corkys BBQ seasoning all over on both the bone side and the meat side of the ribs. Let the ribs sit out at room temperature for about 20 minutes to let the seasoning setup on the meat. Next you want to prepare a bowl of BBQ sauce, mix ½ cup sweet sauce with 1.5 cups cold water, you will use this to baste the ribs throughout the cooking process.
Smoking the Ribs
Place the ribs meat side down on the smoker for about 2 hours. Every 30 minutes you want to baste the ribs on both the top and bottom with the sauce and water mixture. After 2 hours, turn the ribs bone side up and continue to baste for 1 more hour.
Saucing the Ribs
I know we said these are dry ribs, and believe me, they will be, but right now you want to take the final ¼ cup of Heath Riles BBQ sauce (full strength) and baste the meat side of the ribs. Let the ribs continue to cook with the sauce for 1 more hour.
Adding the dry rub
Once the ribs are done cooking, now you want to come back and sprinkle them with another round of the dry rub seasoning about 5 minutes before you are ready to serve them. This final coating of Corky's dry rub is the real secret to the pop and crunch of the famous Memphis style dry BBQ.
Step by Step
Preheat your grill to 250F

Season your ribs with your choice of Corky's seasonings

Prepare a sauce mixture of 1-part vinegar sauce to 3 parts water

Place the ribs on the smoker meat side down for 2 hours

Baste the ribs with the sauce mixture every 30 minutes on both sides

Turn the ribs meat side up and continue basting for 1 more hour

Apply full strength BBQ sauce to the ribs and let cook for 1 more hour

Shake on a final dusting of Memphis dry rub and then serve
Notes
Can you use back ribs instead of side ribs?
Yes, back ribs and side ribs cook basically the same, so they can be used interchangeably. I like side ribs because the meat has a little more fat and therefore more flavor. Back ribs are more popular with people who like a slightly more tender rib that has less fat, which is made possible because the meat on a back rib is loin meat.
What if you hate or dislike vinegar?
Vinegar sauce helps cut through the fat of the meat and tenderize the ribs, but you can substitute a sweet sauce or a spicy sauce for the vinegar sauce if you prefer. Not all Memphis residents love the vinegar sauce, but it is where these ribs were born.
About the Bourbon Rub
The bourbon rub contains no actual alcohol, so yes it can be served to children. This rub just contains a salt that has been flavored with bourbon appropriately called "bourbon salt". I find the bourbon flavor in the seasoning to be quite subdued, if you want a little more bourbon flavor, you could consider adding a splash of bourbon to your mop sauce to really punch up the flavors.
What if I am Gluten Free?
This recipe is entirely gluten free.
What is the correct temperature to finish ribs?
I usually cook my ribs until they start to bend, but not break when listed from the center. I do not rely on temperature to tell if ribs are done, because sometimes they finish at different temperatures. However, in researching some people apply their final sauce when the ribs reach 185 degrees and then cook for 1 more hour.