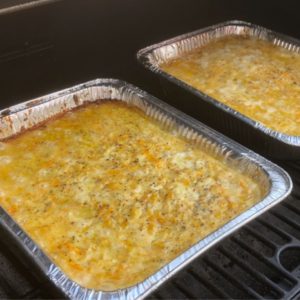 Corn Souffle with Jalapeno Seasoning
I love a good holiday turkey, but I think the sides are the real star.  Traditional sides like stuffing, scalloped potatoes, mashed potatoes, garlic bread, yams, turnips, Brussel sprouts are all classics, but if you are looking for a new instant classic then consider a corn souffle.  Do not be intimidated by the name, most of the work comes out of a can.  This is a super easy recipe that is ready fast with very little prep and will change the face of your holidays meals and possibly even outshine the turkey!
Ingredients
2

cans

Niblet Corn

2

cans

Creamed Corn

3

each

Eggs

2

cups

Shredded Cheddar Cheese

1

cup

Heavy Cream

¼

lb

Butter
Instructions
Preparation
Pre-heat the smoker to 350 degrees

Open the cans of corn and dump them into a smoker safe tray or foil tray. Then add the eggs and stir them in so they are fully incorporated. Next add the cheese, butter, Jalapeno Seasoning, and heavy cream and give it a stir.
Cooking
Place the mixture on the smoker and cook until the center of the souffle is firm to the touch, if you jiggle it you do not want to see liquid running all over the place. If it starts to get too dark on top or is taking longer than expected to cook, you can cover the dish with foil to help speed up the cooking process and insulate the top layer from the heat.
Serving
Right off the smoker, this dish is ready to hit the table, just place the tray or dish right on the table using a trivet or potholder and dish it out with a serving spoon to your adoring new fans.