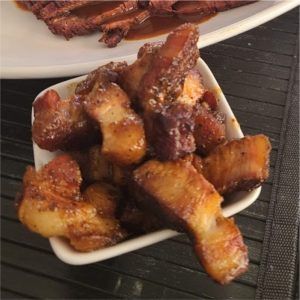 Sliced Pork Belly Like You Get From Costco in 10 Simple Steps
You are walking down the aisles at your local Costco and you spy what looks like Thick cut bacon strips in the meat department. It is way too thick to be bacon and the sticker on the tag says, "Pork Belly Slices". They typically around about 10 inches long and 1-2 inches thick. Is it bacon? How do you cook it? Well for starters, it is not bacon, it is what bacon is made from. Bacon is what you would get if you cured this meat for a few days and then smoked it, what we are teaching you to do here today is to cook it without having to wait for a few days. I hope you are hungry because Costco portions are huge, and this is a high calorie meal. If you find pork belly at another grocery store or local butcher, you can still make this recipe, you will just need to cut your belly into 1.5" thick strips before we start.
Equipment
Competition Blend Wood Pellets

Foil Trays

Pit Boss PB 1000 Grill

Yonedas Okami Chef Knife

You Need a BBQ Cutting Board

Sturdy Roll of Tin Foil
Ingredients
1

each

Sliced Pork Belly

¼

cup

Meat Church Holy Gospel Rub

¼

cup

Butcher BBQ Butter Flavour Grilling Oil

½

bottle

Yonedas Chicken and Rib BBQ Sauce
Instructions
Preparation
Preheat the Smoker to 250 degrees.

Lay the Pork Belly on a baking sheet and sprinkle with a little bit of the grilling oil. Next you want to hit the meat with a healthy dose of Meat Church Holy Gospel rub on all sides. Let the seasoning sit on the meat at room temperature for about 20 minutes to set before putting it on the smoker.
Place the Pork Belly on the Smoker
Place the pork belly on the smoker at 250 degrees and let it smoke for about 2 hours. After 2 hours you want to flip the pork belly over to even out the cooking for the final hour.
After 3 Hours
After 3 hours on the smoker, you want to remove the pork belly from the smoker and place on a cutting board. Slice the pork belly into ¾" cubes and then place into a foil tray. Pour ¼ cup of the butter flavor grilling oil into the pan and cover with foil and place back on the smoker. Let the pork belly braise in the grilling oil for about 2 more hours.
Getting Saucy!
The Pork belly is now basically ready, but I like mine with a little bit of sauce. Pour off some of the fat and grilling oil into a bowl and add in ½ bottle of BBQ sauce, stir up the pork belly cubes and place back on the smoker for 30 more minutes to set the sauce.
Step By Step
Preheat the smoker to 250 degrees F

Season the pork belly with grilling oil and Meat Church Holy Gospel

Place on the smoker at 250 Degrees F

Smoke for 2 hours and then flip the pork belly slices

Smoke for 1 additional hour

Slice the pork belly into cubes and place in a foil bbq tray

Season the Pork Belly with Grilling oil and braise for 2 more hours covered in foil

Pour off the oil in the pan and add in ½ bottle of sauce

Return the pork belly to the smoker uncovered for 30 more minutes

Rest 5 minutes and then enjoy!
Notes
What is the difference between bacon and pork belly?
Bacon is pork belly that has been cured. We sell a wet cure in store from Butcher BBQ that can turn pork belly into bacon. This recipe is all about cooking uncured pork belly when it has been prepared into slices.
Can pork belly be made into bacon?
Yes, come on down to You Need a BBQ in Sherwood Park and we will sell you a bag of Butcher BBQ sweet sweet bacon and ham cure to turn your pork belly into bacon!
What if I am Gluten Free?
All the seasonings and sauces in this recipe are gluten free. So this recipe is safe, so long as you make no substitutions and do not cross contaminate through the cooking process.
What if I am Keto?
If you are following a Keto diet, then I recommend substituting the Meat Church Rub for Fire and Smoke Society The Usual. This rub is sugar free and will be a much better fit with any low carb or sugar free diets.
Can Pork belly be made faster than 5 hours?
Yes, you can cook pork belly the same way you would cook bacon, slice it thin and fast fry on high heat. This will render off enough of the fat and cook the meat to make it edible. This is a delicious way to prepare pork belly, but it's much tastier if you take a few hours to smoke it low and slow.
What if you can only find whole belly?
If you buy your pork belly whole instead of pre-sliced then you have more options. You could make a Porchetta, you could cube it, you could slice it, you could make bacon or salted pork and more. If you are really lucky and got skin on pork belly, then you can even make crackling or pork rinds as well. If you are not sure which way to go, then we do recommend following along with this recipe by slicing your pork belly into strips as the first step.