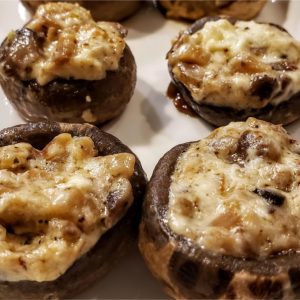 Double Garlic Butter Stuffed Mushrooms
Stuffed mushrooms are one of those things on a restaurant menu that always draws my eyes.  They can be stuffed with all sorts of things like cream cheese or seafood, bread crumbs, sausage and more.  My favorite is cream cheese stuffed with double garlic butter from Boars Night Out, but don't be afraid to mix it up because one time I made an amazing Chorizo stuffed mushroom that blew my mind served on top of pasta.
Ingredients
12

each

12 Whole white mushrooms, the bigger the better (pre-washed or brushed)

1

each

Package of Cream Cheese

¼

cup

Boar's Night Out White Lightning Double Garlic Butter

1

each

Stick of Butter
Instructions
Preparation
Preheat the smoker to 350 degrees

Cut the tough ends off the mushrooms and remove the stems from the caps. Mince the mushroom stems and season with double garlic butter. Toss the stems into a frying pan with butter and cook down until the stems soften. 
Stuff It
Mix the soften stems with the cream cheese and then put a little bit of the mixture into each mushroom cap. Sprinkle with any reserved double garlic butter seasoning and spread out on a baking sheet.
Cooking the Caps
Get the baking sheet and place on the smoker for about 15 minutes until the centers get melty and the mushroom caps appear to soften.
Serve Hot
Arrange the mushrooms on a serving plate and serve hot.
Step by Step
Preheat Smoker to 350 Degrees

Cut the Ends off the mushroom stems and remove the whole stem from the cap

Dice the stems and dry them until soft with butter

Mix the stems and cream cheese together

Stuff each cap with the stem cheese mixture

Bake/smoke at 350 for 15 minutes until soft

Arrange on serving platter and serve hot